We Followed a Recent College Grad on an Apartment Hunt in Charlotte.
She searches for an elusive prey: a decent, affordable place to live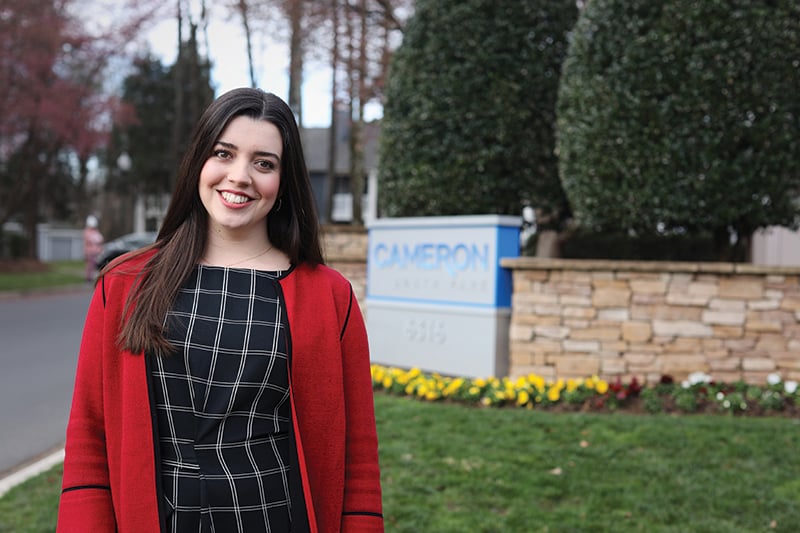 From the editor: We sent our April Real Estate issue to the printer two weeks before the first COVID-19 cases were reported in Mecklenburg County, so none of the stories in it specifically mentions the pandemic that's altered our lives so profoundly. It's impossible for any of us to know what the illness' spread and the resulting shutdown will mean for the economy in general or the real estate market in particular. But people will still need places to live and money to be able to live in them, and we encourage our readers to read our Real Estate package with that in mind.
---
ERIN HAMPSON steps onto the balcony. "Ooooh," she says. Around the corner are breweries, shops, and restaurants that cater to young professionals like her. She imagines living here, in one of the 406 units of 1225 South Church Apartments in South End, and thinks about how much fun it'd be and what that would cost her: counting rent and fees, close to $1,400 per month, the limit of her budget.
A recent college graduate, Hampson has spent the last two years with three roommates squeezed into a snug two-bedroom apartment near American University in Washington, D.C. Now, like so many other young professionals who move to Charlotte every month, she has her first real job, a paycheck, and the possibility of the glorious freedom that comes from living on one's own.
When we meet in late January, she's living with her mother in the Matthews home where she grew up, but the 45-minute commute to her job at a health care nonprofit in Myers Park is getting old. So on this brisk afternoon, I join her to see what apartment hunting is like for the kind of renter these complexes are presumably being built for.
Spoiler: It's a hassle. The process started days earlier, when she downloaded the Apartment List app to her iPhone. It works remarkably like a dating app: She plugged in personal information (job location, salary, desired features and amenities, and projected rent budget), and the app delivered a list of options, which she swiped right to pursue or left to dismiss. She picked four complexes to explore in four Charlotte neighborhoods: South End, Plaza Midwood, Elizabeth, and SouthPark.
On this Thursday, Hampson, 22, is polished and jaunty, and she's chosen her footwear well—leopard-print flats to go with her olive sweater, black skirt, and wool coat. After a moment on the balcony at 1225 South Church, staged with a bistro table and two chairs, she walks back inside and considers the brightly decorated 740-square-foot unit: the kitchen with stainless steel appliances, the floating wall that separates the bedroom space from the living space, and the closet that houses a full-size washer and dryer.
She stretches out her arms to envision where her TV would mount on the wall. "This could work," she says with a grin.
12:30 p.m.
SOUTH END: 1225 South Church Apartments
This 10-year-old complex instantly shows promise because it's a five-minute drive from her job. In the leasing office, Hampson rattles off her five requirements, which she'll repeat everywhere she goes today:
Spend no more than $1,400, roughly a third of her after-taxes pay, on rent, fees, and utilities; a unit on the second floor or higher; in-unit washer, dryer, and dishwasher; secure parking; and a commute of 15 minutes or less to work.
She has a would-be-nice list, too: ample closet space, a balcony with enough room for a small table and chairs, and a bedroom separated from her living room by a wall—better yet, a door. The leasing agent, Joshua Widner, nods as he takes it all in, then delivers stunning news about prices: Unlike the apartment hunts of yesteryear, which consisted of newspaper or Craigslist listings with set rents, renting an apartment these days is like playing the stock market. Rents change by the hour.
A studio that rented for $1,100 yesterday is priced at $1,200 today, he says. If Hampson waits until June, the price could rise to $1,300 or higher, Widner says, because new college grads will drive demand. On top of rent, Hampson would pay $180 to $200 per month for water, power, pest control, trash removal, and the required "technology package" of internet and cable.
Hampson swallows hard and hands over her driver's license. On the way to the furnished model unit, she and Widner tour the amenities: a bank of Tide laundry lockers for those who want to pay an outside company for laundry service, a free coffee station near one of the complex's three gyms, an eight-seat movie theater, two pools, two recreation rooms, and outdoor fire pits and bocce ball courts. On her way out, she's stunned and, she says, "impressed."
1:30 p.m.
PLAZA MIDWOOD: The Gibson
Hampson pulls into the under-building parking garage off Central Avenue, where a giant mural pays tribute to famous Reflection Sound Studios, which once occupied the site of this 250-unit building that opened in 2017. The proprietors pipe in a pleasant scent. "It's called waterclover," the leasing agent says.
The agent, Jeffrey Barrow, slides Hampson a promotional folder that mimics a record album, with "Hi Erin!" and his signature written in Sharpie. "It feels so hip over here," she says. She tells Barrow her budget. He pulls out two floor plans for one-bedroom apartments and takes her to see two units, passing along the way what he calls the "weekend brunch" doors that residents exit to walk to local restaurants on weekends. (His message: You're close to stuff.) Hampson chuckles. There's also a pool and lounge area, a bar with a pool table, and on-site laundry pickup.
The first apartment is triangular and 737 square feet, with "wood-styled plank flooring," tile backsplash, and a walk-in shower. Hampson fawns over the three big closets and jokingly imagines entertaining guests with a cheese board on the island's granite countertop.
Today, this unit is priced at $1,382 (plus an estimated $188 in fees, utilities, and internet), but Barrow tells her the prices will likely fluctuate within her budget if she's willing to wait. Rent prices are posted online and change in real time, he says. "If somebody rents an apartment, then it will change the price of all available apartments," he says. "But if three people give their notice tomorrow, all those prices will go down. The trick with me is, if you ever see a generic email from me, that means it was an e-blast, and you probably want to hop on it."
Hampson sighs. "What if somebody else calls before me?"
"You do gotta act on it," Barrow says.
2:30 p.m.
ELIZABETH: The Langston
Hampson is starting to feel weary as she pulls into a 91-unit, three-year-old complex called The Langston, on East Seventh Street. She turns down the leasing agent's beverage offer, and they get down to business.
A one-bedroom apartment here with utilities and internet would run about $1,480 per month, beyond her budget. She decides to look at an available unit anyway. There's no pool, but on the way she peeks into a white-tiled "dog spa" (Hampson has no dog), a patio with lounge chairs, and a small gym. The available one-bedroom unit still has that new-house smell, with hardwood floors, a stacked washer and dryer, dark cabinets, and granite countertops. Hampson walks onto a covered wooden balcony that overlooks Seventh, takes in a killer skyline view, and gasps. "I could live out here," she says in amazement.
Within a few minutes, she's out the door, having crossed The Langston off her list. Too pricey. "It just seems like a lot," she whispers.
3:30 p.m.
SOUTHPARK: Cameron SouthPark
Hampson has to make some tough left turns and steer past annoying road construction on the way—welcome back to Charlotte!—but relaxes when she parks at the leasing office. The complex of 23 buildings, built in 1985, is next to the Harris YMCA, where Hampson played soccer as a kid. She knows this place.
Leasing agent Lorrie Johnson gives a quick overview, and they hop in a golf cart to see an available apartment and a furnished model. Four deer graze in a bank of trees along the parking lot. Johnson takes Hampson to an available one-bedroom unit with a wood-burning fireplace and a big balcony overlooking the pool. At 788 square feet, it's the biggest apartment Hampson has seen all day, and the cheapest—$1,175 per month, plus $24 in trash and pest control fees. Hampson would handle her own utilities and internet, which would likely cost at least $120 a month. Well within budget.
"Are you ready to move?" Johnson asks, leaning over the sink.
Hampson blinks hard. "I'm not really in a rush," she says. She tells Johnson about the spring work events she's responsible for, and it dawns on her that moving before June would be hard, even if she wanted to spend the money.
"Call me when you're ready," Johnson says.
When I check back with Hampson a few days later, she tells me she's decided to wait. She likes the idea of a financial cushion to help pay for furniture and entertainment. And, frankly, there's comfort in living at home. "My mom," she says, "is a good roommate."
CRISTINA BOLLING, a Charlotte writer, has reported on Charlotte's immigration, arts, and popular culture scene since 2000.