We Had To Know: What Is Strawberry Champagne on Ice?
We asked four bartenders around town what they would serve if asked for strawberry champagne on ice, because that's what Bruno Mars likes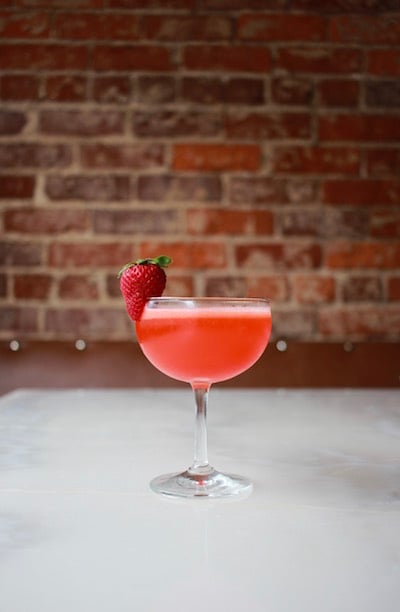 I HAVEN'T BEEN ABLE to stop singing "What I Like" by Bruno Mars since I first heard it weeks ago, but there's one part of the song that bothers me: what, exactly, is strawberry champagne? (Watch the video at the end of this post.) We know Julio is serving that scampi, but this piece remains a mystery. Is it strawberry-flavored champagne (ew)? Is it champagne with strawberries in it? Is this an analogy for something else? I don't have Bruno's contact information, so I asked bartenders around town what they would serve if I ordered strawberry champagne on ice. Here are their answers.
---
Blake Pope, Kindred Restaurant
Blake says he's a sucker for pop culture (lucky for us that's what he likes, that's what he likes). His cocktail is a play on a French 75, with strawberries from Brent Barbee of Barbee Farms (you can read about Brent here). Make it at home with the recipe below.
1 oz. gin
.75 oz. fresh lemon juice
2 whole strawberries
5 oz. honey syrup (made using a 1:1 ratio)
2 drops orange blossom water
1 oz. crémant (a dry sparkling wine from the Loire valley)
Muddle strawberries with your honey syrup in a shaker tin, then add gin, lemon juice, and orange blossom water. Shake hard with ice for 10 seconds. Double strain into a chilled coupe or martini glass. Top with your crémant and garnish with a strawberry.
---
Bob Peters, The Punch Room
Bob brings the vodka to this party, suggesting a cocktail made with Tito's vodka and homemade strawberry syrup, then topped with bubblies.
---
Ron Oleksa, The Cellar at Duckworth's
This cocktail from the bartender at The Cellar uses a sparkling rose, which, visually, is strawberry-colored champagne. He might understand Bruno better than the rest of us. His drink: A frozen, large cube of clarified strawberry juice, smashed and scooped into a champagne flute. He'd then shake a little gin with lemon and sugar, add some rose champagne, and pour it into the flute—or, one could say, champagne on strawberry ice.
---
Brian Lorusso, Dogwood Southern Table + Bar
Brian over at Dogwood gets requests for all kinds of drinks, and he says he's made this one in the past. Perhaps Bruno Mars came to Charlotte, drank at Dogwood, and then wrote this song? Probably not, but we like the sound of this one: fresh strawberries, some house-made vanilla vodka, and prosecco garnished with a lemon twist.