We Talked to the Owner of That Tesla Model 3 Honoring Dale Earnhardt
Turns out, Dylan Sinnott didn't actually pay for his glorious tribute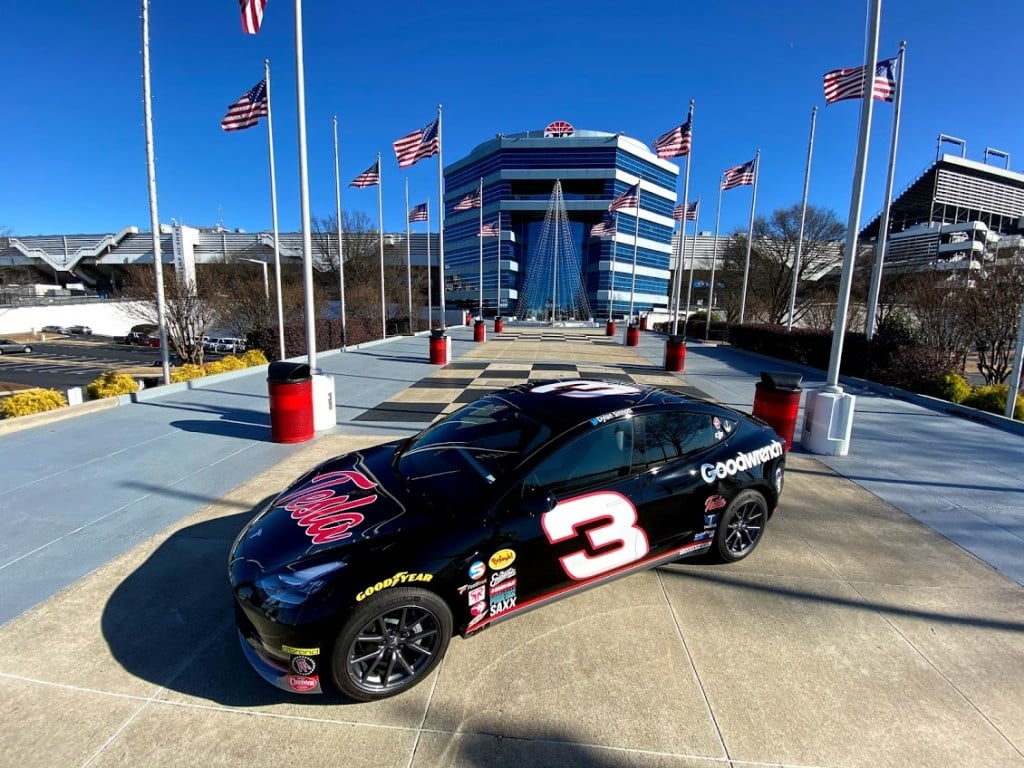 DRIVING THROUGH UPTOWN CHARLOTTE, my family beheld a glorious machine on Wednesday evening and collectively gasped: a Tesla Model 3 emblazoned with the logos and color scheme of Dale Earnhardt's No. 3 GM Goodwrench car. (Well, actually, the sight was lost on our two daughters, 5 and 3.) There's no shortage of vehicles paying tribute to the NASCAR legend on these North Carolina roads, but as you can see above, this one's different. I snapped a pic, blotted out his license plate, and Tweeted the car with the comment, "all hail this Daled-out Tesla in uptown." It quickly garnered tens of thousands of impressions and exaltations. It also inspired the magazine to put out a call on social media: Who owns this thing?

A clue came from Twitter:  "I saw this dude at Spaghetti Junction in Atlanta right before covid in February!" That was a glorious detail, but not specific enough.
And then, the name arrived: Dylan Sinnott, a 28-year-old self-described "serial entrepreneur" who lives in Charlotte. In January, the national publication Jalopnik wrote a story about his car: "How A NASCAR Fan Got Sponsors To Buy Him A Tesla Model 3 With A Dale Earnhardt Tribute." The story describes how Sinnott, who founded the company Strange Gaming, partially created the NASCAR-Tesla tribute to "bridge those two audiences"—and actually sold regions of the car to sponsors and paid for it that way. Logos for Bojangles, U.S. National Whitewater Center, Cook Out, and others appear on the car. My favorite quote from that story: "One thing the South does really well is being patriotic, and as weird as it is, I feel like Tesla is one of those companies where people don't recognize it's an American company like GM and Ford." You can read more about that process here.

But that was in January, and I have more questions: I tracked down Sinnott over Twitter and was able to get some updates on what's happened since he debuted "Model 3 For Dale" project:
Charlotte magazine: You were at 1,000 miles in January. What's the car at now?
Dylan Sinnott:  I am right at 10,000, which honestly should be much higher. Sadly, COVID has slowed down events and shows. I was at around 7,000 by the end of March, but we tried to do our best and take the shut down seriously, so the first few months we would drive solely to charge it back up. Now that the world is slowly reopening, we are getting out more and putting more miles on it.
CM: Tell me about some of the interactions spurred by people seeing the car.
DS: I knew the car would get some attention but honestly did not think it would be to the level that it has. Everywhere I go pretty much someone takes a photo, honks, waves, or something. I live uptown, and my girlfriend and I have just that car currently, so it's to the point where at times she doesn't want to drive it to go places solely because the attention it gets. Coolest interactions have been people telling me awesome positive stories about Dale or NASCAR in general of all ages. Younger people tend to be more interested in the "how" element, and having those conversations is really awesome as that was my whole goal of the project: to inspire people to be more creative and try wild things. 

CM: Can you tell me a little about about your personal history as an Earnhardt fan?
DS: I am from Lexington, and my grandparents live in Welcome near the [Richard Childress Racing Museum] and being from there almost everyone cared about NASCAR growing up and Earnhardt was "The Man." My parents really love NASCAR and Earnhardt as well; he was one of their favorite drivers, but when I was a kid I really liked Jeff Gordon. As I got a little older seeing Dale Jr come around made me really appreciate Sr. more. After his passing, seeing his legacy and impact was unreal: I had never seen anything like it.
CM: Are you working on any similar projects right now?
DS: Oddly enough, I have just started prepping a similar project. The contracts I have in place run through December 31 of this year, so nothing will happen until after that for sure. This project was in my eyes a total success, from a marketing and branding point of view, I've nearly met all the project goals, even with COVID. But most importantly I've had some great conversations with people about the "how," which hopefully has sparked some new creators out there to get started on cool, unique projects. [For] the next one, instead of a "free" car, I will be pay for the car, but then showcase the ability to make the car pay for itself via a different type of system. Hopefully, this will open up the appeal to a more broad group of people. That will all come around January but should be a much more involved project.
CM: What can you tell us about your company, Strange Gaming?
DS: So Strange Gaming is a company I created in 2013, mostly at the time to house teams and players for esports. I competed for about three years in Call of Duty, as well as created content both for myself and others. At the time when gaming was a bit smaller of a success financially for individuals, I was seeing an above-average amount of success. I knew that gaming was most likely not going to be my career, as I truly love my professional work and that has always been my passion. So I wanted to create something where I could help my friends who wanted careers in the industry find ways to monetize what they were doing and attempt to make it a full-time job. Over the years, this evolved, and now we help plenty of people who we've met along this exciting journey from College Scholarship Esports players to younger kids to parents trying to understand what their children are doing. We have recently started a media production portion of the company focused on events, both in a physical and digital space, which has been a really fun new venture.
(Questions and answers for this story have been edited for clarity.)