Wedding Bands for the Groom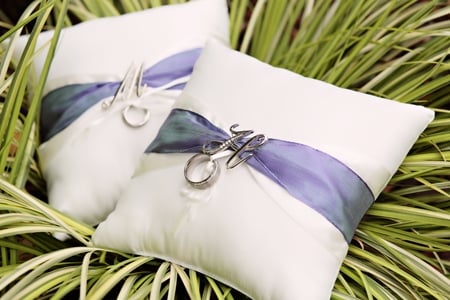 It's true that most ring-shopping experiences are focused on the bride's engagement and wedding bands. But the groom needs a ring too! Here is a quick and easy guide to choosing the right ring for your man. Make sure to ask his opinion… what he wants matters!
1. Choosing the metal
Gold
A natural and traditional metal for wedding bands. Gold can be alloyed with other metals to create white gold bands or rose gold bands. This metal can be easily engraved. Keep in mind that high karat gold is vulnerable to scratching and bending, so if your future husband works with his hands, this might not be the best choice.
Platinum
A naturally white gleam sets this metal apart from silver. It is the most rare of precious metals and is hypoallergenic (in case your man has sensitive skin). Platinum is a soft metal and can easily scratch.
Titanium
Durable and lightweight, titanium is a medium gray color (an attractive color, but it lacks luster) and also hypoallergenic. A titanium ring resists tarnish and discoloration, so it will maintain its original appearance.
Tungsten
This metal is extremely hard, so it resists scratches and bending. Made of equal parts tungsten and carbon, these rings are dark in color and can be polished to shine. Tungsten is heavier than titanium and cannot be resized.
2. Choosing the style
Traditional
Bands made of classic yellow gold, white gold, or platinum. Traditional bands may have a subtle decoration, such as beveled edges.
Patterned
You can choose a band with sculpted edges, patterned inlays, and textured finishes. A popular example is a black ceramic inlay on a steel-gray tungsten ring.
Contemporary
These rings often boast gemstones, although not as extravagant as the bridal rings. Small diamonds set flush with the groom's band enhance the ring's appearance.
3. Shopping Smart
Sizing
Know your groom's size before settling on a ring. Any local jeweler can help determine his ring size.
Timing
Purchase the wedding bands at least two months prior to the wedding date. This will allow you time for any resizing or exchanging, in case you aren't satisfied with your purchase.