Wedding Cakes of the World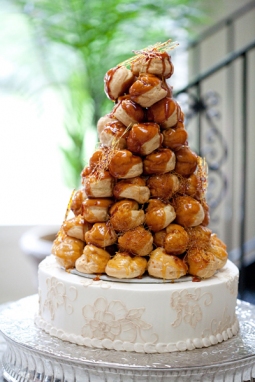 Craving an international flavor for your wedding? Check out these wedding cakes from all over the world!
Croquembouche: A traditional French dessert. Fluffy cream-filled pastries piled high, held together with caramel.
Fruitcakes: A standard dessert at weddings in Great Britain, Ireland, and other countries with English heritage. Infuse bourbon, brandy, or cognac to spice it up.
Kransekake: A Scandinavian dessert comprised of circular almond pastries stacked into a cone shape.
Millefoglie: An Italian wedding dessert featuring layers upon layers of puff pastry with vanilla and chocolate creams.
Mexican Wedding Cake: Traditional for Mexican weddings, this dessert is actually a cookie. Shaped into crescents and covered in powdered sugar.