Wedding Party Fun: Smilebooth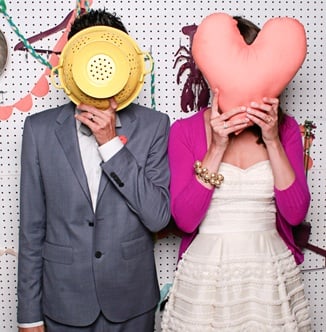 I'm still waiting to show up at a wedding and find a smilebooth. (That might sound weird but I have been to a bajillion kazillion weddings in the last few years so I feel as though the probability has been high.) I love the color of the photos and the faces, props, and expressions captured in all of the images are just plain F-U-N.
Perhaps a bit pricey for some, but in my opinion the fun photos that you will get as a result far outweighs the cost. I'm serious—look at some of these pics! For starters, you can customize your own backdrop and props in its entirety. (This is called The Whole Shebang and will run you about $550.) Or, just go with the "Sweet and Simple" for $350 where they customize your backdrop to your wedding style and colors. (So, you'll have to make your own props.) On a budget, but want to bring the fun? "Previously Loved" packages (a mere $250) let you choose from a selection of backdrops already used at previous events.
Package info. here. Oh, and if you rent one, can you invite me to your wedding just so I can come take pics with you? I kid …