Weekday Cassoulet
Cassoulet: the ultimate one-pot meal (and it's easier to make than you might think)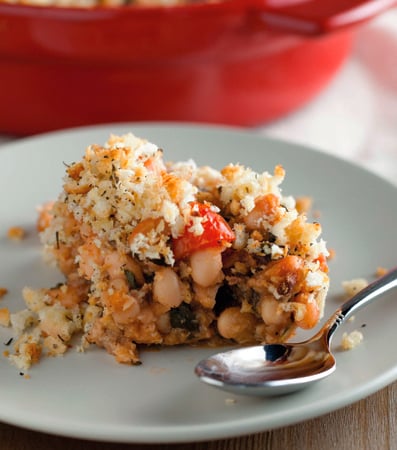 The traditional slow-cooked French cassoulet has long been lauded as the ultimate one-pot meal. Although it's also somewhat notorious for its labor-intensive preparation, don't let that intimidate you: personal chef Carrie Hegnauer says that it's not as challenging as it might seem—and the results are worth the effort.
"It's very, very forgiving," she says. "This is just real peasant food." For her take on the classic dish, Hegnauer adds nutritious, seasonal winter vegetables like fennel and Swiss chard to boost flavor and color.
White Bean and Italian Sausage Cassoulet with Fennel and Onion Confit
1 pound dry cannellini beans, sorted, rinsed, and soaked in cold water overnight
1 fennel bulb, sliced in half lengthwise, green fronds and tough core discarded, and sliced into 1⁄2-inch slices
1 large onion, thinly sliced
1 cup water
1 quart plus
2 cups chicken stock
1⁄2 bunch Swiss chard, stems and leaves separated and chopped
1 pound sweet Italian sausage
1 cup cherry tomatoes, sliced in half 1⁄2 tablespoon sea salt
1 bouquet garni, tied together with a square of cheesecloth
1 bay leaf
2 flat leaf parsley stems
10 black peppercorns
For the crumb topping, mix together in a bowl:
2 cups fresh bread crumbs
1 tablespoon olive oil
Salt and pepper to taste
1 teaspoon dried oregano or Italian blend dry spices
One day before serving: Sort and rinse the cannellini beans, and soak them overnight covered with cold water. Make the fennel and onion confit by combining fennel, onion, and 1 tablespoon of butter in a large sauté pan on medium heat. Allow to soften, but not to brown. Once softened, add remaining butter, the bouquet garni, and 1 cup of water. Continue to cook on medium-low for 15 minutes. Cool the contents of the pan together in the refrigerator. Chill overnight.
On the day of: Heat oven to 350 degrees. In a large stock pot, add drained beans and cover with chicken stock. Bring to a boil, then reduce heat to a simmer. When beans have nearly reached the desired tenderness (after about 2 hours), add chopped chard stems and refrigerated confit. If more than a slight amount of liquid remains, boil with the cover off to reduce. Remove bouquet garni and discard.
In a large sauté pan on medium-high heat, brown the Italian sausage and add sliced chard leaves. Reduce heat to medium-low, cover, and wilt the chard for about 15 minutes.
Combine all in 2-quart casserole dish. Fold in cherry tomatoes. Cook uncovered in 350-degree oven for 30 minutes. Remove from oven and cover top with fresh breadcrumb topping. Cook for 10 to 15 more minutes until brown and bubbly.