Weekend Arts Events (Aug. 26-28)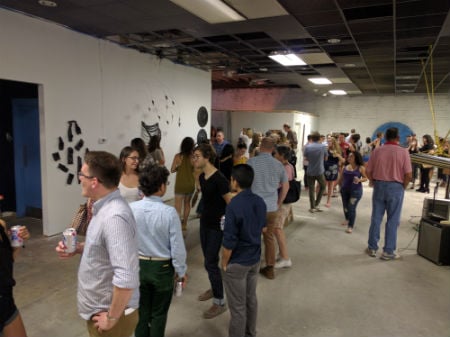 FRIDAY
RICK SPRINGFIELD
Mr. Jessie's Girl himself comes to the Charlotte Metro Credit Union Amphitheatre for a late August concert. Springfield recently returned to acting with a role in HBO's True Detective as psychiatrist Dr. Irving Pitlor.
GOODYEAR ARTS
Friday brings the first official showcase for the program's tenure at 516 N College St. The work of current residents Micah Cash, Ramya, and Chris Thomas includes sculpture, painting, drawing, installation, photography, virtual stories, and film.
BIG JAY OAKERSON
Oakerson has appeared on The Tonight Show with Jimmy Fallon and Inside Amy Schumer. And like several comedians, Oakerson's also in the podcasting game, with the high-profile show Legion of Skanks.
HARVEY B. GANTT CENTER FOR AFRICAN-AMERICAN ARTS + CULTURE
Once called the Afro-American Cultural Center, this museum opened in the 1970s and jumped around to different venues before settling in its current South Tryon Street location in 2009. Shaping the Vessel: Mascoll + Samuel (through Jan. 16) displays 20 wood works created by John Mascoll and Avelino Samuel with a lathe and other tools. Nellie Ashford: Through My Eyes (through Jan. 16) focuses on the folk art of the titular artist, a Charlotte native who explores identity and community through her works. The museum's permanent exhibition, the John & Vivian Hewitt Collection of African-American Art, showcases the work of 20 artists, including Charlotte native Romare Bearden.
SATURDAY
STOLEN HEARTS
Musicians Pam Taylor and Robert Johnson Jr. comprise this duo. Their sound is self-described as "dirty Southern soul."
DARIUS RUCKER
Last year's Southern Style quickly hit No. 1 on the Top Country Albums chart. With that full-length, Rucker found yet another hit in "Homegrown Honey." He already had several under his belt from his days with Hootie & The Blowfish.
GOD SAVE THE QUEEN CITY
This year's God Save the Queen City festival, produced by Ink Floyd, hits two venues: Fillmore and Snug Harbor. The main event arrives on Saturday, with performances by Black Pistol Fire and Nikki Lane.
RIVER JAM
(through Sept. 29) On Thursdays and Saturdays during the summer, River Jam offers free outdoor music at the U.S. National Whitewater Center. Check out the center's selection of food and beer and kick back. This month's lineup includes The Show Ponies (Aug. 4), Parsonsfield (Aug. 6), Davy Knowles (Aug. 11), Jarekus Singleton (Aug. 18), Amigo (Aug. 20), The Accomplices (Aug. 25), and The Mike Strauss Band (Aug. 27).
SUNDAY
GOO GOO DOLLS
The Goo Goo Dolls had their greatest success with the tune "Iris," but the band's had 13 other top-10 singles. Hear several of those with this PNC Music Pavilion show.
BECHTLER MUSEUM OF MODERN ART
The Bechtler's building, designed by Swiss architect Mario Botta, is a modern work of art itself. Niki de Saint Phalle's iconic outdoor sculpture, "The Firebird," welcomes visitors. Inside, you'll find fine art exhibitions, films, jazz, classical concerts, and talks. The House That Modernism Built (through Sept. 11) explores mid-20th century art, furniture, textiles, and more, offering examples of how the principles of modernism still resonate today. All That Sparkles: 20th Century Artists' Jewelry (through Jan. 8) pairs traditional works with jewelry, crafted by the hands of Alberto Giacometti, Niki de Saint Phalle, Harry Bertoia, and others.