Weekend Arts Events (Dec. 4-6)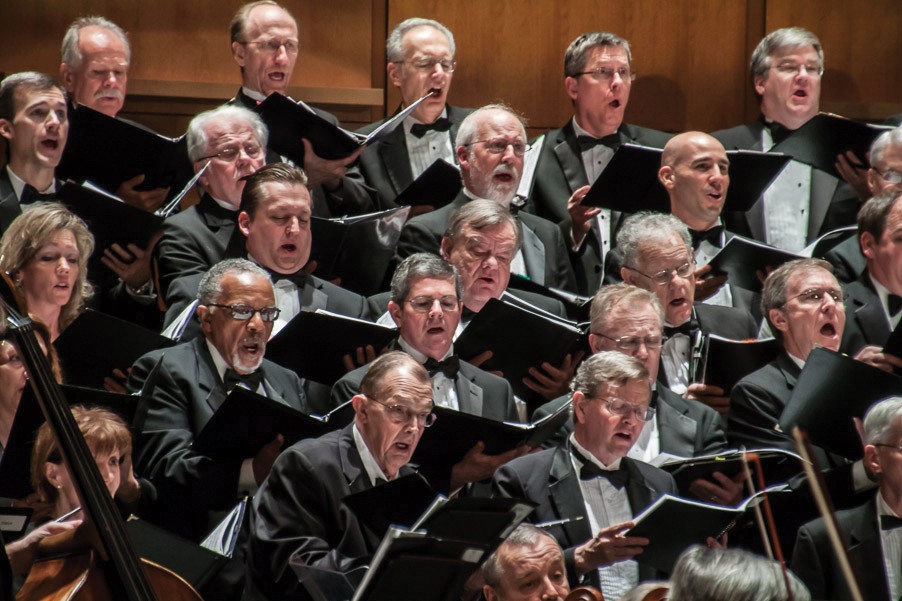 Want to see more Christmas arts events? A big list for the month of December can be found here.
FRIDAY
CHARLOTTE SYMPHONY: MAGIC OF CHRISTMAS
Sing along with the symphony for this night of Christmas cheer. Albert-George Schram conducts, and he's joined by Charlotte Symphony Chorus, Charlotte Children's Choir, singer Michael Andrew, and Martha Connerton/Kinetic Works Dance Company.
JAZZ AT THE BECHTLER: JINGLE BELL JAZZ
Get jazzy with these renditions of "Deck the Halls," John Coltrane's take on "Greensleeves," and, of course, "Winter Wonderland." The Ziad Jazz Quartet is the band behind this monthly concert series.
CREATIVEMORNINGS
December's theme is "Time," and the Charlotte speaker is author Patrice Gaines. You can read much more about this event by going here.
THE HOLIDAYS: CHARLOTTE STORYTELLERS STORYSLAM
"The Holidays" is the topic of this Storytellers meeting, which is closer to an open mic format than previous events. Check out a Q&A on the group and its events here.
THE GREAT AMERICAN TRAILER PARK CHRISTMAS MUSICAL
This is a familiar December title for the Actor's Theatre of Charlotte. Tunes such as "Christmas in My Mobile Home" offer insight into the humor found in the fictional Armadillo Acres trailer park.
THE LIGHT FACTORY
This venue's vision statement says, "The Light Factory is committed to photography and film as a means of enriching lives and transforming communities." Connie Thalken: Eyes Open Slowly (Dec. 4-Jan. 29) displays the work of the photographer and multimedia artist, who often uses animals and the natural world in her exhibits. In this show, Thalken uses taxidermy photos to examine the "often paradoxical relationship between human and animal." Classes include DSLR usage, black and white film photography, and portrait photography.
SATURDAY
BILLY JOEL
What can you say about a guy who has sold more than 150 million records worldwide, boasts six Grammys, and in 2013 was a Kennedy Center Honors recipient? I'm told he's a big deal.
AN EVENING WITH DAVID SANBORN
The alto saxophonist has released two dozen records and garnered six Grammys. Just as impressive has been his ability to consistently bring new influences into jazz, from rock and pop to soul.
BECHTLER MUSEUM OF MODERN ART
The Bechtler is more than just a rolling roster of fine art exhibitions. Films, chamber music, and presentations tie into the works, with jazz concerts as a separate monthly offering. Portraying the Patron: Andy Warhol and the Bechtlers (through Jan. 18) displays the interaction between the famed art patrons and the pop-art legend in 1973. Sam Francis: Rapid Fluid Indivisible Vision (through March 7) explores the work of the abstract expressionist artist, regarded as a leading interpreter of color and light.
SUNDAY
A CHRISTMAS CAROL
For the ninth consecutive year, Theatre Charlotte is telling the story of Ebenezer Scrooge and his visiting trio of ghosts. This year's schedule boasts 11 performances of the classic tale.
JONNY LANG
This blues guitarist is a wunderkind-turned-industry veteran. Almost 10 years ago, he delved into gospel, and the result was a Grammy for the album, Turn Around.
DISCOVERY PLACE
Kids will be kids—and adults will feel like kids—at this uptown science museum. From live animals to grand experiments of physics, the museum offers a multi-disciplinary adventure. Body Worlds & The Cycle of Life (through May 1) shows the human body through all of life's stages. Here's the kicker: The bodies in the show are real, preserved through a process called plastination.