Weekend Arts Events (June 10-12)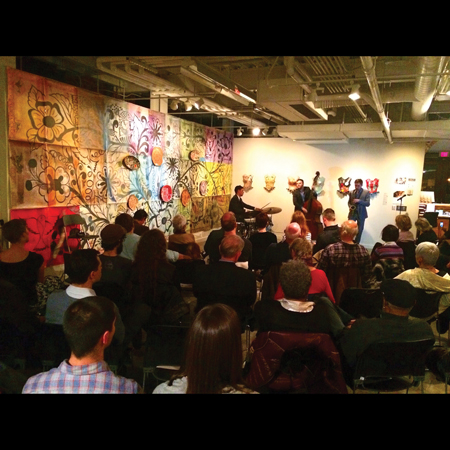 FRIDAY
80X80: AN ART SHOW
The Young Affiliates of the Mint's inaugural exhibition has 80 works that mark the 80th anniversary of the Mint Museum. Curated by Bank of America's Mary Edith Alexander, Jerald Melberg Gallery's Grace Cote, and Halsey Institute's Lori Kornegay, the dozens of artists featured should be familiar to Charlotteans: Amy Bagwell, Amy Herman, Sharon Dowell, Micah Cash, Andy McMillan, Nicholas Napoletano, April Marten, and several, several others.
NO VACANCY
At C3 Lab, an interactive art installation transforms the space into a four-room motel. It's part of the project No Vacancy, an ongoing collaboration between Union Shop Studio and the performance ensemble TAPROOT. An array of artists perform in and change the space, and even members of the public can offer input that helps the project evolve. Erik Button, Dust & Ashes and Patabamba perform at the project's first public event on Friday (June 10).
THE CROCK: THE GREAT INDOORS
The Crock is a new live event series for Charlotte with "genre-bending storytelling," headed by Weird Empire's Rebecca Henderson and produced in collaboration with Charlotte Storytellers. This event, at Free Range Brewing, promises "stories told 'round the fire, scenic projections, the tasty tamales of The Masa Casa, and the release of Free Range Brewing's new campfire-approved IPA."
NEW FREQUENCIES
The Ghost Trees Big Band performs at the last New Frequencies event of the season, unleashing a double-7-inch created during the ensemble's tenure at the old Goodyear building in uptown. Chicago jazz duo Josh Berman and Keefe Jackson open the show.
AARON WEST AND THE ROARING TWENTIES
Aaron West isn't an actual person. It's a persona, adopted by The Wonder Years frontman Dan Campbell. The singer trades in pop-punk for folk rock, and his fans have followed him into the acoustic abyss.
TASTE OF CHARLOTTE
More than 100 samples from local restaurants, live music and street performances, children's activities, and more comprise this festival. And the best part? Much of the event free, with only samples and a few activities to purchase.
SATURDAY
MIRANDA LAMBERT
Miranda Lambert is one of the reigning queens of country. And she's not afraid to share the crown, collaborating with Carrie Underwood for the hit "Somethin' Bad."
PROMPT PARTY
Open Studio Saturday at the McColl Center marks the opening of prompt, an installation project with works from Quisqueya Henríquez, Susan Lee-Chun, and Willie Little. The trio was given a "prompt" from artist Shaun Cassidy with strict terms and given just four weeks. Live music, performances from the Nouveau Cirque, Nouveau Sud troupe, and other activities.
KRIS ALLEN
Like Lambert above, Kris Allen also garnered a name through a reality TV show. His stint wasn't on Nashville Star, though. He was on this little program called American Idol. Post-show, he's maintained his following with new releases and consistent touring.
CHARLOTTE SQUAWKS: 12 ANGRY HENS
Squawks, crafted by WFAE's Mike Collins and Brian Kahn, reappears each year as a parody of pop culture, Broadway, and even local politics. These year's show, the 12th, is subtitled "12 Angry Hens."
STAGE KISS
When well-acquainted actors are paired for a romantic stage production, life begins to imitate art. And somewhere along the way, reality and fiction becomes skewed.
THE BLUEST EYE
Lydia R. Diamond adapted this 1970 Toni Morrison novel to the stage. The story, presented by OnQ Productions, follows the harrowing journey of a young African-American girl in the 1940s.
SUNDAY
CHARLOTTE SYMPHONY SUMMER POPS
This annual cultural event stretches from June to early July, culminating in a patriotic Independence Day celebration. Each Sunday in June, bring a blanket to Symphony Park in South Park and enjoy an outdoors orchestral experience.
THRICE
Five years after a farewell tour, the rock act is back with new tunes and new shows. This is good news for fans, who may have thought a "farewell" tour meant that a band is actually going away. But this is rock, a genre in which bands like KISS have had like five of those things.
HARVEY B. GANTT CENTER FOR AFRICAN-AMERICAN ARTS + CULTURE
Once called the Afro-American Cultural Center, this museum opened in the 1970s and jumped around to different venues before settling in its current South Tryon Street location in 2009. Dance Theatre of Harlem: 40 Years of Firsts (through June 26) celebrates the famous ensemble with costumes, set pieces, and video excerpts. 1960Now (through June 26) is the work of photographer and activist Sheila Pree Bright, who provides black-and-white images of the '60s Civil Rights movement and current activists. The museum's permanent exhibition, the John & Vivian Hewitt Collection of African-American Art, showcases the work of 20 artists, including Charlotte native Romare Bearden.