Weekend Arts Events (Sept. 30-Oct. 2)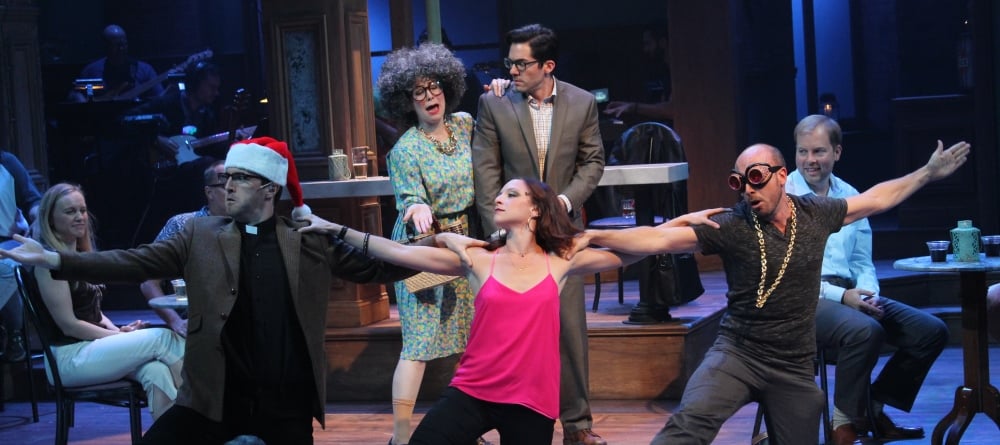 FRIDAY
CAROLINA RENAISSANCE FESTIVAL
The 23rd Annual Carolina Renaissance Festival & Artisan Marketplace takes place on Saturdays and Sundays, Oct. 1-Nov. 20. Each year, the Carolina Renaissance Festival transforms a Huntersville property into a 16th century utopia for fantasy fans. Read an interview with one of the many characters to return here in the 2016 Fall Arts Preview.
UNIBROW
This show, featuring both regional and national artists, is curated by Rebecca Henderson and Grace Stott. From the official description: "Selected works are meant to serve as a cultural survey of contemporary perspectives on nudity, popular culture, humor, and skill. By bringing these polarizing concepts into curated conversation, we ask of our audience to discover for themselves the relationship between absurdity and austerity." The show runs through Oct. 15.
FIRST DATE
This Broadway musical is sure to be a hit in a city full of singles. Tackling the awkwardness and fun of blind dates, this show could be the best way to bring some self-awareness to your own outings. Or if you're married, revisit the days that are—thankfully—long behind you.
CHARLOTTE SYMPHONY CLASSICAL: ALL TCHAIKOVSKY
This program explores the career of Pyotr Ilyich Tchaikovsky, the beloved Russian composer of the late Romantic period. Violinist Esther Yoo and the Charlotte Symphony will perform "Hamlet Fantasy Overture," "Violin Concerto," and "Symphony No. 4."
SATURDAY
BREAKIN' CONVENTION
The international hip-hop dance festival returns to Charlotte, with a slew of events throughout the day and a main show on Friday evening and Saturday evening. Click the link above to see a full schedule of the program.
GOV'T MULE
This Southern rock act is led by Warren Haynes, the legendary guitarist best known for his stint with The Allman Brothers Band. The band's latest record was 2015's Sco-Mule, a live record that was actually recorded at two shows in 1999.
JERALD MELBERG GALLERY
This Cotswold gallery has served the community for more than 30 years. Before that, owner Jerald Melberg was a curator for the Mint Museum at its original Randolph Road location. Check out work from gallery artist and abstract painter Lee Hall THROUGH NOV. 5. The artist explores color and nature through her landscapes.
CHARLOTTE FILM FESTIVAL
Last year's nine-day festival divided 60 films between two theaters in Charlotte. The event is quickly becoming a hub for both emerging and trusted filmmakers across the U.S. to unite and screen their latest creations. The coolest part? Seeing Charlotte's own festival stamp on movie posters. The 2016 festival has expanded to 11 days and will be anchored at one venue this year (Ayrsley Grand). Check out the full schedule here.
SUNDAY
PEPPA PIG LIVE!
Who's Peppa Pig? If you don't know, you probably don't have any preschoolers in your home. The British animated show named for the character is a favorite in households across the world, and this live show brings its characters to the Belk Theater.
BECHTLER MUSEUM OF MODERN ART
The Bechtler's building, designed by Swiss architect Mario Botta, is a modern work of art itself. Niki de Saint Phalle's iconic outdoor sculpture "The Firebird" welcomes visitors. Inside, you'll find fine art exhibitions, films, jazz, classical concerts, and talks. All That Sparkles: 20th Century Artists' Jewelry, THROUGH JAN. 8, pairs traditional artwork with jewelry crafted by Saint Phalle, Alberto Giacometti, Harry Bertoia, and others. Bechtler Collection: Relaunched and Rediscovered, THROUGH APRIL 23, has curator Jen Edwards pulling from the extensive museum collection. The Bechtler family itself is part of this show, along with their close creative associates, like Adolf Luther and Italo Valenti.
NASCAR HALL OF FAME
The NASCAR Hall of Fame has 40,000 square feet of exhibition space to give visitors a look at racing history in a city with its own storied history in the sport. The ongoing Champions exhibit highlights recent winners in NASCAR's three national touring series.