Weekend Highlights
Revue's top picks for this weekend!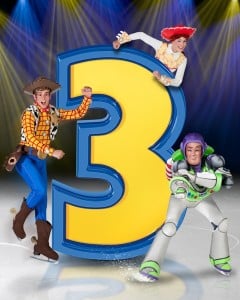 We got one for ya: what do Dolly Parton, Amsterdam, Buzz Lightyear, fangs, and indie rock have in common? Any guesses? No? That's because the answer is "not a darn thing." Except for the fact that they all have a role in this edition of Revue's Weekend Top Picks—the weekly post that never promises coherence, but always guarantees a good time. Here's what's lined up:
9 to 5: The Musical
For a column that is, after all, in celebration of the weekend, it seems only right to include a weekend activity dedicated entirely to making fun of the workday. If you didn't catch this national tour's premiere last night at Ovens Auditorium, make sure you line up some tickets for one of this weekend's shows. The Broadway musical (which was actually a movie in 1980) recounts the antics of three disgruntled employees at a large corporation who decide to take revenge on their obnoxious boss. The Grammy- and Tony-nominated score was written by Dolly Parton, and it should have you shouting both "yee-haw!" and "encore!" by curtain close.
Disney on Ice: Toy Story 3
Combining double axles and Disney was probably the greatest stroke of show business genius in the last century. In addition to being your best bet for keeping the little ones entertained this weekend, we think watching a guy land a triple lutz with a giant, plastic Rex costume on is going to be epic. This show, too, is only in town at the Time Warner Cable Arena through Sunday, so be sure to line up tickets for playtime as soon as possible.
Dracula
The much-anticipated premiere of North Carolina Dance Theatre's 40th season is finally upon us. Remember that creepy, chilling feeling you got when that fuzzy, black and white Nosferatu crept up from the dungeon and chomped into the neck of that unsuspecting dame? Now imagine him doing demi-pliés afterward. Now that, fair reader, is scary. The ballet, unlike its namesake, will be short-lived. It's only playing through October 16th, so get your tickets, now.
The Diary of Anne Frank
If you're out in the south 'burbs this weekend, and looking for some nearby entertainment that's a little more profound than the usual Netflix selection, consider heading over to the Matthews Playhouse for a community theater production of The Diary of Anne Frank. Playwright Wendy Kesselman took the Pulitzer-winning play by Frances Goodrich and Albert Hackett and fused it with newly discovered Anne Frank writings and other Holocaust survivor accounts to create an entirely new adaptation of the timeless story.
Built To Spill
A Weekend Top Picks bonus! Because Built to Spill happens to be in town on Monday night. The Boise-based band has an alternative, mid-tempo feel (think a less synthesized version of The Shins) that always feels like just the right fit for a smaller music venue (think, for instance, the Neighborhood Theatre, where they'll be performing). Built to Spill has a wide variety in their sound, partially due to their frequent covers of everyone from Elliott Smith to Ozzy Osbourne, and partially due to the fact that lead singer Doug Martsch rotates his band members for nearly every album.