Weekend Social Events, Dec. 1 to Dec. 4
Prepare for the barrage of holiday cheer with the coming of December.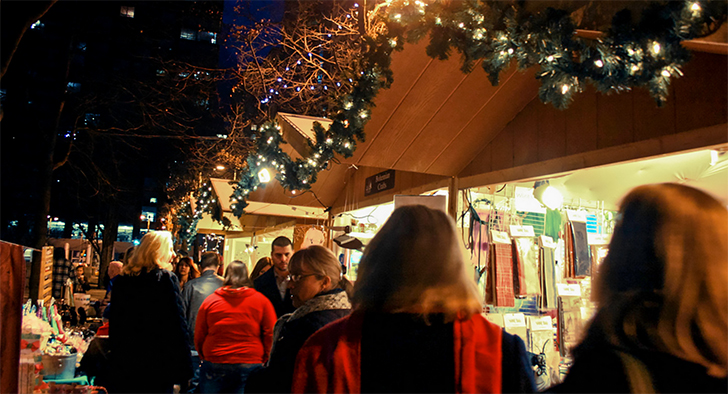 December is officially here, and it wastes no time bombarding us with Christmas parties. The hard part is just picking a few. Happy holidays! See y'all out there!
Thursday, Dec. 1
Charlotte Christmas Village
This German-inspired Christmas market at Romare Bearden Park features festive foods, music and shopping. Best of all, there's no admission charge. Hours vary. The market lasts until Christmas Eve. Learn more here.
Weihnachtsmarkt
If one German-themed Christmas market isn't enough for you, you're in luck! Olde Mecklenburg Brewery hosts this annual Christmas market that opens tonight with a Christmas tree lighting ceremony. The market sells baked goods, beer and holiday gifts this weekend and the two after that. Hours vary. There's no admission fee to the market at 4150 Yancey Road. Learn more here.
Friday, Dec. 2
The Festival of Trees
This fundraising party to benefit The Arc of Mecklenburg County features live music, heavy appetizers, raffles, a silent auction and more. The Levine Museum of the New South, 200 E. Seventh St., hosts this party from 7 p.m. until 9:30 p.m. Tickets cost $30. Buy yours here.
Second Chance Christmas
This is billed as Charlotte's largest holiday gala, so dress to impress at this event (black-tie optional). Partygoers can enjoy live music, heavy appetizers, beer and wine vouchers and more. Bring a toy to donate to a child in need, and your ticket will cost $48. If you plan to be a Scrooge and not donate, your ticket will cost $60. This year's party is at Flight, 314 N. College St., from 8 p.m. until midnight. Buy your ticket here.
Jazz at the Bechtler: Jingle Bell Jazz
The annual mixing of art and jazz music gets a Christmas twist tonight with "Jingle Bell Jazz." Concertgoers can choose to attend at either 6 p.m. or 8:15 p.m. Tickets to Jazz at the Bechtler, 420 S. Tryon St., cost $14 for non-members or $8 for members. Buy your ticket here.
Tacky South End Holiday Party
South End's art galleries open their doors during the first Friday of each month (which is today), so plan to make your away along the gallery crawl before stopping in to this holiday party. This after-crawl party features improv, a photo booth, food, drinks, a tacky sweater contest, shopping and more. The party is at the Charlotte Art League, 1517 Camden Road, and it starts at 9:30 p.m. There's no admission fee.
Saturday, Dec. 3
Red Pump/Red Tie Affair
This annual gala to commemorate World AIDS Day, raises awareness about HIV and AIDS among women. The evening will include live entertainment, a cocktail reception with a silent auction, a runway fashion show and more. Ladies are encouraged to come dressed in red high heels and men in red neckties. The evening runs from 7 until 10 at LaCa Projects, 1429 Bryant St. Tickets cost about $42. Buy yours here.
All Red Holiday Party
'Tis the season to wear your best red threads. At this all-red holiday party, you'll enjoy live music plus food and drink specials. The party's at The Doghouse Bar and Grill, 7200 Albemarle Road, from 1 p.m. until 5 p.m. Tickets cost $5 and you can buy them here.
Charlotte Bar Golf
If Christmas just isn't your thing, we're not about to leave you out entirely. This round of eight "holes," (read: bars), starts at 5 p.m. and includes drink specials at each of the eight bars included in this game of bar golf (RiRa's, Prohibition, Tin Roof, Fitzgerald's, Connolly's on Fifth, Tilt on Trade, Corner Pub and Lucky's Bar and Arcade). Tickets cost $10, and you need to pre-register for them by emailing Sean Gartley at SeanGartley@gmail.com. Funds raised go toward helping the Cystic Fibrosis Foundation.
Sunday, Dec. 4
Speedway Christmas
Here's your chance to drive your car on the Charlotte Motor Speedway. Every November and December, the Speedway decorates with 3 million Christmas lights and invites Charlotteans far and wide to come and gaze at them. The Christmas event runs 6 p.m. until 10 p.m. through New Year's Eve. Tickets cost $30 per car. Buy yours here.
Verify dates, times, prices, and other info at the web addresses listed for each event.
Be sure to bookmark www.charlottemagazine.com/Blogs/Dusk-Till-Dawn to stay plugged into Charlotte's nightlife and social scene. Click here to sign up to receive the weekly Dusk Till Dawn e-newsletter.
Want your event featured in Dusk Till Dawn? Follow me on Twitter @Jared_misner and let me know about your event, or send me an email at dusktilldawnblog@gmail.com.