Weekend Social Events, Dec. 8 to Dec. 11
There's no room for Scrooges in this weekend of Christmas-filled cheer.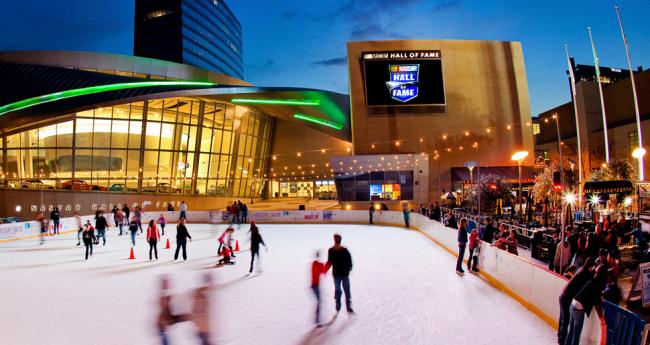 It's beginning to look a lot like Christmas. Nearly every event on our list this week involves you decking the halls in some way, including three that have you dressing up as Santa. Happy holidays, Charlotte! See y'all out there!
Thursday, Dec. 8
Sip & Shop
The 7th Street Market's annual holiday Sip & Shop starts today and runs every Thursday until Christmas. The market's regular tenants will be on hand, plus there will be additional holiday vendors to help you finish your holiday shopping. The first 100 people there score a complimentary glass of sparkling wine. The shopping party starts at 4 p.m. and lasts until 9 p.m. There is no admission charge. The 7th Street Public Market is at 224 E. Seventh St.
Friday, Dec. 9
VTGCLT POP
If you couldn't make it to the Sip & Shop last night, never fear VTGCLT POP. This gobbledygook of letters, is back with 77 vendors to help your last-minute shopping needs. Setting up shop in the Latta Arcade, 320 S. Tryon St., this pop-up market runs from 10 a.m. until 6 p.m. from today until Dec. 21. There is no admission charge.
Panther Nation Bar Crawl
Before every home game, the super fans of our Carolina Panthers gather together in Uptown for a bar crawl. It's since turned in to a pre-game wake of sorts. Registration is from 5 p.m. until 7 p.m. at Tilt on Trade, 127 W. Trade St., and then takes crawlers to Fitzgerald's, Roxbury, BlackFinn, SIP, Tin Roof, 204 North and Whisky River. Tickets cost $11 in advance or $15 at the door. Buy your tickets here, and for God's sake, don't forget your tie.
Every Christmas Ever Told (And Then Some!)
Chickspeare takes the stage tonight at NoDa Brewing to retell, as they said, every Christmas story ever told, in 90 minutes. The Christmas-filled evening features holiday traditions from around the globe, singalongs of every Christmas carol ever sung, an audience-wide gift exchange and, of course, craft beer. Show times and locations vary, but tickets cost about $26 in advance or $28 at the door. Buy your tickets here.
Saturday, Dec. 10
Sexy Santa Costume Party
A sentence we'd never thought we'd write: A Corona beach chair is up for grabs tonight with the best sexy Santa costume. The costume party starts at 9 p.m. at Ice Martini, 9526 Birkdale Crossing Drive in Huntersville.
Santa Bar Crawl
Get ready to shake that belly like a bowl full of jelly tonight at the 17th-annual Santa Bar Crawl. Registration begins at 3 p.m. at Lucky's Bar and Arcade, 300 N. College St., and takes crawlers to Blackfinn, Bubble, Connolly's, Fitzgerald's, Flight, Howl At The Moon, Prohibition, RiRa, Rooftop 210, SIP, Kandy Bar, The Local, Hooters, Roxbury, Suite, Tilt On Trade, Vida Vida and Whisky River. The crawl lasts until 2 a.m., so that's 11 hours to hit 19 bars. Santa suits are, obviously, encouraged. Tickets cost about $19. Buy yours here.
Merry Christmas, Ya Filthy Animals
Blackfinn's Ballantyne location doesn't want to be left out of the Santa Bar Crawl fun tonight, so it's throwing its own party tonight. This Christmas costume-themed party features a DJ, pictures with Santa, Corona specials and more. There is no admission charge to this party. Blackfinn's Ballantyne location is at 14825 Ballantyne Village Way.
Krampus Krawl
This is a horrifying event. Let's just say this right off the bat. Essentially, Christmas becomes Halloween tonight in NoDa with this crawl of monster-looking bargoers. If you want to become one of the monsters yourself, join the revelry at Jack Beagle's, 3213 N. Davidson St., from 5:30 p.m. until 6:30 p.m. The Krawl then goes to Growler's and Sanctuary before heading back to Jack Beagle's at 10 p.m. for the Krampus Rumpus. There's no admission fee for this event.
Sunday, Dec. 11
Ongoing Christmas events
As the Christmas season enters its final two weeks, here are two annual events you shouldn't miss.
Holidays at the Garden
The Daniel Stowe Botanical Garden lights more than half a million lights during the season to ring in the holidays. There's a fire to make s'mores, Santa will be there along with holiday music and more. The lights are on from 5 p.m. until 9 p.m. nightly until Jan. 1 at 6500 New Hope Road in Belmont. Tickets cost about $16, and you can buy one here.
Holidays at the Hall
It's not Central Park, but it's Charlotte's most iconic ice skating rink. The NASCAR Hall of Fame transforms into a winter wonderland every year with this event full of "high-octane holiday fun." In addition to the ice skating, the NASCAR Hall of Fame boasts a whopping 39-foot-tall Christmas tree for photo opportunities. Hours today are from 11 a.m. until 7 p.m., but they vary during the week. A ticket (with skates) costs $14, but if you bring your own skates, the price drops $4. Buy your ticket here.
Verify dates, times, prices, and other info at the web addresses listed for each event.
Be sure to bookmark www.charlottemagazine.com/Blogs/Dusk-Till-Dawn to stay plugged into Charlotte's nightlife and social scene. Click here to sign up to receive the weekly Dusk Till Dawn e-newsletter.
Want your event featured in Dusk Till Dawn? Follow me on Twitter @Jared_misner and let me know about your event, or send me an email at dusktilldawnblog@gmail.com