Weekend Social Events, Oct. 13 to Oct. 16
An apple harvest festival, a full moon fest and a Halloween costume fashion show all let us know exactly what time of year it is.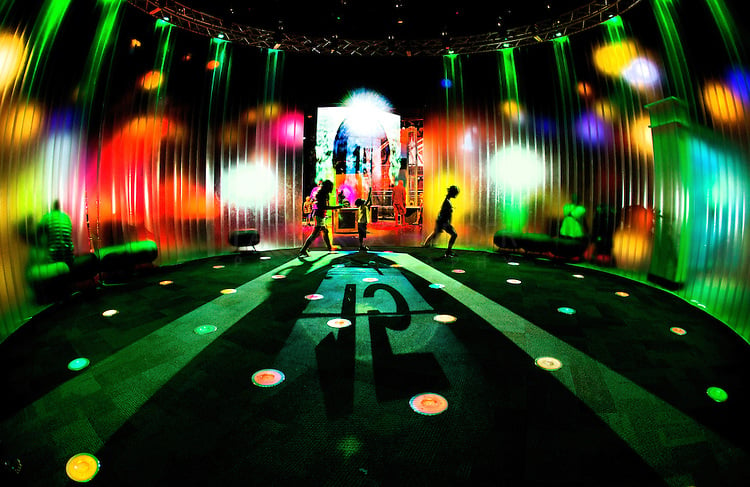 From a zombie "bar-ocalypse," to a Halloween costume fashion show to an apple harvest festival, you'll have plenty of chances to get into the holiday spirit this weekend. See y'all out there!
Thursday, Oct. 13
Party with a Purpose
Here's a party that'll make you feel good. Benefitting Charlotte Family Housing and Crisis Assistance Ministry, this party at Mac's Speed Shop features live music, barbecue, beer and a cornhole tournament. Tickets cost about $43 in advance or $50 at the door. The party is from 4 p.m. until 8 p.m. at 2511 South Blvd. Buy your ticket here.
#DiscussCLT
Here's a shameless plug for Charlotte magazine's next discussion panel. This event, which also features free appetizers, beer and wine from 5:30 p.m. until 6:15 p.m., focuses on four local entrepreneurs and how they "made things happen." There's no admission fee to the event at Goodyear Arts, 516 N. College St. RSVP here.
Friday, Oct. 14
Night of ¡NUEVOlution!
Levine Museum of the New South hosts this evening of music and dancing to celebrate its ¡NUEVOlution! exhibit. A ticket buys you admission to explore the exhibit and enjoy live music by Ultima Nota and dancing with a team of salsa dancers. Tickets cost $8 in advance or $10 at the door. The evening runs from 8 until midnight at 200 E. Seventh St. Buy your ticket here.
Halloween Costume Fashion Show
If you need help with your Halloween costume this year, this event's for you. Featuring $5 "Vampire's Kisses" and $6 "Hocus Pocus Punch," this fashion show will showcase some of this year's most popular Halloween costumes. There is no admission fee to this party from 9 p.m. until 2 a.m. at Whisky River, 210 E. Trade St.
Wiggin' Out Bar Crawl – Rescheduled
Rained out by Hurricane Matthew last weekend, this bar crawl is back on tonight. For about $12, you'll get a ticket to the crawl, a free wig in the color of your choice, a Koozie and access to the bars' exclusive drink specials. Registration is at Flight, 314 N. College St., from 7 p.m. until 8:30 p.m. From there, it's to Fitzgerald's, Connolly's, The Local on Fifth, SIP and Prohibition. Buy your ticket here.
Saturday, Oct. 15
Full Moon Fest
To celebrate the spooky October full moon, Flight is throwing this party. The fest features 10 local breweries sampling their brews, live music, games and more. The fun starts at 4 p.m. and lasts until 8 p.m. at 314 N. College St. Tickets cost about $22. Buy one here.
Brewer's Ball
This is billed as the sophisticated version of a beer fest, so put on your cocktail dresses and suits, ladies and gents. Ball attendees get to sample brews from a host of local breweries along with food from a mix of restaurants. Aside from the sampling, this party features an auction, live entertainment and more. The ball starts at 7 p.m. at Discovery Place, 301 N. Tryon St. Tickets cost $75. Buy one here.
South End Wine Fest
We've come to know and love both the South End Hops Fest in the summer and the South End Wine Fest in the fall. Wine takes center stage today as 25 different vineyards offer unlimited samplings. The vineyards come in addition to a mix of food trucks and live music. The fest is from 2 p.m. until 6 p.m. at 308 W. Carson Blvd. Tickets cost $35 and benefit Classroom Central. Buy one here.
Apple Harvest Festival
Head south of the border for this festival at Windy Hill Orchard to celebrate the end of apple-picking season. Aside from the orchard's hard cider and apple cider doughnuts, the festival features live music, blacksmith demonstrations, bounce houses, hayrides and more. The fest runs from 10 a.m. until 6 p.m. at 1860 Black Highway in York, South Carolina. Tickets cost $8. Buy yours here.
Zombie Bar-ocalypse
This isn't your regular bar crawl, but we assume you got that from the title. Crawlers start the evening as humans, attempting to "survive" the evening without contracting a zombie infection. (The crawl also offers you the chance to start the evening out as a zombie with full zombie makeup, but that costs extra.) Each bar along the crawl will be marked as a safe zone. The event organizers would like you to think of this as a large-scale version of Humans versus Zombies meets tag meets hide-and-seek. If you make it to the end of the evening, you'll get a prize at the end of the crawl. Registration is at Tilt on Trade from 6 p.m. until 7:30 p.m. Participating bars are still to be determined, but the evening will end back at Tilt on Trade, 127 W. Trade St., at midnight. Tickets cost $15, and you can buy them at the door.
'80s Bar Crawl
Good luck deciding who's on the '80s bar crawl and who's on the zombie bar crawl. Registration for this '80s crawl begins at 7 p.m. at Rooftop 210, 210 E. Trade St. From there, crawlers stop at Blackfinn, Bubble, Suite, Whisky River, Vida Vida and StrikeCity. A ticket costs $12 and includes admission into all participating bars. Buy yours here.
Sunday, Oct. 16
Lost Hollow Music Fest
Head out to the Daniel Stowe Botanical Garden today for a full day of live music, cornhole tournaments and food and drinks. The music starts at noon and lasts until 6 p.m. A cornhole team registration costs $50 for a team of two and includes admission to the fest (top three teams win a prize). Admission to the fest costs about $13 for adults. The fest and tournament also runs Saturday afternoon. For more information, to purchase tickets and schedule, go here.
BrewFest weekend
The Renaissance Festival becomes a bit of beer fest this weekend. Sample the festival's selection of brews and take your chance at the fest's beer games. There's also a "saucy wench" costume contest, and we'll not comment on that. The BrewFest runs from noon until 4 p.m. both today and Saturday at the festival, which is at 16445 Poplar Tent Road in Huntersville. Admission to BrewFest is included in a general admission ticket. Those cost $23 for adults. Buy yours here.
Verify dates, times, prices, and other info at the web addresses listed for each event.
Be sure to bookmark www.charlottemagazine.com/Blogs/Dusk-Till-Dawn to stay plugged into Charlotte's nightlife and social scene. Click here to sign up to receive the weekly Dusk Till Dawn e-newsletter.
Want your event featured in Dusk Till Dawn? Follow me on Twitter @Jared_misner and let me know about your event, or send me an email at dusktilldawnblog@gmail.com.