Weekend Top Picks
The best places in town to see, taste, and listen this weekend.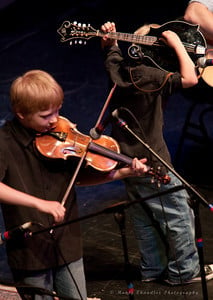 Merry Hump Day, everyone! 'Tis the time of week to start fantasizing about your weekend plans, and because you've been very good readers this week, we're dropping a list of events down your chimney to add to your weekend wish list. Starting Thursday, Charlotte's schedule is packed with once-in-a-blue-moon events, from Theatre Charlotte's season premiere, Annie (check out our Q&A with cast member Jenn Grabenstetter), to the beloved, Bacchanalian Time Warner Cable Blues & BBQ Festival. And with that said, happy planning to all, and to all a great weekend!
Yiasou Greek Festival
This year marks the 33rd Annual Yiasou Greek Festival, one of the few times a year locals are okay with having East Boulevard clogged like one of John Candy's arteries. This year will feature lectures on classical Greece from UNC-Charlotte and Davidson College professors. Not exactly sold? Hang on: the Holy Trinity Greek Orthodox Church (your fine host) is also setting up a mini-amusement park for kiddies, as well as a Greek drive-thru on Winthrop Avenue, where you can order treats like lamb, souvlaki, and baklava. Live entertainment from the church's own Greek dancers and musicians will add the soundtrack to the four-day festival. Opa!
Time Warner Cable Blues & BBQ
Because this annual event is Charlotte's Mardi Gras, we're going to have a more detailed pre-brew (thank you, thank you) on Revue tomorrow, but we at least want to make sure you have this in your Blackberry. The Blues, Brews, and BBQ Fest—oh wait, we forgot. Even roasted suckling pigs have sponsors, now. The Time Warner Cable Blues & BBQ festival (and now we'll drop the attitude, we swear) is a three-day, citywide excuse for decadence, so you'll want to make sure you at least make it to some of the festivities. It's the Charlottean thing to do.
Annie
Friday! Friday! We love ya, Friday! You're only two days away! Theatre Charlotte is kicking off its season this Friday with the premiere of Annie, and you'll want to take the time to see this fiery, curly-headed musical. TC viewed more auditions than ever before to find the perfect orphans, nannies, and Warbuckses for this show, so you know you'll be watching some of the city's most talented (if precocious) stars. It's your best bet if you're hoping to bring the family to a night of toe-tapping and show tune-singing, and definitely your best bet to publicly embarrass them doing so.
Kings of Leon
You know that you could "Use Somebody" to rock out with this Friday night. Fortunately, there are still tickets available to see this Tennessee-based family act take over Verizon Wireless Amphitheatre. Kings of Leon has a grunge-meets-pop rock style that's hard to find these days, and even harder to find on Kiss FM. But the group's wide appeal has found them a niche in mainstream music, with hits like (obviously) "Use Somebody" and (admit it) your favorite, "Sex on Fire." Opening is The Black Keys, an eclectic rock duo that recently released two rap-rock albums that included collaborations with Ludacris, Mos Def, and Nicole Wray.
Tosco Music Party
It's tough to explain the Tosco Music Party, but we like to say it's the TEDx conference of local music. Approximately 20 local artist will take the stage to perform one of two numbers, and while their styles will range from twangy (a word, yes) bluegrass to alternative rock to gospel, they all come from right here in Charlotte. The tri-annual music events started as acoustic jam sessions in founder John Tosco's living room, before moving to CPCC Halton Theater (we guess Tosco's living room didn't have quite the right acoustics). This is where the Avett Brothers had one of their first gigs, so who knows? You could be seeing the start of one (or more) of Charlotte's homegrown stars.