Weekend Top Picks for April 13-15: Natalie Cole, "Floyd Collins," Sensoria Festival, and More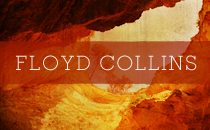 What do a man trapped in an underground cave, rival cheerleading squads, and an Oscar-winning animator have in common? Not much, except they are all part of the cultural scene this weekend in Charlotte. So much to do, including …
Natalie Cole with Charlotte Symphony Orchestra. The daughter of a legend became a legend herself. She's unforgettable. Friday at 8 p.m. at Ovens Auditorium. Tickets, showtime.
Clybourne Park at Actor's Theatre. "Well, there goes the neighborhood" sums up the theme of this comedy about racial tensions in the suburbs. It's playing on Broadway now, but you don't have to go to New York to see it. Actor's Theatre got the rights to show it concurrently with the Broadway production. Read my Q&A with director Dennis Delamar. Details.
Floyd Collins at CAST. A man is buried alive in a cave, and a media circus ensues. This is the true story of Floyd Collins and the cub reporter who told the world about his horrifying predicament. Oh, and it's a musical. Read my interview with the author of the book on which the play is based and one of the play's stars. Friday and Saturday.
The Light Factory presents Don Hertzfeldt. The Oscar-winning animator is known for his childlike stick figures who find themselves in absurd and tragic situations. Hertzfeldt has a cult following. Read my Q&A with Hertzfeldt. Saturday night.
Bring it On: The Musical. I was the shortest cheerleader, so they always wanted me at the tippy top of the pyramid. Sadly, I was also the most uncoordinated and the biggest wuss. As a failed cheerleader, I especially appreciate those who can make it to, um, the top. The stunts! The snark! It's all here. Tickets, showtimes. Read my Q&A with the Tony-winning playwright.
And, CPCC's Sensoria arts festival starts this weekend. There are way too many events to list here, so visit www.sensoria.cpcc.edu for a full schedule. There's theater — including Made in America: A Tribute to Gershwin & Bernstein, opera, dance, film, poetry, culinary arts, literature, visual arts, the list goes on. Best of all, most of it is free. It's CPCC's annual gift to Charlotte.