Weekend Top Picks for Jan 13-15: "Cash Crop" at The Gantt Center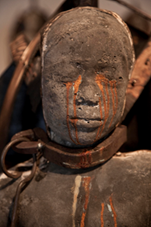 Monday is Martin Luther King, Jr. Day, and the Harvey B. Gantt Center has a weekend's worth of activities that look back at the centuries-old oppression Dr. King fought.
Cash Crop is one of the most exciting shows to open anywhere in Charlotte this season. Young, SCAD-trained Stephen Hayes encountered an image of a slave ship diagram in a printmaking class and began a process that would eventually lead to this powerful installation which opens Friday, Jan 13 at 6 p.m. The installation invites viewers to walk into an emotional and psychic space to confront the past and — yes, the present — of slavery. Life-size sculptures of Hayes's friends and family members are encased in a wooden replica of a slave ship (a coffin, perhaps?) and bound together by iron shackles Hayes constructed himself.
Hayes makes a point that's difficult to face. He says slavery is still going on today in Third World countries. And, we're guilty of consuming the goods made by modern-day slaves.
Contemporary African Photography: Malick Sidibé & Zwelethu Mthetwa and a gallery filled with abstract images, titled Rhythm-A-Ning: James Phillips, Charles Searles & Frank Smith, are also on display.
On Saturday, Jan 14 at 10:30 am, Stephen Hayes will lead a plaster mold-making workshop. Participants will create face and hand molds under Hayes' direction. The cost is $10 (with museum admission) and is limited to twenty participants. Call ahead to reserve a spot. At 2 p.m., Hayes will talk about the inspiration that led to Cash Crop. Tanure Ojaide, a renowned Nigerian poet and writer (and winner of the 2011 Cadbury Prize for Poetry) will moderate.
Friday's exhibition opening is free for members and $5 for the public. RSVP online at www.ganttcenter.org. The Gantt Center will reduce general admission to $5 on Saturday and Sunday; admission is free on MLK Day.
Just across Tryon Street from the Gantt Center, there's something a little more lively going on Thursday and Friday nights. The great B.B. King and his famed guitar Lucille will be burning up the stage at the Knight Theater. The blues never sounded so triumphant. Details.
And just down Tryon Street at Spirit Square, Delta Sigma Theta presents the Ninth Annual Legacy Film Showcase, featuring five award-winning short films by African-American filmmakers. Friday at 6:30 p.m. Tickets, including a pre-screening reception, are $20 each. They're available at www.carolinatix.org or 704-372-1000.