Weekend Top Picks for July 29-31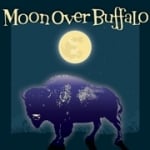 Like Lover Boy sang in the 1980s, everybody's working for the weekend. Reward yourself for making it through another work week with one (or more!) of our cultural best bets.
Moon Over Buffalo. It's your last weekend to see the screwball comedy in which George and Charlotte Hay prepare for a visit from the legendary Frank Capra. The aging actors think this may be their last shot at stardom, and they'll stop at nothing to grab the attention of Mr. Capra. To say that things go haywire in this 1950s-era farce is an understatement. Anne Lambert directs. Tickets, showtime.
Southern Culture on the Skids. We could write volumes about this rockabilly trio from Chapel Hill, but let's just let their song titles do the talkin' for them. "Eight Piece Box" (yes, it's about fried chicken), "Cheap Motels," and "White Trash" are among their fan's favorites. You're as likely to get fried chicken flung at you at a SCOTS show as you are at a NASCAR race. You've been warned. Friday, July 29 at 9 p.m. at Visulite. http://www.visulite.com/calendar.cfm
Rascal Flatts. Gary LeVox and company can be raucous ("Life is a Highway") or sentimental ("Bless the Broken Road"), but they're always fun to watch. And, never more so than on their current Flatts Fest tour, which includes a karaoke contest and miniature golf. The angelic-voiced Sara Evans is among three openers. Friday at 7 p.m. at Verizon Wireless Amphitheatre. Details here.