Weekend Top Picks for March 2-4: Step Afrika!, Cuttin' Up, and More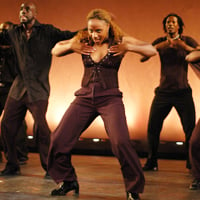 Apparently, there's a big basketball tournament in town.
The CIAA draws A-list celebs (P. Diddy — if that is indeed what he's calling himself these days — will be in the house) to the QC each year. My colleague, Jarvis Holliday, has been reporting on all the events surrounding the tourney. Apparently, the nightlife is just as important as the hoops.
As it happens, it's also Black History Month — or the tail end of it, anyway. And there's a whole lot going on that pays tribute to African-American culture. Coincidence? I think not. Take a look …
Children's Theatre offers Step Afrika! Not familiar with "stepping," a form of dance that originated in black fraternities? You should hip yourself up. Even I — a middle-aged white frumpster — know what stepping is. And I lurve watching it. Friday and Saturday.
Cuttin' Up at Actor's Theatre is an homage to African-American barbershops and the stories (some of them true) that get told there. Friday, Saturday and a Sunday matinee.
Miles & Coltrane looks at two of jazz's greatest composers. It's presented by On Q Productions at Spirit Square on Friday and Saturday nights.
Not familiar with the song "Ashley's Roachclip?" Neither am I. But I do recall the insanely catchy "Bustin' Loose" from junior high dances. The man who gave the world that song (as well as "Ashley's Roachclip") is playing Charlotte. Chuck Brown is considered the Godfather of Go-Go. Friday night at Amos's.
The issue of race — specifically black and white — is at the center of David Mamet's Race. Gender politics play a part, too, in the explosive drama about a wealthy white man accused of raping a black woman. The accused and his three attorneys struggle with getting at the truth — if that's even possible. As one character in the play says, "There are no facts [in a legal case]. There are only two fictions." Friday and Saturday at CAST.