Weekend Top Picks for March 30-April 1: Mavis Staples, Martin Short, and More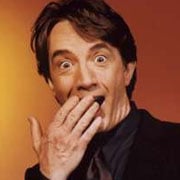 My top picks for the weekend are a diverse bunch. You've got gospel, comedy, Shakespeare-inspired jazz (say wha?) and the greatest hits of one of Russia's finest composers.
Mavis Staples. The gospel legend will bring her big voice to the intimate McGlohon Theatre. She's a Rock and Roll Hall of Famer and a Grammy Lifetime Achievement Award winner. Can I get an "Amen"? Friday at 8 p.m.
An Evening with Martin Short. The former SNL comedian calls this show a "Party with Marty." Other names he considered were "Stroke Me, Lady Fame," "If I'd Saved, I Wouldn't Be Here," and "Sunday in the Park with George Michael." He'll sing, dance, do his stand-up, reprise Ed Grimley, and give his take on the presidential candidates' fashion choices when he brings Franck, the effete wedding planner from Father of the Bride to life. Saturday at 8 p.m. at Knight Theater. Read my Q&A with the comedian.
Charlotte Symphony Orchestra's All Tchaikovsky concert. Christopher Warren-Green conducts the CSO and cellist Joshua Roman for selections from Swan Lake, Variations on a Rococo Theme, and Symphony No. 4. It's Tchaikovsky's greatest hits! Friday and Saturday at 8 p.m.
The N.C. Shakespeare Festival — better known by their abbreviation — N.C. Shakes — presents Duke Ellington's Such Sweet Thunder at the Booth Playhouse on Saturday at 8 p.m. It's an evening of Duke Ellington jazz inspired by The Bard. www.ncshakes.org
If you haven't seen the whirlwind Around the World in 80 Days at Theatre Charlotte yet, what are you waiting for? This is the final weekend to catch it. The source material may be old—Jules Verne published the original tale in 1873—but the play is relatively new. It debuted at the Utah Shakespeare Festival in 2001. More reincarnation than revival, it is, "plain and simple, a very funny play," says Ron Law, Theatre Charlotte's executive director. Adapted by playwright and actor Mark Brown in a contemporary style, this version has five actors playing thirty-nine characters. "It moves like the wind," Law says. Friday and Saturday at 8 p.m.