Weekend Top Picks for March 9-11: CSO Tribute to Michael Jackson, and More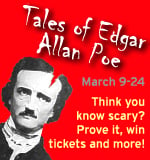 There are enough thrills and scares going on this weekend to make it feel like Halloween.
Let's start with the original master of the macabre. Edgar Allan Poe was wigging people out long before Stephen King ever wrote about possessed cars. Children's Theatre brings Tales of Edgar Allan Poe to eerie life this weekend. Let's just say it's not for kids who are prone to nightmares. Friday, Saturday, and Sunday. Details.
For a bit of pre-theater fun, see if you can identify all the movie villains in the YouTube video Children's Theatre created to celebrate cinematic bad guys (and gals).
Remember the video for Thriller? Rarely has pop music been such scary fun. The kid who would become the "Man in the Mirror" and dance with zombies on a dark, deserted street grew up in the public eye as the frontman of The Jackson Five. That was a lot of pressure, which helps explain the plastic surgery addiction, Neverland Ranch, and his offspring covered with face masks and draped in blankets. It got weird. But before and besides that, there was music and dancing like we'll never see again. The Charlotte Symphony celebrates MJ's oeuvre on Saturday night at Ovens. One show only! Details. Check out our Q&A with the show's director.
OK, this one doesn't involve thrills or chills, but we can't ignore the delightful play going on at Warehouse Performing Arts Center just because it doesn't fit in with the theme of this week's column. Stones in His Pocket looks at a small Irish village that becomes star struck when Hollywood is filming a movie in their midst. Friday and Saturday nights in Cornelius.
And, there's nothing ominous about Lefty Williams, either. (Right about now, I'm wondering why I chose the whole Halloween thing as a theme.) The blues/rock guitarist is exceptional by any standard but even more so when you consider he's playing with just one arm. He doesn't let that get in the way of making great music — music that's often compared to the Allman Brothers. Check him out Saturday at The Double Door Inn.
Here's to a thrilling weekend.