Weekend Top Picks for May 18-20: Alvin Ailey and More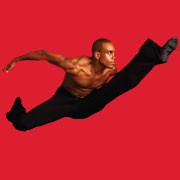 Alvin Ailey Dance Theater is considered a national treasure. The world-famous company is at the Knight Theater through Sunday, and no one should miss the chance to see them. Check out my Q&A with Ailey's new artistic director, Robert Battle. He told me, "It's very much a diverse audience that comes to see the Ailey Company. I really think it's because Mr. Ailey wanted dance to be accessible. It didn't matter if you ever saw a dance performance in your life, but when people come to see an Ailey performance, they still have something they take away from the performance that keeps them coming back again and again." Battle calls dance "a celebration of life." An Ailey performance is truly a celebration.
Mmmmm. Mama like some Blake Shelton. Miranda Lambert's husband is a total doll, and America has fallen head over heels for him since his star turn as teddy bear of a coach on The Voice. Catch his live show Saturday at 7:30 p.m. at Charlotte Motor Speedway.
The 25th Annual Putnam County Spelling Bee continues its delightful run at Theatre Charlotte. Director Dennis Delamar told me why he believes the musical has won critical and popular praise. "In the age of extravagant, expensive, and over-produced Broadway musical spectacles, there was something very refreshing and endearing about this modest, yet different, show that appealed to critics and audiences alike," he said.
Of its Tony win, Delamar said, "I liken it to the small-cast Tony winner Avenue Q in 2002 that defeated that season's huge and glorious Wicked for best musical. With eleven Tony nominations, another similarly modest but groundbreaking production is this season's highly touted musical Once based on the film with the same name. What made Spelling Bee Tony-worthy? I would say its contemporary wit, charming simplicity, and fresh creativity in full bloom with a satisfying balance of sweetness, edginess, and depth."
Time is running out to see the miraculous Cash Crop art exhibition at The Gantt Center. The show about slavery, conceived and created by up-and-comer Stephen Hayes, will close May 27 to make way for something even bigger. Tavis Smiley's America I AM is going to rock our world. Stay tuned …