Weekend Top Picks for May 25-27: "Spelling Bee," "The Edge of our Bodies," and a rowdy street festival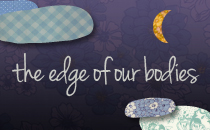 Oh, is it time for Food Lion Speed Street already? You'll either love the loud music, bear claws and excitement or hate the rowdy crowds, traffic, trash, the sea of mullets and tank tops, the jorts (jean shorts), the cigarette smoke and the noise. Guess which camp I fall into. But I'm a curmudgeon. Thousands of Speed Street revelers can't be wrong.
If Speed Street isn't your scene, there are other ways to get your cultural fix.
The Edge of Out Bodies is CAST's final main stage production of the season. The coming-of-age drama — with dark comic bits — is strictly for mature audiences. I talked with Lauren Otis, the lead (and only!) actress in the one-woman show. She's making her Charlotte debut.
The 25th Annual Putnam County Spelling Bee continues at Theatre Charlotte. I talked to Director Dennis Delamar about what makes the musical so much fun.
Make it a great Memorial Day weekend, everybody.