Weekend Top Picks for Sept 9-11: Bruce Cockburn, Greek Fest, and More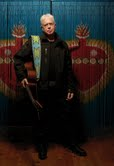 How can you possibly cram everything cultural you want to do this weekend into those fleeting forty-eight hours? Simple answer: You can't. You'll have to choose. Here's what we recommend. But, be warned: There are three great concerts on Friday night we've picked as best bets, so we've only narrowed the field for you a little.
Bruce Cockburn. The Canadian legend has recorded more than thirty albums in a career that's spanned forty years. He's as much social activist as he is singer/songwriter, and his latest album continues that tradition. He's seen the coffins of Canadian soldiers killed in Afghanistan, and sings about the experience. Sept 9 at McGlohon Theatre. Tickets, showtime.
Who's Bad? The World-Famous Tribute to Michael Jackson. These guys were students at Chapel Hill when they first began to emulate the late MJ. They've played all over the world in a fierce tribute to the gloved great one. Sept 9 at Amos' Southend. Tickets, showtime.
Elizabeth Cook. The country gal who sang "Sometimes It Takes Balls To Be a Woman" brings her guitar and her fierce vocals (and attitude) to The Double Door Inn on Sept 9.
Yiasou Greek Festival. It's been a Charlotte tradition for about as long as anyone can remember. Get your gyro on, and learn a little something about one of the planet's oldest cultures that's still going strong. Or, just let your kids enjoy the moon bounce and face-painting. Expect East Blvd. to be teeming with people and cars. Expect the festival to be worth the hassle. All weekend. Details here.
Time Warner BBQ & Blues Festival. Still hungry after the spanikopita and baklava? Head over to the N.C. Music Factory for a taste of Memphis 'Q and the sounds the city made famous. Headliners are Jimmie Vaughan (Friday) and Buddy Guy (Saturday). Deets.