Weekend Top Picks: The Fall Edition
The best ways to get the most out of a gorgeous fall weekend in Charlotte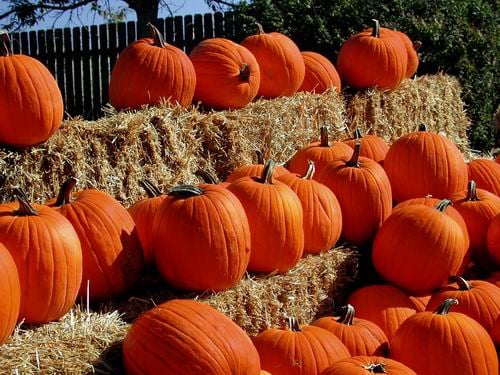 Revue nearly tripped over a chunk of discarded pumpkin this morning on the way to work, a reminder that a) one should never text and move at the same time, and that, b) it's fall! Rumor has it (and when we say a "rumor," we mean "weather.com") that it's going to be sunny and in the 70's all weekend. Here are the best ways to enjoy your upcoming gorgeous fall weekend:
Wander through corn
We have to wonder who the first genius farmer was to say to himself, "you know what'd be good for business? Plowing a random pattern through my entire cornfield and then charging people to wander through it." We also have to wonder who the first person was to say, "sounds like fun!" But fun it was (and is), and you won't find more twists and corners than at the Amazing Maize Maze at Rural Hill Farm. Seven acres of corn confusion await you, and there's even a Friday night flashlight maze for extra challenge. Rural Hill, originally part of the Davidson family, is also a historical landmark, meaning there's plenty of learning opportunities if you're not mentally exhausted after your jaunt.
Jump on the bandwagon
At the Latta Equestrian Center, located in the heart of the enormous Latta Nature Preserve, a simple hayride comes with a few hang-ups. Specifically, ghouls and the ghosts of cotton plantation owners with unfinished harvesting. The rides start at sundown, so you can enjoy a twilight stroll through the nature preserve (on horseback, if you really want to live up Latta) before hopping on one of these annual Haunted Hayrides.
Take adorable family photos in a pumpkin patch
How could you deprive your family of the quintessential fall experience? A much-hyped trip to a pumpkin patch followed by a slimy, potentially dangerous carving session whose fruits some neighborhood squirrel will reap. Mooresville's Carrigan Farms offers a charming hayride to their pumpkin patch, where you can hand-pick your orange behemoth. They've also got an on-site store, where you can by fresh buckets of apples, ciders, jams, and other autumn treats.
Peep leaves and eat oysters
A fall tradition waiting to start, if we ever heard one. The U.S. National Whitewater Center is hosting the last of their Whitewater River Jams, a free summer concert series that draws music-, scenery-, and beer-lovers alike to the extensive park. Their Saturday Fall Finale marks the end of the summer tradition, with performances by the Contagious Blues Band, The Bad Daddies, and Mac Arnold & Plate Full O' Blues. There's also an oyster roast with oysters available by the bucket, as well as a cornhole tournament, and plenty of craft pumpkin ales and Oktoberfests waiting to be tapped at the River's Edge Bar & Grill.
Pick apples
Apples are a tricky fruit. They seem to get in the fall spirit (i.e., ripen) about a month before the rest of us do, which means come late October, finding a good apple orchard for picking some Granny Smiths can be tricky. But with foliage making for a very scenic drive, we don't see the harm in trekking out to Hendersonville's J.H. Stepp Farms, where the Hillcrest Orchard yields 40 acres and 22 varieties of crispy, juicy goodness. You can pull a little red wagon through the orchards to haul your finds, and, of course, shop at the orchard gift shop for apple butters, apple bread mixes, and even apple barbecue sauce.