Weekend Top Picks: The Music Edition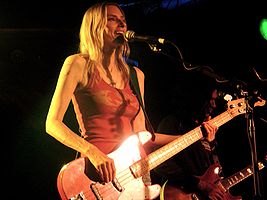 Generally, we like to give Revue readers a diverse list of great weekend activities—a little something for concert fiends, art enthusiasts, and theater-followers. This weekend, the cultural menu was a little bit music-heavy. Rather than drop a handful of great concerts into the editorial trash can, though, we figured we'd embrace them for this Weekend Top Picks issue. Here's a list of five awesome concerts happening this weekend. Enjoy!
Rusted Root
This rock band out of Pittsburgh perked nationwide ears with "Send Me On My Way" in the mid-1990s, a lovable tune that had just enough reggae to make it a classic summer beat. While they haven't quite hit that same level of stardom, they've been regularly recording ever since, and just released the funky, upbeat Stereo Rodeo. They're at Tremont tomorrow night.
Smokey Robinson
Excited now? We second that emotion. This legendary Motown and R&B singer, songwriter, and producer (and former front man for The Miracles) was a smash success starting in the 1960s, when he released favorites like "I Second That Emotion," "Ooo Baby Baby," and wrote hits like "My Guy." He's taken a more mellow, smooth R&B sound since then, and just released his newest studio album, Time Flies When You're Having Fun. He'll be at Ovens on Friday night.
The Assads
If you enjoy live music with a little international flair, you'll definitely want to catch this acoustic duo at CPCC Friday night. Brothers Sergio and Odair Assad are some of the leading Spanish guitarists today, having performed with Yo-Yo Ma and the San Paulo Chamber Orchestra. They play a sultry, Brazilian breed of guitar, making them a great option for a laid-back date night.
Aimee Mann
An obscure acoustic singer-songwriter throughout the 1990s, Mann rose to prominence in 2000, when she was nominated for an Academy Award for her work on the soundtrack to Magnolia. Five albums of gritty femme-folk tunes later, she's heading down to magnolia country this weekend.
Tosco Music Party
It only seems right that the weekend after The Avett Brothers returned to Charlotte, the music festival where they did some of their earliest performances should be scheduled. The concert features performances from several local and regional acts, as well as a sing-along numbers with the audience. On the line-up for this show are Sweetbriar Jam, a family bluegrass act, and Chris Trapper, whose acoustic-pop songs have appeared on movie soundtracks and on tour with Matchbox 20.