Welcome Back, College Football. Here's Where to Watch Your Favorite Teams
College football is back! We've compiled a list of where to celebrate and, occasionally, share in sorrow with your fellow alumni in Charlotte.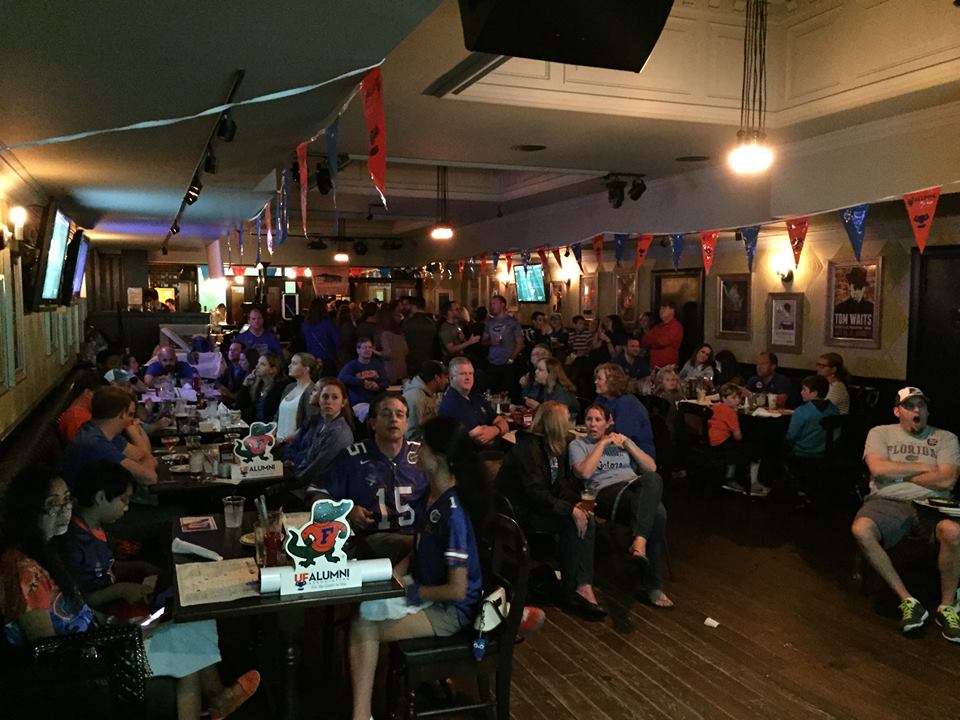 College football returns this Saturday, and unless you're a proud University of North Carolina at Charlotte '49er, you're likely not returning to your alma mater each weekend to watch the football games. Never fear. Here, we've collected a round-up of the official game-watch bars for several universities. Unless otherwise noted, each of these watch parties is on Saturday.
University Of Florida
(Editor's note: The writer graduated from this university and so knows from personal experience why it deserves to be listed first.) The Gators take over Ri Ra, 208 N. Tryon St. The Gators' revelry includes singing fight songs, giveaways and Gator Chomping until they can chomp no more. The game against the University of Massachusetts begins at 7:30 p.m. Go Gators!
University of Kentucky
The Wildcats watch their football games at SIP, 200 N. Tryon St. There's no word on drink specials yet, but we imagine Kentucky fans can drink their own tears. The Wildcats take on the University of Southern Mississippi at 7:30 p.m.
University of Missouri
Newcomers to the Southeastern Conference, the Tigers take over Kickstand, 1101 Central Ave. The party starts at noon today as the Tigers play West Virginia.
Louisiana State University
The Tigers in the Carolinas take to Carolina Ale House, 201 S. College St., each game day. Of course, Abita beers are on special here. The game against the University of Wisconsin starts at 3:30 p.m. Geaux Tigers!
University of North Carolina at Chapel Hill
This is the first year Tar Heels can congregate at Moo & Brew, 1300 Central Ave., the official UNC-Chapel Hill bar. Though, basketball season will certainly be the real gem for this one. Specials today for the game against the University of Georgia, include $5 "He's Not Here" cup filled with Pabst Blue Ribbon and Tar Heel-themed hamburgers. The party starts at 5:30 p.m.
University of Alabama
Never to be outdone, 'Bama has two different watch party locations where you can Roll Tide along with your fellow alumni. In south County, DB's Tavern, 8155 Ardrey Kell Road hosts a party. And Whiskey Warehouse, 1221 The Plaza, hosts the second location. Each spot provides a variety of food and drink specials each weekend. The game against the University of Southern California starts at 8 p.m., but people start arriving as early as two hours before. Roll Tide!
Michigan State University
It's not the St. Patrick's Day bar crawl this weekend. It's the Spartans and their annual game-watching party at BlackFinn, 210 E. Trade St., that bathe this bar in green each weekend. The season opener is on Friday at 7 p.m. against Furman University, or, affectionately, F.U.
Ohio State University
The Buckeyes converge on StrikeCity, 210 E. Trade St., for watch parties and also bowling. The game against Bowling Green University starts at noon, and the drink specials include $5 Fireball shots and $21 "domestic towers," which sounds like a dare.
University of Notre Dame
Fittingly, the Fighting Irish meet at Murphy's Kitchen and Tap, 445 W. Trade St., for most games. For the games on Oct. 1, Oct. 8 and Nov. 12, they'll meet at Belfast Mill, 144 Brevard Court. Also, fittingly, Notre Dame fans can enjoy drink specials that include $5 Guinness, $4 Harp and special craft cocktails each week made with Tullamore Dew. Wait, there's more. The Fighting Irish go all out. There are bagpipers, raffles and giveaways regularly at these watch parties. The season-opening game is 7:30 p.m. on Sunday, as the Fighting Irish take on the University of Texas.
University of Arkansas
The Razorbacks meet at All American Pub, 300 Bland St. Arkansas takes on Louisiana Tech University at 4 p.m., and specials include $2.50 Coors Light bottles, $4 sangria, $2 mimosas and a $4 build-your-own Bloody Mary.
Texas Agricultural and Mechanical University
The Aggies celebrate at Hickory Tavern Metropolitan, 1100 Metropolitan Ave. They'll be fighting the University of California at Los Angeles Bruins in the season opener.
Clemson University
The Tigers meet in the basement of Draught, 601 S. Cedar Street, which they lovingly refer to as "The Tiger Den." The party starts at 7 p.m., and kickoff, against Auburn University, is at 9 p.m.
University of Miami
The 'Canes blow into Taco Mac, 4626 Piedmont Row Drive, each week. Miami takes on its neighbor to the north, Florida Agricultural and Mechanical University at 6 p.m.
The University of Georgia
The Bulldogs' doghouse is at Fitzgerald's, 201 E. Fifth St. This week, as they take on the Tar Heels, (This might be awkward water cooler talk on Monday), Georgia is providing a free appetizer buffet from 4:30 p.m. until 5 p.m. Kickoff is at 5:30 p.m. Go Dawgs!
University of South Carolina
The Gamecocks take flight at, appropriately, Flight, 314 N. College St. The game, against Vanderbilt University, is Thursday evening at 8. Go Cocks!
Auburn University
Taking the crown for coolest spot to watch your games is the Tigers. This group gets to yell "War Eagle" inside Heist Brewery, 2909 N. Davidson St. The game against Clemson University starts at 9 p.m., but get there early if you want a good seat.
Indiana University
The Hoosiers take to Dilworth Neighborhood Grille, 911 E. Morehead St., each week. The season-opening game against Florida International University is Thursday at 7:30 p.m. There's a suggested $5 donation at the door to help fund scholarships for Charlotte-area students headed to Indiana University. Alumni will be glad to know the watch parties feature a Hoosier sandwich, inspired by Nick's English Hut's strombolis in Bloomington, Indiana.
Florida State University
(Editors note: The writer reserves the right to place the Seminoles last on this list, where they belong. Go Gators!) The Seminoles take to All American Pub, 300 E. Bland St., this season. The season-opening game for the Seminoles is Monday at 8 p.m. against the University of Mississippi. The party gets started about one to two hours before the game begins. Specials tonight include $2.50 Bud Light bottles.
Verify dates, times, prices, and other info at the web addresses listed for each event.
Be sure to bookmark www.charlottemagazine.com/Blogs/Dusk-Till-Dawn to stay plugged into Charlotte's nightlife and social scene. Click here to sign up to receive the weekly Dusk Till Dawn e-newsletter.
Want your event featured in Dusk Till Dawn? Follow me on Twitter @Jared_misner and let me know about your event, or send me an email at dusktilldawnblog@gmail.com.