Welcome to HeroesCon
Why Charlotte hosts one of the nation's best comic conventions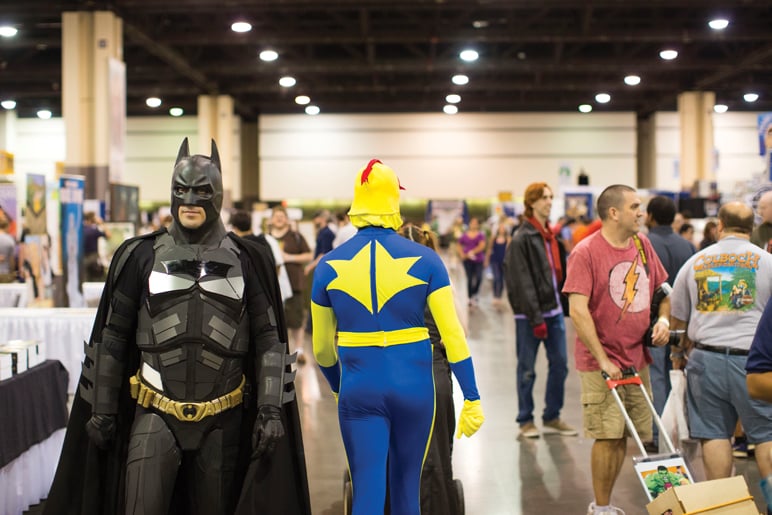 ON A BRIGHT June day in 2014, Superman is behind me in line at Fuel Pizza on College Street. He's putting his finger against the glass display, leaving a Super-smudge. He takes a number and joins a table of fellow heroes and villains (with two versions of The Joker among them). There's no big bout or cliffhanger ending here—just a temporary truce over a few slices of greasy pizza, and the contagious buzz that precedes the first day of a comic convention.
For the next three days in Charlotte, the sight of costumed pedestrians in uptown is perfectly normal. Businesses are packed with thousands sharing a single destination: the annual HeroesCon, one of the biggest independent comic conventions in the United States. It's an extension of Shelton Drum's Heroes Aren't Hard to Find, a 35-year-old comic shop that moved into its current location in Elizabeth 13 years ago. Drum founded the shop and the convention in the early 1980s (which explains why the name is adapted from a 1974 Fleetwood Mac song, "Heroes are Hard to Find"), and HeroesCon now draws 30,000 people a year.
As I cross College Street and head toward the Charlotte Convention Center, I wonder where this convention will rank among the dozens I've covered in past years. Will it be like the Hollywood-heavy San Diego Comic-Con, or the mid-level events in Baltimore, or the backroom slums I visited in rural Ohio?
Much like Superman's Clark Kent, HeroesCon has its own secret identity.
***
THE FIRST THING I do when I visit a new city is head to the comic book shop. It's a tradition, and it takes me back to road trips in the backseat of my parents' Mercury Sable. I'd write down the addresses of stores listed in Wizard: The Guide to Comics, and when we'd get to a new place, I'd lean forward and tap their shoulders, hoping they'd stop so I could spend their money.
A couple of decades later, in 2013, my wife and I visited Charlotte on a fact-finding mission. We were trying to determine if this would be our new home. Just after we entered uptown, I told her we had to visit this place named "Heroes Aren't Hard to Find" in this neighborhood called "Elizabeth." This is what we call a "top priority."
If you don't read comics, you may not appreciate the beauty of a clean comic book shop. Many of them have a special scent—usually a combination of Doritos, musty basements, and aging comics. That's also true of the comic conventions I'd attend back home in West Virginia, which are full of tables of long boxes with "$1" scrawled on the front.
Drum's store, which sits at one of the most popular corners in town, is something to behold. Life-sized casts of Spider-Man and Doctor Octopus battle over shoppers' heads. Glass cases hold statues of beloved characters and, like the gig posters that adorn the walls at music venues, past HeroesCon advertisements line the spaces above single issues. On Wednesdays, the weekly holiday known as "New Comic Book Day," customers work their way through each section of the shop: recent superhero issues on the left, non-superhero comics on the right, collected editions in the back, children's comics in the front, and, of course, cabinets of back issues from decades past in the center of the store. Some shoppers skip the tour and head straight to the island at the center of the shop, where boxes of reserved issues are ready to be picked up.
The store is the centerpiece of Charlotte's thriving comic community. Hundreds of people shop here each week. Among them are comic book professionals, writers, and artists responsible for the books on the shelves. A non-comics person may not know the names of Matt Fraction, Jason Latour, Andy Smith (not me), or Casey Jones, but they are stars of their field. And they're either current or former regulars at Heroes. Fraction is one of the industry's biggest writers and a contributor in the billion-dollar Iron Man film series, and he worked here in the late 1990s.
But aside from its tight organization, spotless counters, and the regular sightings of comics celebrities, there's something else here. It's a connection. We comic book people find a part of our identity in these stapled pieces of paper and the stories they contain. Some people are Lakers guys or Knicks guys or Cowboys guys; I'm a Marvel guy. Collecting them is one those special interests, both a solitary sanctuary and a shortcut to making fast friends.
Drum saw the benefits of these friendships firsthand in 2005. That's when Atlanta's comic convention, the more corporate Wizard World, was accused of trying to muscle out HeroesCon by planning an event during the same weekend. Many of the biggest names in comics stood behind Heroes, and Wizard World changed its plans. It's rare to have so many comic professionals living in the same region. I've asked many of those stars of the comic world why they moved here, and often they just give one name: "Shelton."
I saw Drum in February at a packed party to promote Spider-Gwen #1, a highly anticipated comic book series that's written by Jason Latour and colored by Rico Renzi—both from Charlotte. I asked Drum about the unusual number of comic book writers and artists in Charlotte.
"Oh, I taught them all," he laughs. "Really, I do think there's an enthusiasm here. And I'd like to think we had a small role to play in it over the years. We support each other here in Charlotte—everyone. We're a family."
After my first visit to Heroes, I kept coming back for weekly visits and events. I knew then that it was a special place. It wasn't just that the shop's employees remembered my name or knew my preferences. It's those moments in between, when they'd ask about how my pregnant wife was doing. Or months later, when I walked in with my infant daughter and without a word Drum came over and handed me a button that read "Kid-Hero Approved."
"She's official now," Drum said.
I'm not saying I moved here for Heroes. But it wasn't hard to fall in love with Charlotte, a city that has a thriving comic community and, from what I had heard, a must-see convention.
***
HEROESCON IS a dizzying experience for a first-timer. A photographer who accompanied me to last year's show called it "sensory overload." I try to pretend that after all of the conventions I've attended, the circus of costumes and attractions no longer fazes me. But every time I see one, I still have to blink.
A walk around HeroesCon 2014 satisfies the standard marks of what makes a comic convention. It's organized, the panel discussion schedule is strong, and the comic-centric guest list is impressive. But the stories and scenes from the convention floor are probably the best part.
On the right side of the convention center, a costume contest is in full swing. An 11-year-old Captain America flexes his muscles to applause. To the left, a long line forms around the signing booth of veteran artist Arthur Adams, as nervous fans hope to get a sketch to frame on their office walls. And in the center of the convention floor, a few hundred people thumb through single issues, searching for buried treasure. It's loud and flamboyant, diverse and friendly.
In the middle of it all is Drum, who every day makes his way through the hundreds of artists, writers, and vendors, thanking each one for coming and inviting them all back. Some may even move here.
***
IN THE WORLD OF comic books, secret identities often mask something bigger and more powerful. But behind this enormous convention is something smaller—a man, his comic book shop, and customer relations.
Comics aren't for everyone. But for those of us who love them, this store and its annual convention give us more than laughs and amazing trips through words—they give us a place where we're valued. And that's a power all Heroes should have.
My daughter still isn't even a year old. I don't know what she'll love later, but for now its The Wire, disc golf, and comic books. (My wife would add that she's also a fan of home renovation and the folk-pop Pandora station.) She's a drooling, immobile, beautiful little thing without hobbies. So for the first couple of years, she'll borrow ours. This year, I'm taking her to HeroesCon.
Someday, she'll ask why we go to this thing every year. I guess I could explain to her that it's one of the best independent comic conventions in the country, that it's somewhere between the San Diego Comic-Con and those musty dealer rooms back home. Or I could just point to the Kid-Hero Approved button on her backpack.
Andy Smith is a freelance writer and editor who lives in north Charlotte. He covers arts and culture for this magazine and the Revue blog. His favorite X-Man has always been Cyclops. (He's the one who shoots red beams out of his eyes.)
HeroesCon 2015:
June 19-21 at the Charlotte Convention Center.
One-day passes are $20; three-day passes are $40; kids 12 and younger are free.
Heroes Aren't Hard to Find:
1957 E. Seventh St.,
704-375-7462