Welcome to the Jungle
Enjoy your first days as a married couple in southern Belize at this one-of-a-kind eco-lodge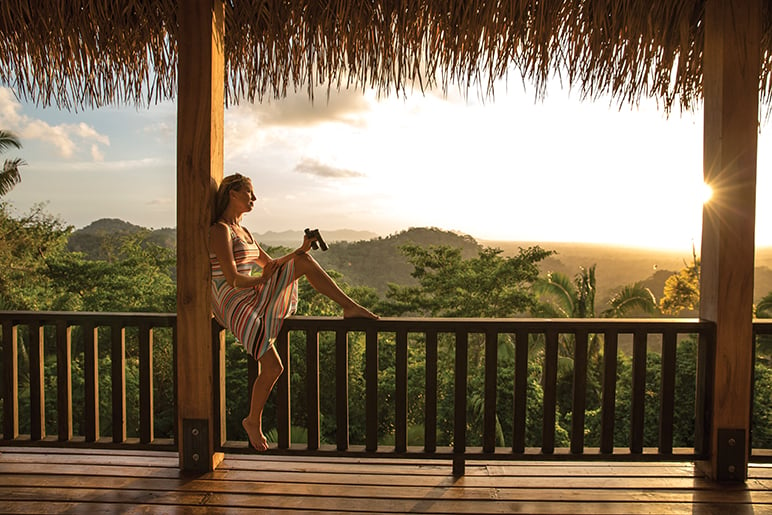 Jungle Love
The unmistakable guttural sound of Howler monkeys swinging through the trees might awaken you early in the morning, but it's just as well: You have a lot to do. Belcampo Belize (starting at $288 per night) is an eco-friendly lodge and rare blend of jungle terrain and working farm, all bordering the Caribbean Sea. Located in beautiful Toledo, the southernmost district of Belize, the lodge offers fresh, authentic Belizean cuisine, romantic villas with breathtaking sunset views, chocolate- and coffee-making classes, organic spa treatments—and the possibility of a toucan sighting.
Snorkel With the Chef
Belcampo Belize sits on land that was originally settled around 600 AD, when ancient Maya used the nearby Rio Grande river as a transportation route to the Caribbean Sea. Explore the route these civilizations would have taken via a sunset boat trip, or if you prefer a day trip, sign up for a boat tour to the Gulf of Honduras with Captain Jackie Young (from $380 per couple). Unlike most of the indigenous staff, he's a descendant of a Confederate family that came from the Southern United States around the mid-nineteenth century to produce sugar cane, cattle, and rum. His grandmother once owned the lodge's land, and he's one of the most knowledgeable locals you'll meet. As you sun and snorkel, he'll dive into the blue-green waters and catch fresh conch that the onboard chef will prepare for lunch. On the way home, keep your eyes peeled for Belize's national bird, the colorful toucan—they fly in pairs.
Dive In
Sign up for an excursion to Blue Creek with guide and native Bicente Ical, known locally as Vince (from $250 per couple). The guide will drive you the short distance to his home of Blue Creek, where you'll visit the ancient Hokeb Ha Cave. You'll hike about 20 minutes across easy jungle terrain, where Vince will point out exotic plants and birds, such as the guan; Belize is famous for its bird-watching. Once you reach the cave, you'll climb over a few large rocks and swim upstream toward the cave's interior (you'll need a headlamp). Vince grew up coming here, so he'll guide you as far back as your nerves will allow—and without natural light, you might want to stick close to each other. The reward: stalactites, stalagmites, and other ancient formations that fill this vast space where the Maya believed the Rain God lived. Vince will then welcome you to his modest home to enjoy a traditional Maya meal, consisting of homemade tortillas, roasted chicken, black beans, and rice. The impressive Lubaantun Maya ruins are also part of this tour.
Discover the Farm
Once you've sampled the fresh fare at the lodge's Jungle Farm Restaurant (don't pass on breakfast), you'll want to tour the farm. The lodge serves authentic Belizean cuisine—a blend of Mayan, East Indian, Creole, and Mexican influences— with at least 70 percent of the food grown on the property. What isn't grown on-site is local to the Toledo district. Seek out Belcampo Belize Farm Director Elon Ranguy to guide you through the farm. His enthusiasm is contagious as he cracks open cacao to let you taste the sweet seeds and points out sugar cane, vanilla, and dozens of herbs you'll taste in the lodge's fresh, seasonal cocktails.
Insider tips:
Ask to meet the pasture-raised chickens in the "Eggmobile." Your breakfast eggs are courtesy of these happy hens.
Save room for the lodge's popular coffee-, chocolate-, and rum-making classes using coffee, cacao, and sugar cane grown on-site (from $320 per couple).