West Charlotte Alumni and Students Talk Desegregation
A panel discussion merges history and the current debate over student assignment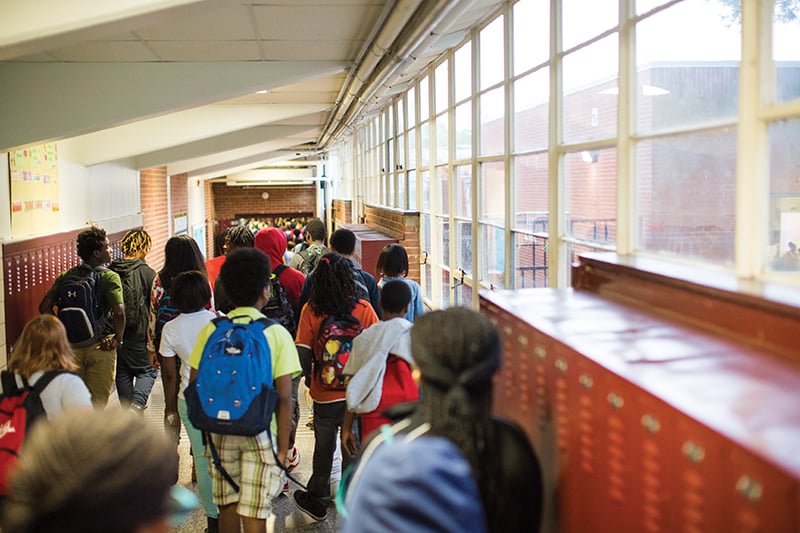 When the Reverend Elliot Hipp attended West Charlotte High School in the early 1970s, he was one of the first groups of white students to be bused to the formerly all-black school. It was not an easy adjustment, Hipp told an assembly of students at West Charlotte on Tuesday morning. Since 1938, the high school off Beatties Ford Road had been the pride of the black community, Hipp said, and the culture of its football games, band, and cheerleaders reflected that. "So slowly, we began to learn how to move just a little bit," he said, wiggling and dancing in his chair.
The teenagers in the audience laughed. But Hipp, who grew up in Myers Park, was serious. "We came to West Charlotte and got the experience that you know so well," he said to the roomful of black, Latino, and Asian students. "To be comfortable being the outsiders."
"To me, that is the crown jewel of what integration gave to me and to the whole city."
Hipp spoke as part of a panel discussion, "Bridging the Past to the Future," that brought West Charlotte alumni to the school to talk about its history and its experience with court-ordered desegregation. School leaders wanted the kids in the auditorium to understand their place in a proud lineage. "One of our focuses this year is to bring back the pride of West Charlotte High," principal Timisha Barnes-Jones said.
Pride is a complicated concept at a school like West Charlotte. Here, 85 percent of the students are black and more than 86 percent are considered economically disadvantaged. In 2011, the surrounding neighborhood's juvenile arrest rate was nearly seven times higher than the Mecklenburg County average. A 16-year-old sophomore named Treveon told me Tuesday that his mother didn't want him to attend West Charlotte because she'd heard about the violence. But on his first day he decided, "it doesn't seem that bad."
Now, he and his fellow students are at the center of a political battle over the resegregation of Charlotte-Mecklenburg Schools. Parents and school leaders are debating whether to change the district's student assignment plan—changes that could include efforts to make individual schools more racially and economically diverse. In a recent online poll, parents told CMS that they valued schools close to home far more than diversity. But students were not asked that question.
Sitting near the school's lobby after the assembly, Treveon said he thinks diversity is important. If West Charlotte had more white students, the perception of the school would change. As his classmate, Kaylah, put it, West Charlotte would no longer be seen as a place for white students or black students, but "just a school."
Kaylah, 15, also has a sense that kids at other schools in the district are getting a better education, and are held to higher standards. She wishes more was expected of her and her peers.
Both she and Treveon are part of a national group called Students for Education Reform, which trains young people to advocate for educational justice. They say they would be willing to be bused to other schools in Charlotte if it improved their education. "If I was forced to—if it affects me and betters me, then I would go," Kaylah said.
Bu they know some of their classmates disagree. Some students worry that teachers at predominantly white, wealthier schools wouldn't understand where they came from.
"We love this school," Treveon explained.
They just know, as Hipp said, that they are outsiders in a community that has plenty of negative perceptions about them and their school. And they wish for something more.