'What Are They Talking About?'
DENR head John Skvarla's puzzling assessment of environmental risk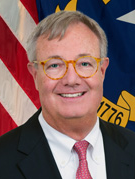 The national media's increasing coverage of the Eden coal ash spill has tended to concentrate on two things: Pat McCrory's 28-year career at Duke Energy; and the federal probe into whether that relationship influenced his administration's lax oversight of the nation's largest electric utility. (Sue Sturgis at The Institute For Southern Studies has a good rundown of Duke-administration ties.)
No problems there. But concentrating on that aspect of the spill and its aftermath obscures a more practical problem. The U.S. Attorney's Office doesn't have to find specific instances of quid pro quo between the administration and Duke for people to be outraged—and to demand Duke clean up its coal ash ponds, finally, once and for all, finis.
Last week, DENR Secretary John Skvarla hosted a press conference at agency headquarters in Raleigh. He said something extraordinary (from the N&O):
Skvarla alternately portrayed environmental advocates as partners sharing a goal of cleaning up pollution and protecting the environment, and as intractable opponents. He said his agency and the environmentalists didn't agree on much.
"It had become very clear … their desired outcome was what I call one size fits all," Skvarla said. "The only acceptable remedy was dig them (the coal-ash ponds) up, move them to lined landfills and cover them. … I can assure you it's not that simple."
He said there is a scientific dispute about what to do with the sites.
To review: The man in charge of the regulatory agency that's charged with protecting air and water quality in North Carolina publicly criticizes people and agencies who want leaking poison ash dumps moved away from sources of drinking water.
Skvarla is correct, of course. Moving the ash to lined landfills and covering them is not the only solution. Environmentalists fail to consider the "do nothing" option.
And that last part, about "scientific dispute"? It refers to statements by both McCrory and Skvarla that unnamed scientists have warned the administration that emptying the ponds might do even more environmental damage.
This is a steaming pile (from WRAL-TV):
WRAL News asked DENR for a citation or source for the alleged concerns about environmental risk, but DENR was unable to provide any citation.
A renowned national expert on coal ash ponds at Duke University says that's because there isn't one.
Avner Vengosh of Duke's Nicholas School of the Environment has published multiple studies on the 2008 TVA coal ash spill in Kingston, Tenn., and its aftermath.
Vengosh has also published several peer-reviewed studies on contamination from North Carolina coal ash sites in at least 11 lakes and rivers. His team has been sampling water all over the state, including downstream from the Dan River spill.
Told about Skvarla's comments, Vengosh says there's no published study that casts any doubt on whether moving coal ash out of leaky landfills is the best move for the environment.
"What are they talking about? Of course not," Vengosh said in a phone interview with WRAL News.
"If there is evidence of groundwater contamination and surface water contamination at the coal ash pond, then leaving it as is obviously isn't an option if the environment is something you care about," he said. "You don't need to be Joe Chemist to figure that out."
From an accompanying WRAL story:
Regulators confirmed that they've known for years that toxins from the coal ash are seeping into groundwater and leaking from the dams that contain the ash ponds, violating state law at all 14 sites. Although DENR could force Duke to stop the pollution and clean it up, state water quality chief Tom Reeder said the agency hasn't.
"We're still assessing the situation. I mean, if we really want to do that, I guess we could do that," Reeder said.
DENR hasn't enforced state laws, he said, because the pollution wasn't doing serious environmental harm. Two neighborhoods, in Asheville and Wilmington, had to have water piped in because their wells were contaminated by coal ash ponds.
Reeder is one of 20 current or former DENR employees that federal prosecutors have subpoenaed. One or more may be found guilty of federal crimes. If that happens, it'll be huge news, of course.
But there's a larger crime going on that no one will serve time for—the subservience of public regulators to industries they're supposed to use our tax dollars to regulate. It's not just a North Carolina problem, not just a coal ash problem. It's a national one.