What Birds Tell Us About Charlotte's Health
With homes and businesses overtaking Mecklenburg County's available land, some bird species are displacing others, leaving behind a less diverse population. One conservation biologist and his team are monitoring the changes—and what they mean for the county's overall environmental health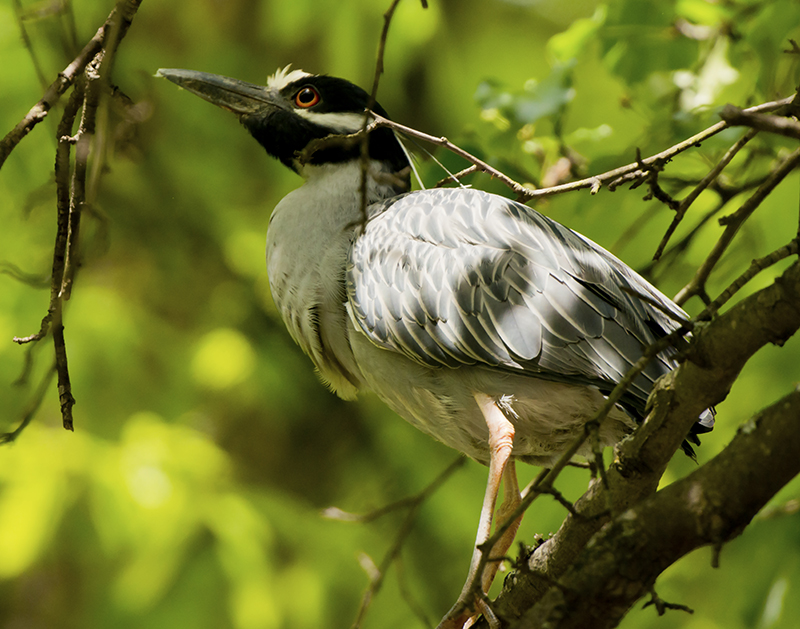 TWELVE YEARS AGO, Tuscan Development of Charlotte, a company known for building condominium complexes, began construction on a huddle of 24 Craftsman-style houses on five acres of creek-drained wetland in Cotswold. All were at least 3,000 square feet and arranged around a pond, complete with hardwood floors, 10-foot downstairs ceilings, rocking-chair porches, and prices starting at $450,000.
As they cleared the property, the developers noticed a nest in a tree. The gaping, tufted-gray occupants were freshly hatched yellow-crowned night-herons, a species common to shallow-water habitats in the Southeast but rare and threatened in Mecklenburg County. This was late spring, breeding season. Tuscan left the tree alone and consulted conservation biologists with Mecklenburg County Park and Recreation, which tried to work out a plan to save the nest. But city development standards required the developer to drain the property, robbing the heron of its current breeding habitat.
The developer waited until the hatchlings were out of the nest in late summer before finishing site work. Tuscan did preserve something of their memory. If you're driving down South Sharon Amity Road toward SouthPark Mall, you can see the development yourself by taking a right onto Night Heron Lane.
"So now the colony's not there," Don Seriff, the county's natural resources coordinator and supervisor, says with a wry chuckle. "But the road's named after the bird."
***
THAT IS ONE of the most Charlotte stories I've ever heard, I tell Seriff. We're in the county Conservation Science office, a refurbished house in Reedy Creek Nature Preserve in northeast Charlotte. Seriously. That's like a parable. He nods and offers a mild correction. "They're the same issues every big city in the country faces," he says. "They don't want to ruin the natural areas. They want to keep them as intact as possible. But it's just hard to do when there are so many pressures and needs out there for all these people moving in."
Charlotte has been one of the nation's fastest-growing cities for a generation, and the destruction of bird habitats— key indicators of general environmental health—is an unavoidable consequence of that growth. Subdivisions and shopping centers have overtaken what once were Mecklenburg County's natural Piedmont forest and grasslands. They've crowded out specialized bird species and opened a niche for what Seriff calls "generalists," birds that can survive just about anywhere. A rise in generalists is, as a rule, a bad sign for animal habitats.
In 2011, Seriff decided to find out exactly what birds the county has lost over the decades, what's taken their place, and what that shift means. Working as a consultant for the Mecklenburg Audubon Society, he and a team of volunteers spent four years tracking breeding bird species, which led them to create a list of 15 that Seriff's office has designated "imperiled," from the northern bobwhite to the Kentucky warbler. The volunteers mapped their sightings on a grid that divided Mecklenburg County into 62 "blocks"—Seriff refers to the supervising volunteers, lovingly, as "block heads." Then they entered information on species, breeding patterns, and nesting areas into an online database hosted by the United States Geological Survey. It's one of only two such projects at the county level in the eastern United States. (The other, in Loudoun County, Virginia, near Washington, D.C., finished in 2013.)
Seriff took what his team compiled and compared it to every historical record he could find about bird populations in the county, going as far back as 150 years. This coming spring, his office plans to issue the county's first-ever comprehensive Breeding Bird Atlas, with detailed counts of more than 300 species. The intended audience is primarily schools and ornithologists, but also officials and the general public. The county has set aside roughly half of one percent of its land for greenways and nature preserves, and Seriff hopes the atlas can help the county's Board of Commissioners and conservation groups figure out where else to preserve undeveloped land while there's still some left.
"We felt like we could focus and get a snapshot picture of bird breeding now to help guide conservation over the next 10, 20 years, as we build out in the county," he tells me, "to help people understand what the area was like then and what's changed and what we see in the future."
***
WE TAKE A RIDE. I'm in the front seat of a county-owned Chevrolet pickup with the core of the Conservation Science Team, as it's called. Seriff's in back with Rob Gilson and Lenny Lampel, conservation biologists who work under him. Driving is Chris Talkington, a hulking, garrulous man who downplays his importance to the team. His official title is senior maintenance operations technician. "I'm the maintenance guy!" he says brightly. But because he's often out in the field, clearing trails and repairing footbridges, he's one of the sharpest and most knowledgeable naturalists on the team.
Today, on a warm and bright Tuesday afternoon just before Memorial Day weekend, Gilson and Lampel want to return to a spot where they think they saw a rare species of dragonfly; the conservation office keeps track of all wildlife in the county, not just birds. But Seriff and Talkington want to check out a nearby Mississippi kite nest. The kites are graceful, insect-eating raptors that, during the warm breeding season, usually nest in bottomlands in the Southeast, as well as prairies of Texas and Oklahoma. But in recent years, they've moved farther north into the Carolinas, increasingly staking out tree limbs in Charlotte's urban and suburban neighborhoods. The nest may provide Seriff and his team clues to understanding the more "generalist" bird species that increasingly nest where urban growth has supplanted specialized habitats.
"I found 'em about a month ago," Talkington explains from behind the wheel. "Then I found he's been roosting in a tree every day for the past week and a half."
"They've got to have a nest by now," Seriff replies from behind him. "It'll be our second confirmed Mississippi kite nesting site for the county—and by far the westernmost in North Carolina."
So what's it mean, I ask Seriff from the front seat, that kites and other unprecedented bird species are showing up where they haven't before while birds that live in specialized habitats are leaving the county?
"It means the quality of the environment's declining," he says. "It's almost like going generic on a brand, where you've got a really high-quality store brand that you like, a specialty brand, but now you can only get the generic stuff. In essence, you're losing the biodiversity, the uniqueness of these special environments. They're all becoming very similar and dull, and only hosting similar plants and animals. Generally speaking, a more natural and more diverse environment is a stronger and healthier environment, and the more impacts to it, the less it can deal with."
***
A FEMALE ruby-throated hummingbird, a gray electron with wings, hovers and darts around the cylindrical feeder that hangs outside the kitchen window at Seriff's office. Increasingly, the ruby-throats and other hummingbird species are performing their air show routines outside the window even during the cold months.
"We used to never have hummingbirds in the winter. Now we have them yearround," Seriff says. A male hummingbird appears at the feeder and displays his brilliant throat to the female. "We don't know what's going on—well, we know what's happening, but we can't figure out exactly why."
Seriff, 55, knows what it used to be like here because he grew up in the Hickory Grove neighborhood, about five miles south of his office near Reedy Creek Nature Preserve. He's a short, almost gnomish, man with a salt-and-pepper beard, but his eyes widen like a boy's when he grows animated, telling you everything you could ever want to know about the nesting habits of the grasshopper sparrow or eastern whip-poor-will.
"I was always into nature. We just roamed the woods," he explains, referring to himself and his friends in the neighborhood. "When we were growing up, your mom threw you out of the house and told you to come back before dark, and that's what we did." Seriff lives with his wife, 14-year-old son, and 12-year-old daughter in the Grove Park neighborhood, just south of Hickory Grove. He notes wistfully that his children are growing up city kids in the same place where he grew up a country boy, or at least a semi-country boy. "The places where I used to play baseball are all shopping centers now," he says. "It's tough watching things change so dramatically, but, you know, that's just the price of living in a big city."
He accepts the price, understands that this isn't strictly a battle between development and conservation. Development has already won and will keep winning. He just wants to make sure it's not a shutout. Seriff gives county officials some credit for preserving what they have—17 percent more parkland in 2014 than in 2007, for example, and continued development of greenways and nature preserves. Charlotte and Mecklenburg County's conservation record is better than in most urban areas: Last year, the National Wildlife Federation ranked Charlotte ninth among cities in the United States for wildlife protection, based on its percentage of parkland, citizen action to create wildlife habitats, and school adoption of outdoor learning in wildlife gardens.
Yet Seriff knows from reviewing the history and checking the recent data that some birds that used to nest all over Mecklenburg County are either gone or just hanging on, and that means the land he roamed as a boy isn't as healthy as it was. That has more than just sentimental meaning. "I just think it's,"—he catches himself and weighs his words—"a long story, but we could do a much better job of planning and preserving our natural resources than we've done."
***
WE'RE WESTBOUND on Rocky River Road between Reedy Creek Park and Interstate 485. Talkington turns the truck right onto Hood Drive, a short street with brick, ranch-style homes on expansive lots—typical suburban Charlotte, or suburban anywhere.
"That's the tree he's been in," he says, pointing. "See where that crow is sitting? Right here to your right? That's where the kite has been sitting. That's a chestnut oak, I guess." He twists his bulk around to address Lampel. "You wanna check it with the binoculars? It's over this house right here …" Lampel lifts the glasses to his eyes and scans, and scans. He finds nothing.
"These Mississippi kite nests are notoriously hard to actually see," Seriff remarks. "They're camouflaged so well. These birds just don't want anybody to know they're nesting."
They're there, though, and they'll be back around. "On a day like today, they're probably out soaring around, looking for dragonflies," Talkington says as he backs the truck up to turn around. "I've only had about 32 accidents looking for kites while I'm driving. When we go out looking for bugs and birds, we probably end up driving backwards as much as we do driving forwards. We back up so much just to check stuff out."
One more thing to check out: the great horned owl's nest. These majestic birds— they're what your mind's eye produces when you think "owl"—nest all over North America. But their presence in and around Charlotte can be a threat to other, more specialized owls, especially the eastern screech-owl, a smaller bird that usually cedes territory to the horned owl. Mecklenburg County classifies the eastern screech-owl as imperiled. The nest we're approaching now has been home to a pair of horned owls for the past two breeding seasons.
"The screech owl has declined tremendously here," Seriff says. "There are several possibilities as to why."
"Could that be," Lampel asks, "because of an increase in great horneds and barreds?"
"Yeah, could be. The great horneds and barreds are doing so good, they're killing off the screeches."
We stop, disembark, and I think: You're kidding. Here?
We're in the main parking lot at Reedy Creek Park, one of the busiest parks in a booming area of the second-fastest-growing big city in the United States. A dog park that teems with bounding and barking canines is a few hundred yards away across the road. A group of teenagers plays pickup basketball on a concrete court in the sun. And there, between a couple of spindly pine trees, in a crook in another pine tree, sits a gray clump of sticks, imprecisely but deliberately arranged into a bowl.
"You wouldn't think that a predator like a great horned owl—around here, the closest thing to being that big of a predator is the bald eagle—would choose, from all the acres of undeveloped forest, the busiest part of the park to nest in. But this is," Seriff says as we walk toward the tree. "And it may be because there's rats and mice that are getting to all the trash." Trash, that is, discarded by the people who live in the houses and play on the basketball courts that replaced the acres of undeveloped forest.
***
TOM SANDERS was one of Seriff's regional block heads. He grew up near Cincinnati and developed a love for camping, fishing, and canoeing. In 2004, he moved with his wife, Tammy, to Orlando, and they would drive to Florida's Atlantic coast to see birds. There they discovered Black Point Wildlife Drive in Merritt Island National Wildlife Refuge, undisturbed natural beach, and a haven for shorebirds.
"We thought, 'Where has this been all our lives?' Just the spectacle of thousands of ducks and geese, herons, just doing their thing, feeding," Sanders says. "Giant flocks—the concentration of birds was overwhelming." The Sanderses moved to Charlotte in 2008, and Tom, a self-employed electrician, named his business Avian Electric. The logo on his business card is a bird on a wire.
Sanders joined the Mecklenburg Audubon Society and, after a year, accepted a spot on the organization's board. He led field trips and built nest boxes for prothonotary warblers near Cowan's Ford Wildlife Refuge on the Catawba River in Huntersville, all while getting up early to bird-watch himself near his home in Merry Oaks in east Charlotte. When Seriff started compiling his volunteer team in 2011, he chose Sanders to lead one of the five regional teams; his section of the county covered Plaza Midwood east to the Union County line.
"What we were doing was trying to find evidence of breeding," explains Sanders, a fit and youthful 46-year-old who, when he gets worked up about birding, talks at a pace marginally slower than an auctioneer's. "It could be anything from a male singing, or a male or female carrying a stick somewhere. And then sometimes you would find two actually copulating, which was great." He catches himself, looks around, and laughs nervously, realizing he's in a public space. It's a Friday morning in late July at Julia's and Books, a location he picked so he can hop across North Wendover Road after our meeting to pick up electrician's supplies at Home Depot. "Anyway, that's the confirmed level. Or a nest, or mother actually feeding her young—that's the highest level."
He and a team of 11 volunteers would aim for 20 hours of watching per year, rising as early as 4:30 a.m. during the summer months. They'd date and code their observations in a small booklet, printed on fuchsia paper, with the targeted species in bold on the pages: pileated woodpecker, American kestrel. They entered their numbers into the online USGS database, and Seriff and his staff started examining those numbers.
In recent years, the county has added land to the Clarks Creek Nature Preserve just off Interstate 485 north of Charlotte and Gar Creek Nature Preserve near Mountain Island Lake, and bought land for a new preserve near Miranda Road near McIntyre Creek. The office will keep looking for more parcels of land to buy—really the only way the county can preserve it—but limited funds and disappearing land makes that difficult. Seri says: "It's not like development's going to slow down in Charlotte."
***
THE VOLUNTEER TEAMS found the unlikeliest birds in the unlikeliest places. Early one morning in 2013, Sanders had just finished a workout at the Johnston YMCA in NoDa when he decided to walk into the field behind the Y, at the end of East 33rd Street and bordered by railroad tracks. The eld is a memory now, replaced by the Yards at NoDa apartment complex.
"I found a kestrel sitting on a power line," he says with a wide grin. "It was cool 'cause it was in the city, and they're used to rural areas." The bird, a female, flew into a sofit attached to nearby Highland Mill Lofts, an old textile factory remodeled into apartments. Sanders kept coming back. Eventually, he saw a male. Then, one day, three chicks. "I watched them fledge!" Sanders kept watching, drawing strange looks from people wondering who this excited man was, staring toward an apartment complex with a pair of binoculars. He had to explain the bird survey and kestrel nest, which he didn't mind.
"It's about being good stewards of the environment as we progress," he tells me between sips of coffee. "I think you can grow a city like Charlotte, but if you step back and do it right, you can do it with environmental consciousness. You don't have to cut down every tree. It just saddens me when they build these condo and apartment complexes and clear-cut the lots.
"And birds are resilient. They can survive in cities—if we give them a chance. Leave a few green spaces instead of turning it all into concrete."
The last time he saw the kestrel, she was soaring in circles, riding a thermal high above the site preparation for the apartment complex. She used to prepare to dive when she saw a train coming, because the vibration of the train would ush mice and grasshoppers into the eld, and she'd swoop down and catch them. But there's no field le for the mice to run into since the complex opened a couple of years ago, and she's gone.
GREG LACOUR is a contributing editor for this magazine. Read his political coverage and other commentary in "The Buzz" section of this website.
---
This article appears in the October 2016 issue of Charlotte Magazine
Did you like what you read here? Subscribe to Charlotte Magazine »
---