What Charlotte Can Learn From the Atlanta Snow Disaster
How can the Queen City dodge Atlanta's misfortune? Mass transit, consolidated government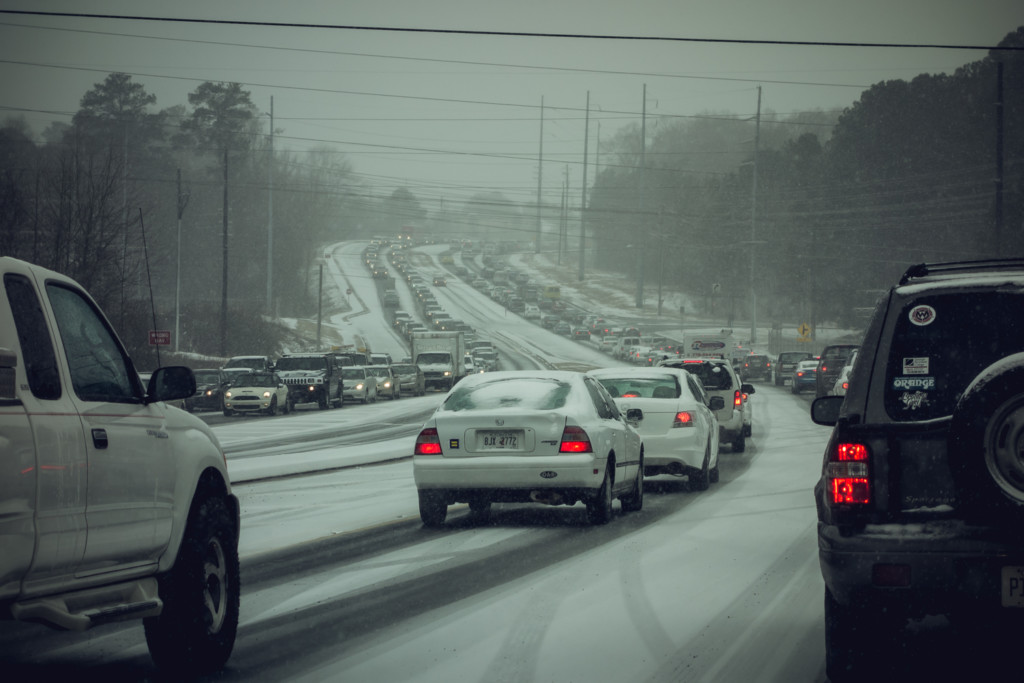 As Atlanta untangles itself, this insightful piece by Rebecca Burns in Politico Magazine has been making the share-and-tweet rounds. Burns makes an overwhelming case that the city's paralysis was not really a natural disaster but the predictable outcome of decades of civic choices and general myopia. (After all, as anyone who's tried to navigate the great Southeastern megalopolis knows, Atlanta traffic is a snarling bitch even under optimal conditions.)
Here's the meat of it:
If Atlanta, the region, wants to get serious about public safety, its mayors, county officials, and state officials will need to start practicing regionalism instead of paying lip service to it. And whether threatened by a dangerous pandemic, a major catastrophe, or just two inches of snow, we need to have ways to get around—and out of—the city other than by car.
Emphatic nod. The lessons for the Charlotte region are pretty obvious, aren't they?
One, once you reach a certain critical mass of vehicles, added roads just exacerbate the problem. "The region continues to experience growing congestion despite continued road widenings and opening of additional segments of I-485," planners wrote in the 2035 Long Range Transportation Plan for the Charlotte region.
By '35, they predict, the region's population will jump from 1 million people to 1.6 million, with the number of jobs—and people needing to travel to get to those jobs—leaping from 650,000 to more than 1.1 million. "At that point," planners write, "Mecklenburg County will be effectively built out."
Those numbers might be overly conservative. That's why the document, adopted in 2010, strongly recommends the development of a multi-modal system—light and commuter rail, bicycles, walkways—not so much for current needs but future ones.
Two, it's long past time for officials in the county, Charlotte and the other seven Mecklenburg County municipalities—Pineville, Matthews, Mint Hill, Stallings, Huntersville, Cornelius, and Davidson—to rekindle that nearly century-old discussion about consolidated government. From Burns' piece:
There was no coordination around school closings, because there are more than two-dozen city and county school systems in "Atlanta." There was little coordination between highway clearance and service to city streets because "Atlanta" is comprised of dozens of municipalities connected by state and federal highway systems.
The consequences of a local government Babel strike hardest in times of crisis, when people depend most on local government to act quickly and decisively to emergencies. Balkanization makes it almost impossible.
For decades, Charlotte has defined itself largely by the city it didn't want to be, sprawling on the plains of north Georgia some four hours down I-85. Now that Charlotte is beginning to figure out what it does want to be, officials and voters need to understand what made Atlanta Atlanta—and, as we've all wanted to at one time or another, steer clear of it.