What It Was Like in the Arena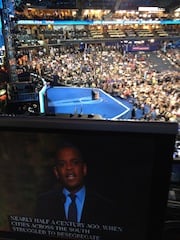 After four hours spent sitting and roaming in Time Warner Cable Arena during the first night of the Democratic National Convention, I have come to the following conclusion: DNC delegates must mainline Red Bull.
Seriously, these people are either extremely polite to the point of overbearing, or they really, really love their party. Every speaker received multiple rousing ovations. Relatively ordinary pablum brought entire sections to their collective feet. Signs were waved, continuously and vigorously. And this, presumably, was after a full day of whatever it is delegates do. Caucus and such. Sew buttons onto funny hats. I don't know. But I know that they will sleep well tonight.
Our own Mayor Anthony Foxx addressed the throngs at around 7 pm. He got a minute, maybe two. He stuck to it. And he did well. In the current issue of the mag, I wrote a piece, framed in the idea that the DNC is a big moment for Foxx, that pointed out some perceived shortcomings in his speechmaking ability. Those shortcomings were not on display tonight. Know that I do not write this from the perspective of jaded chronicler of politics, but I thought Foxx showed passion. In a script that was all of 2/3 of a page, he covered his own personal story, Charlotte's story, Charlotte's future, and he still managed to urge all listening to vote for Barack Obama. Bravo.
The crowd wasn't quite electric, as the TV guys like to say. They were respectful of keynoter Julian Castro. They were reverent of Michelle Obama. But they were into it. It was fun to watch.
The arena felt different. Not just the funny hats and the legions of friendly volunteers and the multiple choice recycling containers (which were, in turn, staffed by volunteers). Not just the full house and the energy (insert obvious Bobcats joke here). No, it was that the concourses were transformed into thrumming halls of power. Around every corner lurked a Congressman or someone who looked like a Congressman. Everywhere were burly men in tight black suits with earpieces. Correspondents for The Daily Show drew crowds and cell phone snaps. I shared an elevator with Dan Rather. I sat in seats reserved for New York magazine and Vogue (really?). Local media, of which there were gaggles, were as starstruck as anyone.
It felt like Charlotte, but it didn't.
Crowd reacts to Michelle Obama taking stage: