What It Was Like Leaving the Arena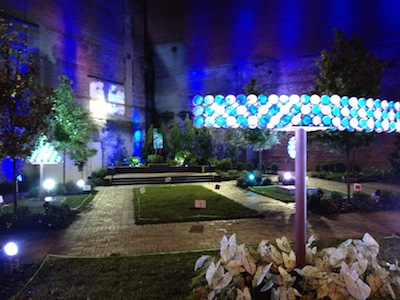 As the arena emptied of delegates, the only poor souls remaining were members of the yellow-vested cleanup crew, busily gathering discarded signs and plackards, and lonely journalists lit by the blue glow of their computer screens, running on caffeine and desperation.
There were murmured conversations and the occasional live stand-up interview, most likely streaming on the web. And, based on the variety of languages spoken, viewed by folks in some far-off land.
Walking by the suites, which had all been occupied by private parties, one picked up the overwhelming aroma of … beer.
At the exit: umbrellas stacked against walls, left there upon entry at the order of security personnel. One woman–not security personnel–busily stuffing still sodden umbrellas into a trash bag. She was stealing them. Her accomplice, a man: "Come on, let's go. This is just weird." I asked her for a black one. She reached into her bag, obliged, went off into the night. But not before grabbing a few more for her collection.
Outside, the feel of a street party. People everywhere. Dark suits, cocktail dresses, heels. This is at 12:30 a.m. Wolf Blitzer, on his way to CNN Grill at the EpiCentre, posing for photographs. David Gergen, doing the same.
Popped into McGlohon Theater in Spirit Square, where Bernie Williams, former New York Yankee great, was leading his jazz band on stage. They were killing it, and the sparse crowd was dancing in their seats. Eight or nine musicians on stage (Too bleary-eyed to count. Me, not the musicians), seriously one of the better concerts I've seen in Charlotte.
Back on the street. Tryon. One a.m. Taxicabs in high demand, including the three-wheel, human-powered variety. The new pocket park at Sixth and Tryon? Lit up a night. Well done.
Rumors of Joe Biden at Ri Ra. Martin O'Malley, governor of Maryland, playing inside with his band. Throngs at Trade and Tryon. EpiCentre slammed as mutiple TV networks broadcast live. Private parties spilling out of all sorts of uptown restaurants and bars. On the third floor of Bank of America Plaza building, visible from the square, four men in suits meet around a conference table. Underneath, outside, dozens of CMPD officers, their bicycles leaning against walls, gather for a meeting.
I walk underneath a bluegrass band playing on the patio at Aquavina. Westin lobby is jammed, bar is humming. Everywhere, people talk politics. Everywhere, there are black cars and SUVs with tinted windows. Everywhere, people look important, which is the goal, of course.
I pause on the College Street overpass to look at Bank of America Stadium, completely lit up, preparations underway for an event that now will not happen. Two twenty-something women totter toward me on heels, grinning. "You taking a picture of the stadium?"
No, just looking.