What Now for the Mint?
After decades of planning and dreaming, the Mint Museum finally has a fancy new uptown location all its own. Now new leader Kathleen Jameson is challenged with building a museum to match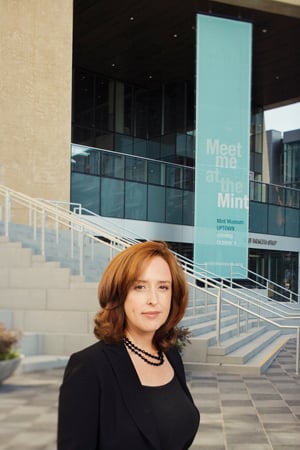 Also: At Last, The Mint
Kathleen Jameson has a spectacular view from her office in the new mint museum. a floor-to-ceiling window reveals st. Peter's Catholic Church, the Gantt Center, and an outdoor plaza on South Tryon Street shaded by elm trees. the office itself is less exciting: off-white walls, gray carpet, dark furniture — no books, photos, or art work. In mid-July, two weeks on the job, the Mint's new executive director has yet to put a personal stamp on her workspace.
Just steps away, blank spaces are being gobbled up. With quiet efficiency, the exhibition staff fills galleries—putting paintings on walls, sculptures on stands, craft objects in plastic cases. the moving of 7,000 objects progressed through the summer in preparation for the day now at hand, October 1, when the last of the four cultural institutions comprising the Levine Center for the arts opens to the public.
For almost two decades, mint officials and supporters labored for this moment.
What drove them was the belief that a larger, more functional building planted in the city's commercial heart would improve the museum's ability to garner gifts of art, boost attendance, and raise its profile. they pursued expansion through three sites, different financing plans, and discussions with city officials and business leaders before settling on a $60 million, 145,000-square-foot building leveraged by Charlotte's customary public-private partnership.
But expansion came with a price. It sucked up time, attention, and effort, leaving other critical issues with scant attention. to perhaps a surprising degree at such a celebratory moment, the Mint faces a big question: what now?
The outstanding issues cluster around vision and leadership. What kind of museum should the Mint be? Where can it get crucial financial support? how can a museum begun seventy-four years ago with no collection, and playing catch-up ever since, improve its holdings? What kind of programs can it deliver to citizens for whom it is the principal exposure to the visual arts? Can it attract crowds to justify all the effort?
Jameson has a whole lot more to fill in than her office shelves and walls. seated at a table, she looks ready for business in a dark blue pants suit and floral blouse, window light catching her long, dark red hair. Personable and young, just forty-one years old, she's highly accomplished. a string of letters trails her name — BA, MA, PhD, and, next year, MBA. In only twelve years, she went from curatorial assistant at the museum of Fine arts, Houston, a major national museum, to assistant director, programming — with time off to have a baby and finish her doctoral dissertation.
She's already broken fresh ground at the Mint, seen by some as the city's most traditional, even hidebound, cultural group. she is the first director in a decade with an arts background and the first full-time female director. asked why she took the job, Jameson responds instantly, "opportunity." she wants, she says, to put the Mint on the map, nationally and even internationally. "Why not dream big?"
A show of Robert Motherwell prints packs the Jerald Melberg Gallery. It's frozen margarita night. But some opt for wine, pick at the eats, peek around the crowd to see the art. Jameson, still in her work gear pants suit, moves among them. she smiles easily, makes eye contact, shakes hands. she introduces her partner, John R. Bryant, an artist, and her eight-year-old daughter, Bella, a redhead like her mother. she asks questions, remembers names. Jameson knows how to schmooze.
She brings other credentials to the game. her doctorate is in American art, but she's comfortable talking about Renaissance paintings or contemporary art. as a curator with expertise in prints and photography, she put together shows. Working in development, she raised big bucks. next came administration. then, there's that prospective mBa. she tackled that because she wants to speak to business leaders in their language, a handy trait in a city like Charlotte.
Such a combination of experience and abilities is rare in a museum professional, and a major reason why the Mint chose her. her skills also match up with areas the museum's leaders have lacked for years — the ability to talk with passionate collectors on their terms, school the staff in the best museum practices, identify and work with major donors.
Jameson's skills match up with areas the museum's leaders have lacked for years.
Jameson succeeds Phil Kline, who will retire at the end of 2010. he came to the museum in a time of crisis. In 2000, the board pushed out the previous director, Bruce Evans. after an unsuccessful yearlong search for a new director, the board appointed Kline, a former insurance executive who'd consulted with the Mint. Kline gave the museum stability and shepherded expansion. he delighted in learning about art, a subject new to him. But he never developed the deep knowledge necessary to impress collectors or curators. Evans knew art. But he was unpopular with the staff, had little success with fundraising, and a show he billed as major lost money.
Jameson's passion for art comes from her family. Raised in Philadelphia by a single mother who worked for towers Perrin, she has fond memories of walking up the steps to the city's art museum, famously depicted in Rocky. her father, a college administrator, collected everything from Czech glass to Japanese folk art. a grandfather collected american art. at the University of texas, unsatisfied with her psychology degree, she was considering other options when she experienced an epiphany one day while hanging out in the popular campus restaurant, Kerbey Lane Café. she would get another degree in art history. While getting a doctorate at the University of Delaware, she worked on the frontlines at the Delaware art museum, taking tickets, pointing to the bathrooms, advising on area restaurants, an experience she describes as invaluable. In her late twenties, she discovered ambition.
She didn't just want to work at a museum. she wanted to run one.
In 1998 she was a junior staffer attending a museum Christmas party in Houston. she spied Peter Marzio sitting alone at a table—the boss everyone was afraid to talk to — and had the chutzpah to join him. they spoke about a subject of mutual interest—playing poker. Marzio became her mentor.
A director credited with building Houston to major status, Marzio says he found Jameson balanced, self-confident but not arrogant. he was impressed with how she handled disagreement or criticism, never getting defensive or upset. "she seemed to be the whole package," he says. "You've got yourself a star."
Charlotte loves bricks and mortar. It understands how to build, gets excited by the new, measures worth in shiny square footage. What Charlotte does less well is fill cultural buildings with content — exhibits, events, performances, and programs — and in the Mint's case, with art.
Visible a hundred miles down I-85 in Greenville, south Carolina, are the fruits of a different approach. a nondescript building made of poured-in-place concrete houses the Greenville County museum of art. Built in 1974, it has never expanded. But its perfectly comfortable galleries brim with major collections such as paintings by William H. Johnson, an African American and Florence, S.C., native who worked in Paris in the 1920s, watercolors by andrew Wyeth, prints by modernist master Jasper Johns. the maestro behind all this is Tom Styron.
he arrived in Greenville in 1983, attracted by the chance to build a museum almost from scratch. Greenville, like the Mint, collected American art. But, Styron says, "We wanted to separate ourselves from other museums." the new director had seen how the Oakland Museum of California specialized on art connected to that state. he decided to focus on Southern-related art at a time when few institutions were. so instead of going the accustomed route to find a work of American Impressionism, a painting by someone like Childe Hassam, he "went after the best Helen Turner [an impressionist from New Orleans] I could find." For examples from the 1930s and 1940s, he purchased paintings by artists with a Charlotte link — Robert Gwathmey and Charles Alston, who was Romare Bearden's cousin.
Greenville, unlike Charlotte, is not a corporate headquarters town. to get financial support, Styron went to individuals, forming a collector's circle that cost $500 a year to join — and still does. at social gatherings, he showed them art and talked about it. on trips to new York and San Francisco, the group visited museums and galleries. stoking a passion for art, Styron worked to connect them to his collecting goals. Gifts of art alone, he knew, were not enough. "When you rely on gifts, you can't set the standard for quality, you can't set the course forward and you can't respond to opportunities," says Styron. "You take what you can get."
Greenville has raised $11 million for its Wyeth collection and $8 million for its Johns collection, sums the Mint has never come near approaching.
What Charlotte does less well is fill cultural buildings with content — exhibits, events, performances, and programs — and in the Mint's case, with art.
In 1999, the Mint museum of Craft + Design opened in an historic North Tryon street building. Its Founders' Circle was Charlotte's only arts support group with a national reach. members from Washington, D.C., los angeles, and Charlotte paid $1,000 a year to join and took trips to the Czech Republic and australia. they raised money at an annual gala to buy studio crafts of glass, fiber, and wood, and to support programs, showing a level of energy the Mint never had on the art side.
But in 2005-2006 the Mint announced expansion plans that involved closing the crafts facility on North Tryon. support for the crafts museum plummeted, and major givers dropped out. they and others blamed the board for what they saw as poor communication. they also blamed Phil Kline. those feelings linger. the Windgate Foundation of Arkansas, a leading supporter of crafts that had given more than $1 million in gifts to the Mint, turned off the spigot. according to a source, Windgate's Robyn horn has said the foundation will not give again until Kline is gone.
Drawn by steps by the Mint administration and board to reengage crafts supporters — a process Jameson wants to continue — some have returned. a new governing structure has a board of trustees over separate boards each for the Mint museum of art and the Mint museum of Craft + Design. those names, as well as mint museum Uptown, will be on the new building's façade. and, rather than being mixed with two-dimensional work as originally planned, the Craft museum will have its own floor.
Jameson's time and effort will be key to perhaps her greatest challenge — getting the Mint more money.
The Founders' Circle has raised money for a major glass piece for the new mint. But expansion has not, as mint supporters hoped and forecasted, attracted large gifts from two collectors the museum had cultivated. the Mint has a special $1 million endowment for art purchases (separate from the much larger operating endowment) which contributes about $50,000 a year to the purchase fund. the current fund balance is $510,000, not a lot in an art market where it's easy to spend a million dollars — or more — on a significant painting.
Jameson believes the Mint can not rely solely on gifts, but must raise more money to buy art, a potentially significant departure for the museum. Contemporary and african art are two areas she'd like to focus on, building on current holdings. "We have to, in the next phase of this museum's life, build an endowment to take advantage of more opportunities when they come up," she says.
Jameson also says the four groups in the cultural campus should find ways to cooperate. there's been no love lost between the Mint and the Bechtler, the neighbor across the street that a few years ago rejected a mint proposal to join forces. Jameson has met with her Bechtler counterpart, President and CEO John Boyer, and says the relationship is on a different footing.
Jameson Is an early riser. In the house she bought in the elizabeth neighborhood, she's usually up by 5 a.m. morning offers precious family time before Bella heads off to school. Jameson prefers the same routine in the evening, but knows that won't always be possible given the nighttime social events and meetings that come with being a museum director. her time and effort will be key to perhaps her greatest challenge — getting the Mint more money.
Operating the new building will add to the Mint's costs an estimated $2 million a year, although the true figure won't be clear until some months of running the escalators, the air conditioning, and the lights. the Mint will get a little more than half of that from its $26 million endowment (which will grow to almost $40 million). It also will have to boost earned income from admissions, renting space such as its rooftop terrace for social events.
The Arts & Science Council has decreased contributions to the Mint in the past few years, as it has to other groups, almost $700,000 less. the ASC is not likely to add to the museum's operating budget, which is $8.3 million this year.
Jameson would like to see the Mint boost its profile by originating more of its own shows, surrounding them with scholarship such as publications, and traveling them to other venues. the Mint has relied largely on shows brought in from other places. those will continue, too, but fees to rent traveling exhibitions can be high. Jameson also would like the Mint to touch the community by doing more with education programs.
This dream-big agenda will be expensive.
For years, the Mint has relied on corporations for support. But they are no longer the lucrative source they once were. traditionally, the museum has not asked individuals for big-money gifts, looking instead to a small circle of supporters, many residents of the Eastover neighborhood. some see this as a liability in that the Mint has not aggressively pursued newcomers and fresh blood. Before a
1980s addition and new entrance to Randolph Road, it was known as "the Eastover clubhouse" for the exclusive neighborhood — and neighbors — who held it close.
Jameson has a track record in development. the section she headed in Houston worked with foundations, governments, and major gifts, raising between $5 million and $7 million a year. the Mint, she believes, must pursue "a diversity of sources," including more from individuals. that may start with the leadership.
The expectation for trustees is to give $2,500 a year and directors $1,000 a year. With just about all participating at the minimum, that would be about $71,500 a year. asked if the board should give more, Jameson carefully hedged her answer, offering appreciation for what the board does and noting, "we all could do more." But she basically said yes, remarkable candor in a city where it took an outside consultant to tell the Charlotte symphony orchestra board it needed to do more. that board did, increasing giving from $196,000 to $263,000 — plus an additional $240,000 that went to a special one-time fund. Boosting fundraising requires more than identifying high rollers and better schmoozing. It requires a vision the community can buy into. a strategic plan due in 2011 will probably answer that crucial, unfulfilled need.
Besides looking at exhibitions and collections, likely it will reflect Jameson's deeply felt sense of what a museum should be. she believes a museum must serve its community and feels a moral obligation to repay Charlotte's faith in the Mint. "People invested in these buildings," she says. "We can't afford not to be a center of excellence." she also wants the community to help shape the museum. Houston, for instance, enlisted the hispanic community to build a collection of Latin American Art.
Jameson feels a moral obligation to repay Charlotte's faith in the Mint.
Jameson believes museums are fundamentally educational institutions, and, like libraries and schools, must be accessible, the places where people who can't afford to jet off to Paris or new York go for their art fixes. People like the little girl growing up in Philadelphia, brought to the museum by a working mom who couldn't afford extras such as exotic vacations.
Last year, attending a meeting of the american association of museums, Jameson, with her mother, again climbed the steps of the Philadelphia museum of art. memories of childhood pleasure and excitement flooded in, reaffirming her sense of what a museum can mean. "that's what a museum was to me — that's why I'm doing this — that sense of wonder as a little girl walking into that space."
With its new building, the Mint has that space, and a series of steps lead up to it. the sense of wonder comes next.
Richard Maschal, a former longtime reporter for The Charlotte Observer, is a freelance writer. In the January 2010 issue, he wrote about the new Bechtler Museum of Modern Art. Email: editor@charlottemagazine.com