What Passes For Solace After Butler High Shooting
The once unthinkable has become the norm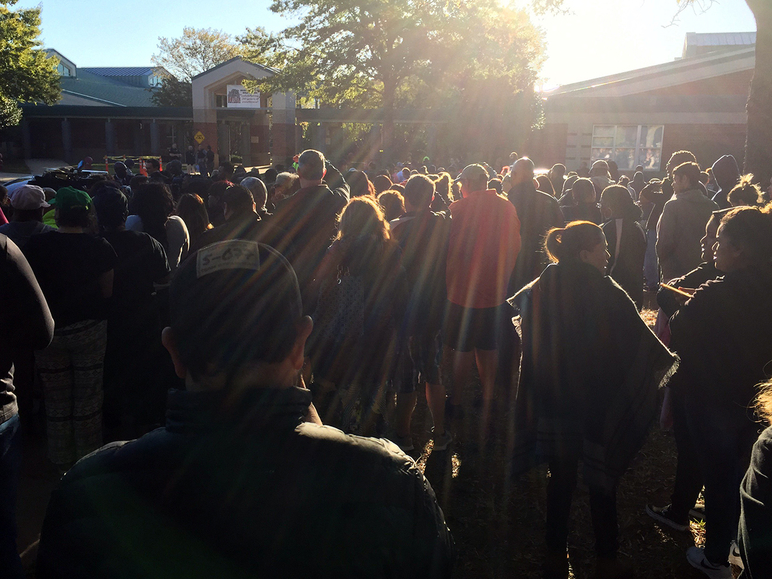 At 7:15 on a crystalline autumn morning, Amy Petersen was walking her eight-year-old daughter, Lily, to school at Matthews Elementary when she heard sirens.
"I thought it was an accident," Petersen told me. "Then Ava started texting me."
Ava is Petersen's older daughter, a 15-year-old sophomore at nearby Butler High. The texts started at 7:16. "IM SCARED," Ava wrote from her first-period ceramics class. "LOCKDOWN AND ITS VERY REAL."
"It's OK. I love you," her mother responded. "HIDE."
Ava hid with other students in a supply closet with a cabinet blocking the door. She texted her mother that she was safe, and that they would be able to leave the closet soon.
"I'm so sorry honey. I love you so much," Petersen texted back. "I hate that this is a part of your reality."
The shooting at Butler was the latest in a seemingly endless procession at American schools over the last two decades but apparently the first at a Charlotte-Mecklenburg Schools campus. That was one perverse silver lining CMS students and parents could draw from this dreadful day. Another was that, although tragic, the shooting at Butler High at least wasn't a mass shooting with multiple indiscriminate targets. It was an argument between two kids that culminated in one shooting the other, 16-year-old Bobby McKeithon, who died soon after. (Jatwan Craig Cuffie, a 16-year-old freshman, was arrested late in the day and charged with first-degree murder.) So accustomed have Americans become to school shootings with 12 or 15 or 17 student deaths that CMS, in its first release after the shooting, emphasized that "initial investigation shows this to be an isolated incident," as if the contagion had been successfully quarantined.
Petersen mentioned that when we spoke, about feeling relieved that only one student was shot and killed at Butler, then almost immediately feeling guilt and nausea at her relief. It was grotesque to take any solace in only one student being shot to death at school Monday morning. "We're so conditioned now," she told me. "You immediately think the worst because so much is bad."
It's been an almost unfathomable last few days in a country awash in violence or attempts to commit it on a mass scale, from the man who shot two black people at a Kentucky grocery store to the serial pipe bomber to the anti-Semitic mass murderer at a synagogue in Pittsburgh. They've been hammer blows, one after the other in close succession, so sudden and closely packed that they seem to outstrip our capacity to absorb them. The obligatory post facto statements by public officials long ago began sounding rote, meaningless, reflexive, a well-rehearsed casting of hands to the sky in frustration.
"As we get more information it is critical that we come together to do everything in our power to prevent these incidents from happening and keep guns out of our schools," Governor Roy Cooper tweeted in mid-afternoon, passing over the obvious: "We," whomever "we" are, apparently can do next to nothing, because this just keeps on happening and shows no sign of stopping.
Unable to do anything about the violence itself, CMS parents and the social media commentariat began taking issue with CMS' handling of the situation, including its decision to continue classes at Butler for those students unable to go home. A large group of parents, including Petersen, descended on Butler in the morning, demanding the school release their children from class. The parents initially clustered in the Elevation Church parking lot across Independence Boulevard, then began to realize whatever had happened at the school was over. "We basically marched—there's really no other word for it—across Independence," Petersen said. "We essentially stormed the building itself, because they weren't letting our kids out."
There'll be plenty of time and opportunity in the coming days for parents, students, and the rest of us to pick apart CMS' response to the shooting—including what responsibility Superintendent Clayton Wilcox bears for rejecting the idea of "wanding" incoming students in the school district with the state's highest levels of gun possession on school grounds. But those details, and debates over the "proper" degree of physical security at school campuses, might not matter as much as we think. This is the United States of America, a country where anyone can get shot by anyone, at any time, for any reason or for no reason at all.
That's the hard reality, and people find encouragement and comfort where they can. Petersen told me Ava was able to reach out to her friend Morgan, who lives literally around the corner from Marjory Stoneman Douglas High in Parkland, Florida. Morgan was friends with seven of the 17 students massacred there in February. "Ava knew she could talk to someone who had experience with that kind of trauma," Petersen said, "and Morgan could take her experiences and actually help somebody else."
She caught herself again, realizing how awful it was, even under the circumstances of Monday, to accept that bond of trauma as a gift. But the kids understand. "It happens everywhere in 2018," one Butler student said Monday. They're freer than their predecessors in perhaps only one sense: They don't have to bear the emotional burden, as Petersen and I and the rest of us do, of remembering when lethal gunfire in American schools came as a shock.