What Restrains Civilian Oversight of CMPD
Citizens Review Board reviews, rules on misconduct cases but can't make police do anything. Reformers are pushing City Council to strengthen the board's authority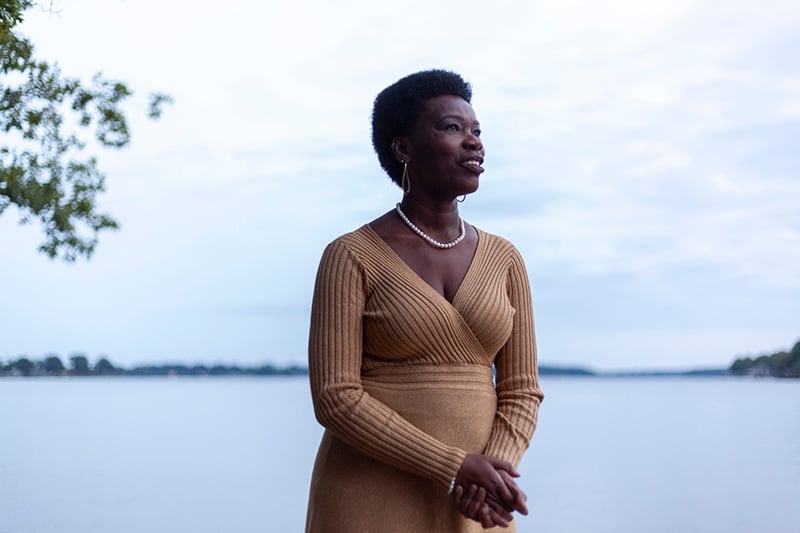 Blue lights illuminated La Becky Roe's rearview mirror. The two NYPD police officers who pulled her over in her Brooklyn neighborhood were white. Roe is Black. She asked them why they stopped her, and they ignored her. When she asked again, they demanded her license, registration, and insurance card but offered no explanation for the stop.
Only later, after they told Roe she was free to go, did she tell them she was an NYPD officer, too.
"Why didn't you just say you were a cop in the beginning?" one officer asked.
"Why do I have to say I'm a cop," she shot back, "to get treated with respect?"
"This could've been my mother; this could've been my dad," Roe explains two decades later. "They want respect, too. I wanted to know what the response would be if I'm just Joe Citizen."
Roe, who moved to Charlotte in 2002, is among the newest members of the city's Citizens Review Board, the 11-member civilian body that reviews cases in which citizens have appealed a police ruling after an official complaint of police misconduct. Roe spent 12 years as an NYPD cop, and she wishes more people recognized officers as fellow humans. But as a Black woman and the mother of an autistic son, she wants more officers to see beyond race and abilities to recognize the humanity of the people they interact with.
"I'm retired law enforcement. I'm a Black woman with a dad, a brother, son, nephews, and godsons. I felt a calling to join the Citizens Review Board," Roe says. "I wanted to have a say in whether or not a police officer was right or wrong. It's not all the time that one gets the opportunity to do that."
Roe joined during a pivotal summer. During protests after police killed George Floyd in Minneapolis on Memorial Day, CMPD deployed tear gas, pepper balls, and rubber bullets against demonstrators. On the night of June 2, officers restricted a group of about 200 to one block of Fourth Street uptown by blocking off both intersections—a controversial law enforcement practice called "kettling"—as they gassed and fired pepper balls near them. The tactics have drawn demands for more civilian oversight of the department.
"It's pretty obvious we have the same goals in mind, to be able to provide some transparency and trust within the community," says CMPD Chief Johnny Jennings. "The relationship is strong … and we're going to continue to move forward and hopefully make our department better."
Yet this year, when the CRB for the first time voted unanimously against the department's decision in a complaint case, members fully appreciated how little power they have. Now, proposals to the City Council may give the group more authority to advocate for the public when officers step out of line.
Of 12,000 local law enforcement agencies in the United States, about 200 have civilian review boards. Their powers vary widely: Oakland's has the authority to fire officers, even the chief; New York's can subpoena witnesses; Raleigh's, created just this year, can review police policy but does not respond to citizen complaints, investigate, or collect data.
Charlotte's board, formed in 1997, merely advises CMPD and lacks subpoena power. When a citizen makes a formal complaint against a CMPD officer, the department investigates to determine whether the officer violated department policy. A citizen who disagrees with CMPD's decision has 30 days to appeal to the CRB. The board reviews the case using documentation from the police investigation, then makes its own decision and submits recommendations.
For its first 20 years, CRB upheld CMPD's decisions every time. It began to break from the department in 2017: In August, the board deadlocked 4-4 on then-Chief Kerr Putney's ruling that the officer who shot and killed Keith Lamont Scott in 2016 followed CMPD policy. (One of the 11 seats was vacant, and two members had work commitments.)
Later that year, in a 7-1 decision, the board determined that CMPD erred in not disciplining officer Jon Dunham for excessive force against James Yarborough in 2016; after a chase, Dunham pointed his gun at the unarmed man's head and threatened to kill him. This February, the CRB decided unanimously that CMPD "clearly erred" in its finding that Officer Wende Kerl's fatal shooting of Danquirs Franklin on March 25, 2019, was justified.
Wow, they did the right thing, Kinard Barnett, Franklin's cousin, thought after the decision. As for his expectations about what would come next? "That CMPD would not change. And I left hope that the city manager might."
CRB decisions advance to City Manager Marcus Jones, the unelected official who, as part of the day-to-day operations of the city, supervises the police department. Barnett knew what had happened after the CRB's decision in the 2017 Yarborough case: Jones consulted Putney as his subject matter expert, then upheld the chief's decision. But even as Jones rejected CRB's ruling, he and Putney worked to implement several of the board's recommendations.
Jones rejected CRB's decision in the Franklin case, too. CMPD didn't accept any of the seven recommendations that came with it. The first unanimous decision by the CRB against CMPD resulted in no policy changes by the city or police.
"I'm retired law enforcement. I'm a Black woman with a dad, a brother, son, nephews, and godsons. I felt a calling to join the Citizens Review Board."
—La Becky Roe
The CRB has changed policing in Charlotte despite its limitations. Board recommendations have led CMPD to use dashboard and body-worn video cameras, train more on interactions with people in crisis or with mental illness, and add de-escalation standards to the department's use-of-force policy. But those policy changes required the approval of the police chief and city manager, which underscores one of CMPD critics' longstanding complaints: What good is powerless citizen oversight?
"If (CRB members) sustain the case, then why send it back to the police department that erred in its judgment in the first place?" says Robert Dawkins, director of the police accountability organization SAFE Coalition NC, part of the progressive advocacy group Action NC. Dawkins, for years the most vocal critic of city policy and practice in policing, and his group want CRB decisions to have authority independent of the city government. They've offered three proposals, two of which the City Council could enact if it wanted.
The first two changes involve the Civil Service Board. Since 1929, it has evaluated the chief's recommendations on promotions, demotions, and firings, and makes final decisions. If the chief decides to discipline an officer for misconduct, Civil Service investigates it. Unlike CRB, the Civil Service Board can subpoena witnesses and documents.
The first proposed change is to send cases in which the CRB upholds the citizen complaint to the Civil Service Board to investigate further and demote or fire officers when it decides they violated department policy. The second proposal is to require officers who don't cooperate with CRB to appear before the Civil Service Board for a hearing; Kerl, the officer who shot Franklin, declined to appear before the CRB.
Jennings says he's curious to learn more about the proposals but worries they'd allow public outcry to overrule state law. CMPD has more internal than external complaints against officers, he says, and officers hold each other accountable.
"My concern is no different than when someone's arrested and they go through a trial by jury of their peers, and they're found not guilty," Jennings says. "Just because we don't like the outcome doesn't mean that we can now go and search another (avenue) to get an outcome that we do like."
Jennings is more receptive to Dawkins' third proposal: petitioning the General Assembly to allow CRB to issue subpoenas, which would allow it to call witnesses and hear testimony. (SAFE Coalition has pursued this route several times without success.)
"There's been a whole lot more cases where bringing in witnesses that we have in the cases for the Citizens Review Board would have been very helpful in allowing them to make their decision," Jennings says. "If they have subpoena power for everyone, then I would support that. If it's just subpoena power for officers, I would not support that."
Both Jennings and the board's chair, Tonya Jameson—an occasional contributor to this magazine—say the department and CRB overall enjoy a positive, productive relationship. To Jameson, that makes the city's lack of response to the unanimous Franklin decision and recommendations frustrating.
As of early September, no appeals await CRB review—a surprise given the kettling incident and other clashes between protesters and police this summer. "If a protester feels that CMPD did something wrong in the June 2 incident or in any encounter with CMPD," Jameson says, "then I hope they take advantage of the system created to file a complaint while there is still an opportunity."
For Roe, serving on the board isn't about being anti-police but restoring communication and trust between police and the community. While she agrees with Jennings that police officers hold each other accountable, she believes the public needs to have its say, too.
"I just pray we can give citizens what they need, that we can work in conjunction with the police department to help … officers realize that we're not out to get (them)," Roe says. "But we want fairness. We want accountability."
Jen Tota McGivney is a writer in Charlotte. Reach her at jennifer.mcgivney@gmail.com or on Twitter, @jen_mcgivney.