What Should I Do With My Basil (Besides Make Pesto)?
Got more basil than you know what to do with?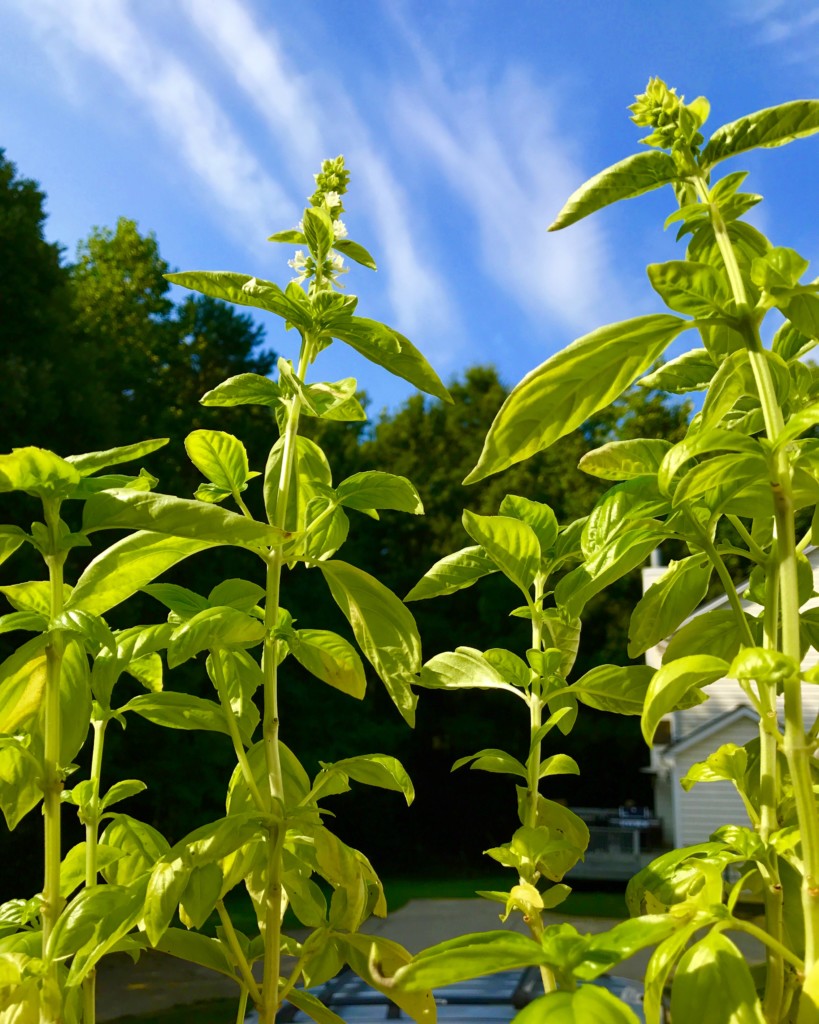 If you've got basil growing in a sunny kitchen window or just outside on the patio, by now, you've probably got a good amount of leaves. You might even have so many basil leaves you don't even know what to do with all of them. There's only so much pesto a household can have, after all. If you're looking for some fresh ways to fancy your basil leaves, look no further. We found some of the tastiest ways to transform your basil leaves so you can enjoy them time and again.
As far as harvesting your leaves goes, you'll want to start looking ahead to the impending winter. Before the first frost, pick off all the leaves, and cut the stems to the ground. Then, once you've got your pile of basil leaves, it's time to get to work.
Lemon Basil Dressing
Make a lemon basil dressing either to dress up salads or bake flavor into a chicken breast. You'll first want to put about 1/3 cup basil leaves into a food processor to ensure they're finely chopped. Add 2 tablespoons fresh lemon juice, some salt and freshly ground black pepper, and about 2 to 3 tablespoons of honey (to taste). Then pulse the processor a couple times until the ingredients are all blended. Finally, add 6 tablespoons of extra virgin olive oil and pulse until mixture is emulsified. EVOO is best because it has a stronger flavor profile than regular olive oil. Recipe from here.
Sauce
Perhaps the easiest option, you can use your freshly picked basil leaves to spruce up your everyday Italian eats. Specifically, you can add it to your famous sauce recipe. Whether you make a mean marinara or a bangin' Bolognese, both of these sauces could greatly benefit from fresh basil. Simply substitute your dried basil for the fresh stuff (chopped, of course), but remember that fresh herbs convert to about three times the amount of dried herbs, amp up the amount accordingly. You can also use whole leaves and basil flowers to garnish your dishes for extra decoration—trust us, your dinner guests will be impressed!
Herbal Butter
Using just a few ingredients, this simple basil butter recipe is delicious spread for corn on the cob or a crunchy loaf of bread. Place 1/4 cup basil leaves and three cloves of garlic in a food processor, and pulse until they're chopped. Then, add 1 tablespoon of lemon juice, 1 teaspoon of salt, and a pinch of sugar, and pulse again. Lastly, put 1/2 cup of softened butter into the mix, and process until the entire mixture becomes a smooth basil butter. Recipe from here.
Cocktails
Of course, herbs are always great ingredients and garnishes in cocktails. You can try your hand at mixing your own garden concoctions—pick some of those summery fruits to help you out. One thing to keep in mind is that if certain fruits, herbs, and flavors taste good on a salad, they're likely to do well in a cocktail together, too. (More tips on using herbs in cocktails here.) But as far as basil goes, specifically, try making either a strawberry basil margarita, basil cucumber gin drink, or a blueberry and basil vodka sip. You really can't go wrong.
Basil Oil
While the ingredients are scarce, the recipe for basil oil requires a little more technique than you might be used to, but that doesn't mean you can't do it. The first step of the recipe requires blanching 1 1/2 cups of packed basil leaves, which is the process of briefly boiling vegetables, then quickly dipping them in ice water. To blanch your basil leaves, get a medium saucepan full of water boiling, then boil your leaves for about 10 seconds. Drain the water from the pan, and rinse the leaves underneath cold water. Pat-dry the basil with paper towels and transfer it to the blender. Then, add 3/4 cup olive oil and puree the ingredients until the mixture is smooth.
Transfer the mixture to a bowl, season with salt and pepper, and cover and chill it until you're ready to use it. This oil can be made up to three days ahead of time, but just make sure it sits at room temperature for about 30 minutes before you use it. Recipe from here.