What The Fries' Storefront Opens on Tuesday
The popular food truck is ready for its next step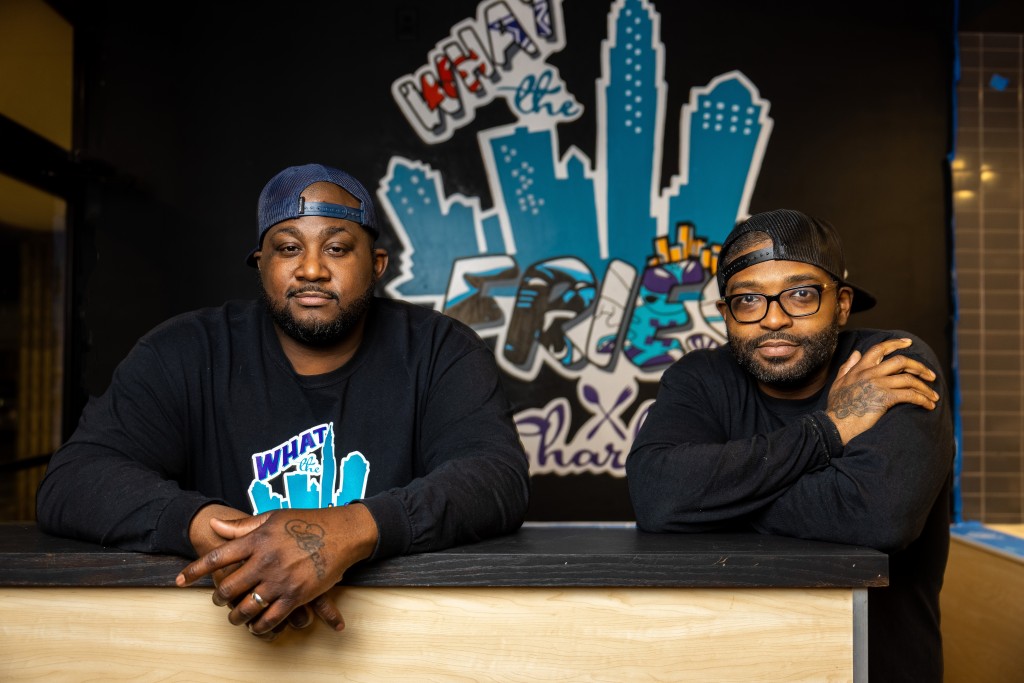 Their loaded gourmet fries, burgers, and fried bread pudding tots are the stuff of local culinary legend. Six years after they launched their wildly popular food truck, What the Fries chefs and co-owners Jamie Barnes and Greg Williams are opening a brick-and-mortar restaurant in the former Cici's Pizza in South Charlotte near Pineville-Matthews Road. Doors open to the public at 11 a.m. on Tuesday, March 23.
The 3,420-square foot space has seating for 100 but will open at 50% capacity to start. Order at the counter and collect your food on the buffet island when a team member calls out your name. Grab a seat at a booth or table in the dining area, or take your order to go. Look for online ordering and third party delivery options in the coming weeks.
Expect food truck favorites like Shrimp and Steak Hibachi Fries and Lobster Mac and Cheese Fries, plus new menu items like Loaded Fry Wraps, Loaded Purple Potato Soup, and a Fried Snapper Sandwich. Their Fried Bread Pudding Tots will rotate weekly with flavors like salted caramel, pecan pie, and strawberry cheesecake. You can also opt to add ice cream on top, and they plan to offer boozy milkshakes and local beers by summer.
"This is a long time coming," Barnes says. "Being in one spot—and not on the truck—will give us a change to spread our wings from a culinary perspective. Everyone in town does a lobster mac, but no one does it this excessive."
The new space has graffiti-inspired murals by local artist Garrison Gist and a marketplace in the former game room in back where local food products, t-shirts, and retail items from local vendors and artists will be available for purchase. "This space will be us," Williams says, "hip-hop, family-friendly, welcoming, and fun."
The Soul Food Sessions co-founders plan to host private events and dinners as Covid restrictions ease, and they'll put the food truck on hold until later this summer once the lines taper off at the restaurant.
What the Fries is located at 10707 Park Road, Suite R. Hours are 11 a.m. to 8 p.m., Tuesday – Saturday.