What to Eat and Drink at New Uptown Rooftop Spot Merchant & Trade
Merchant & Trade and Angeline's, a rooftop lounge and restaurant, will have upscale menus worth tasting (and city views to match).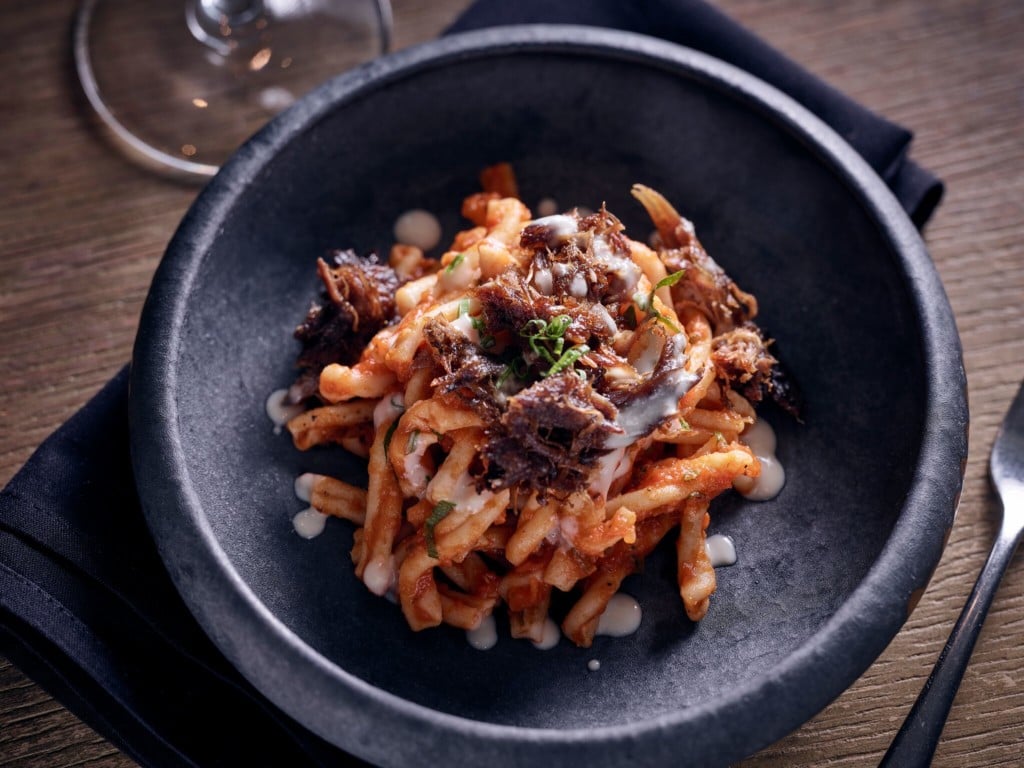 In my humble opinion, there is no such thing as too many rooftop bars. Each spot offers its own unique view. There's City Lights Rooftop, for example, which sits in the Second Ward and offers a money-shot sight of Charlotte's skyline. The same can be said for Peculiar Rabbit's similar, farther-reaching view, offering a relaxed atmosphere just a bit northeast in Plaza Midwood. Then, there's the fancy Fahrenheit in Uptown on top of Skye Condos, which became an Instagram goldmine in just a summer's time.
And now, there's Merchant & Trade.
This rooftop lounge and its sister restaurant, Angeline's, adjacent to the Third Ward's new Kimpton Tryon Park hotel, will open in early November, according to a spokesperson for the two spots. Merchant & Trade will have a sleek setting on the 19th floor of the hotel, where lead bartender Henry Schmulling will be slinging creative cocktails. One of those is The Peanut Butter Falcon, a whiskey concoction dreamt up by the bartender.
At the pop-up menu preview event, I spoke with Schmulling about his creative process for The Peanut Butter Falcon—after all, any drink with a Mary Jane candy garnishing the rim is a drink worth asking about. Schmulling says he used to eat the old-school candies as a child, so the nostalgia took over. The next part of the process is impressive: Schmulling personally unwraps the small, sugary rectangles, one by one, then reduces them down into a liquid—a resulting peanut butter and molasses-flavored cocktail syrup. He then mixes the syrup with High West Double Rye Whiskey, Cynar amaro, and Licor 43 Vanilla Liqueur to drive the drink home.
The Peanut Butter Falcon's flavors are fabulous for fall, especially if you like whiskey because this cocktail's sweet ingredients still let the liquor take center stage. For those who don't love whiskey's strong scent (and flavor), though, there's Cold Storage, a lighter cocktail that will be on Angeline's menu. Schmulling is the lead bartender at both Angeline's and Merchant & Trade, but Angeline's will serve up a slightly different vibe and cuisine—it's a restaurant, and it's Italian-inspired.
Cold Storage is a refreshing drink I could—and probably will—always be in the mood for. With Svedka Vodka, Cointreau Orange Liqueur, Dubonnet Blanc Aperitif, simple syrup, and fresh lemon juice, this sip brings a freshness to ordinary vodka drinks thanks to the zesty orange presence. Plus, did I mention it's super-easy to drink? Schmulling says Cold Storage starts off summer and The Peanut Butter Falcon introduces fall. I say it's a tasty transition.
As for the food, Angeline's will have a sinful Braised Ox Tail Strozzapreti with Taleggio Fonduta and Sauce Arrabiata ($25)—an elevated pasta dish that doesn't lose its flavor one, two, or seven bites later. Another, smaller, dish on the Italian-inspired menu is Prosciutto e Melone ($12), which features surprising fruit-and-meat bites that melt in your mouth.
Merchant & Trade's food will be a bit more dialed back, but still unique. The Blue Crab Rolls ($17), for example, combine carrot, celery, and fennel with the savory crustacean, but then Chef de Cuisine Brian Kenney adds avocado mousse, citrus aioli, and shoestring potato chips for a casual crunch. (Speaking of crunch, I've learned the secret ingredient is pretty much always butter.) The rooftop lounge will also have Pork Belly Lettuce Wraps ($15), which don't really need explaining for you to start salivating.
As mentioned above, both Angeline's and Merchant & Trade are slated to open early November in the brand-new Kimpton Tryon Park. The uptown hotel overlooks Romare Bearden Park, thus, the BB&T Ballpark, and is located at 303 Church Street.