What To Expect From Stoke, Stoke Bar
Ember cooking and showmanship among the draws at updated Marriott City Center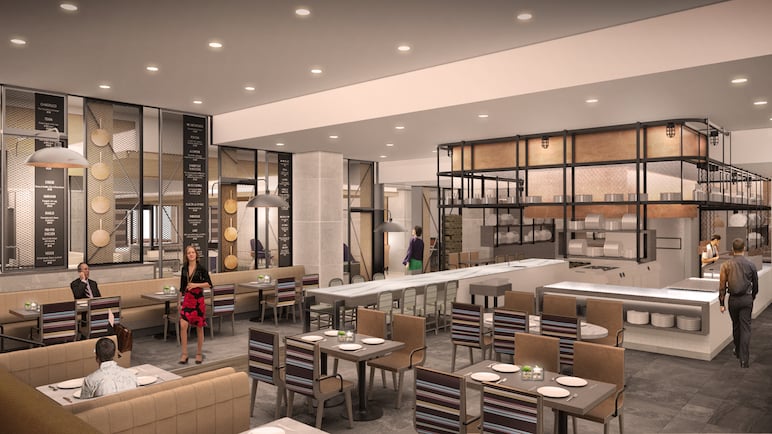 Chef Chris Coleman and mixologist Todd Bayley are ready to talk about Stoke and Stoke Bar, the new concepts Marriott will launch here in mid-to-late August. Coleman, the hotel's culinary director, is wearing a gray apron over a blue button-up shirt; Bayley, who will oversee the beverage program, matches in navy blue sleeves extending past a gray vest. A white patch on Coleman's shirt identifies him simply as "Chris," in a blue font reminiscent of a mechanic's jumpsuit.
Their attire fits the concept—a much more down-to-earth version of the hotel dining we're used to. Marriott City Center is a test for a new kind of hospitality, and Coleman says the mantra is "community first," meaning local residents are as important as the hotel guests.
You don't have to enter the hotel lobby to make your way into Stoke and Stoke Bar, at 100 W. Trade St. Instead, you'll pass through an atrium to a host stand. And when you're seated at Stoke Bar, which seats 18 people, you can't see the hotel's check-in desks and you likely won't see people rolling suitcases. The bar's interior is rustic and masculine, with Edison bulbs hanging from metal wire accents and a copper bar top. A foosball table covered in glass will help pass the time (and hold drinks) while guests wait. Bayley says he wants the cocktail list to move Charlotte's drink scene forward—one drink, in particular, stands out. He won't share the details, but it's a bourbon drink made using Coleman's bacon jam. It's how he wants his drinks: layered in flavors.
"I want you to be able to taste your spirit," Bayley says. "I want you to be able to taste the individual ingredients so that way, when you're drinking your cocktail, everything has a harmonious blend."
The bar overlooks Stoke's dining room, the focal point of which is a glistening kitchen with bright white countertops. It's here that Coleman and his team will serve fresh ingredients in simple ways, showing that the chef is still sourcing locally as much as possible, even on such a large scale. Dishes will be served family-style.
Coleman, formerly culinary director at The Dunhill Hotel, will be one of the first chefs in the city to adapt ember cooking, where items are wrapped and buried in embers to be cooked. One such item will be the deviled eggs. Hotel guests traveling from larger cities won't be surprised to see the avocado toast, a trend that was slow to hit this city, on homemade ciabatta. The wood-fired grill will lend a nice char to a tomahawk ribeye, serving two to four people. Coleman says the dish that's most representative of the restaurant is a sticky pork shank, served with a chili-sorghum glaze and benne seeds. The dish takes four days from start to finish.
"That's pretty explanatory of the entire restaurant, it's our restaurant's approach," Coleman says. "Everything is craft, everything is made from scratch in-house, and there's a lot of legwork into it."
Bayley, who says he majored in "intoxicology" at UNC Charlotte, helped open popular nightlife spots such as Suite and Label. He hopes to impress with innovative cocktails served quickly. The bar has more than 30 taps, 24 of which will be reserved for craft beers. The remaining taps will be used for wine, cocktails, cider, and nitro coffee. To speed up service time, Bayley says his staff will do much of the prep ahead of time. And what they do in front of the guests will be done with style.
"We're not just there making drinks, we're putting on a show, we're doing a dance while we're doing it," Bayley says. "That way, when you come in, you're really enjoying the whole experience of getting that drink."
The best part of the bar may be the cocktail's pricing; to keep things affordable, they'll be around $10, much lower than the $17-$19 drinks served at The Ritz's Punch Room. Bayley's menu is season-driven, taking advantage of the same local produce being cooked in Stoke's kitchen.
Also part of the hotel's renovation, a test for possible implementation across the Marriott properties, is a coffee shop called Coco and the Director, as well as a small wine shop.
Can the hotel and bar truly change how we define hotel dining? Visually, the spaces are capable of it. If Coleman and Bayley can back that up in the kitchen and behind the bar, there's a good chance they will.