What Was That Noise In Highland Creek?
Some sort of racket Sunday night has people freaked out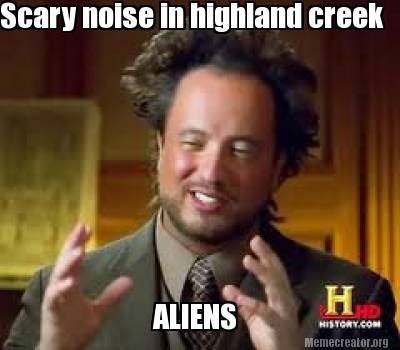 Alix Porto was watching TV upstairs in her house when she heard it. Her husband, downstairs, watching football, heard it too. So did her kids.
"I can't even begin to describe it to you," she said. "It was like a cruise ship scraping on metal." There was no explosion. No light. The windows on her house didn't rattle.
Alix and several other people around Highland Creek all heard the same thing Sunday night around 9:30:
Concord, what was that horrible sound just now? #Concord #Noise

— Scott B. (@TheScottBeach) September 30, 2013
Anyone know what the terrifying noise in concord nc was last night? Kids can't stop talking about it & news has got zero-

— Susanne Deitzel (@susannedeitzel) October 1, 2013
@elysedashew @briandfrancis #highlandcreeknoise was louder than a jet or a drag strip car. Same tone as drag car but not a motor sound.

— Scott B. (@TheScottBeach) October 1, 2013
There's nothing that gets neighbors talking like a loud noise, outside, late at night. It could be one of many terrible things. A plane crash. A burglar. An alien landing. It's just like that light you see streaking across the sky, or the rustling you hear in the bushes, or the branch snapping in the woods. There's probably a perfectly logical explanation for it. But if you don't know what that explanation is for sure, it could be anything. Anything is scary.
Porto called Concord Police. They'd heard nothing. The Concord airport said no planes were landing at that time. The North Carolina Department of Transportation said none of its cranes had fallen over on I-85, nor were they doing any blasting. I emailed Charlotte-Mecklenburg Police. No police reports had been filed on Porto's street. A nearby quarry, Vulcan, said it doesn't operate that late at night.
Porto, who's been hitting Google hard since Sunday, found another instance of the noise online, this one in Terrace, British Columbia. It's nearly identical to what she heard Sunday night:
In that instance, however, a spokesperson for the city said a worker nearby was grinding down the blade on a grader.
In this instance, there are no answers. Yet. It only stands to reason that in Highland Creek, whose 13,000 residents make it Charlotte's largest neighborhood, somebody knows what that noise was. Until somebody comes forward, may the conspiracy theories run wild on Facebook, may imaginations fill in the gaps where facts might go, and may neighbors be curiously worried. "I like to run at night," Porto said. "I'm staying in for now."
Do you know what the noise was? Email us, or follow #HighlandCreekNoise on Twitter.