What We Learned from Charlotte's Big College Football Weekend
Did the Duke's Mayo Classic spread a fresh layer on the city's sports scene?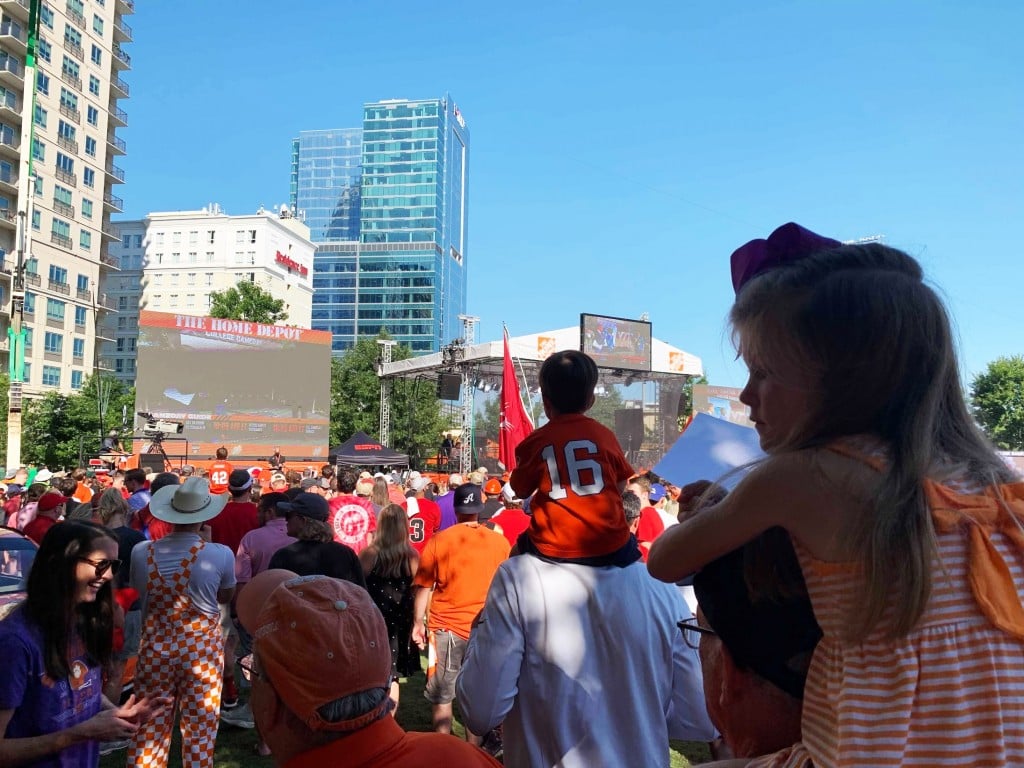 It might have struck you, if you were anywhere near Bank of America Stadium on Saturday afternoon, that Charlotte had seen a version of this before: tailgating setups in the parking lots off Morehead; kids in team attire running around and tossing mini-footballs; the ardent consumption of meats with grill marks; people yelling without provocation. The Carolina Panthers have hosted seven playoff games, including one NFC Championship Game. But this felt different. It was different. Maybe it was the sunshine and low humidity, or season's start rather than season's end, or that a year of COVID made football crowds' hearts grow fonder. (And crazier—how much mayonnaise can someone ingest without throwing up?)
Big mayonnaise guy. @DukesMayoBowl #DukesMayoClassic pic.twitter.com/GxZBmJrIdv

— Gabe McDonald (@GabeMcDonald_) September 5, 2021
Or maybe it was just that this was college football. The top of the weekend's ticket was Georgia-Clemson in the Duke's Mayo Classic, a creation of the Charlotte Sports Foundation, the events nonprofit behind the annual Duke's Mayo Bowl. It wasn't just the nationwide game of the week but another page in a historic rivalry (they first played in 1897!) between two universities with two rabid fan bases from two football-mad states. Charlotte certainly isn't used to this kind of thing, and neither is North Carolina—which, as ESPN's Kirk Herbstreit noted earlier in the week, is far better known for college basketball.
This was something else. Traffic before and after the game—a defense-dominated, 10-3 Georgia victory—surpassed that of any Panthers game. Just before kickoff, the press box vibrated. When Clemson recovered a muffed punt in the second quarter, the Tigers' side of the stadium erupted with a massed shriek of jubilation that was, honestly, a little frightening. No big-city, corporate reserve here. People went off.
***
Whether this type of passion adds something permanent to Charlotte's expanding sports footprint, we don't know. But this kind of weekend does seem to signal a reinforced alliance between Charlotte and college football, even though the city has hosted early-season games, the ACC Championship Game (another Charlotte Sports Foundation production), and, of course, the Duke's Mayo Bowl. A handful of cities—Dallas, St. Louis, Atlanta, Indianapolis—have established themselves as neutral-site destinations for just these kinds of college sports weekends, which draw the attention of the nation and thousands of fans guaranteed to stay and eat and drink (i.e., spend) for at least one night.
If Charlotte's poised to join that roster, combined with the expanded menu of entertainment at the stadium that David Tepper has ushered in—well, prepare for a lot more people in a variety of team colors on uptown streets. "I feel like Charlotte is somewhat of a melting pot of college football fans," said Herbstreit, a former Ohio State quarterback who, with Chris Fowler, called the Georgia-Clemson game for ABC. "And I feel like the more the city embraces these kinds of games and these kinds of opportunities … You have a great facility, you've got an incredible downtown with lots of hotels and restaurants and bars for the fans. I mean, it's set up perfectly to be a destination."
You haven't been able to say that for long. Keith McCorkle, 61, grew up in Mount Holly, went off to East Carolina, "and never came back," he said outside the stadium Thursday evening as the Pirates prepared to play Appalachian State in the first of the two Duke's Mayo Classic games. He graduated in 1982, and, though he still lives in Greenville, N.C., makes the four-hour trip back to Charlotte whenever ECU plays here. "No doubt we were coming," McCorkle said, accompanied by his wife and some of his old college classmates. "We're recently retired, so no restraints."
He remembers when Mint and Morehead was just another intersection in the middle of a small, moribund city. "This area here, downtown, was drying up," he said. "Especially when they put that coliseum down on Tyvola. That was terrible. They should have never done that." Now? "We love it."
***
ECU-App State—which drew 36,752, just less than half the stadium's capacity, for a 33-19 App State win—was a respectable appetizer for the weekend. On Friday night, 10 miles northeast, another Charlotte college football landmark: The UNC Charlotte 49ers beat Duke, 31-28, in the first victory over a team from a so-called "Power Five" conference for a program that began play in 2013. Students and fans stormed the field at Jerry Richardson Stadium.
UNCC Coach Will Healy, along with Panthers head coach Matt Rhule, took the stage at Romare Bearden Park the next morning for College GameDay, the three-hour ESPN program that kicks off every college football Saturday. Getting to host College GameDay is considered a victory in itself for a college town or campus, and fans in red and black or purple and orange jammed the park Saturday with themselves, their dogs, and the sophomoric-on-purpose signs the show is famous for. (One, a play on Georgia coach Kirby Smart's name, read, simply: "Kirby Fart." Other messages were less publishable.) The purple-and-orange contingent howled with approval when Rhule, demonstrating a firmer grasp of the Panthers' brand messaging than the prospects of the two teams, picked Clemson to win: "I'm the head coach of the Carolina Panthers, not the Charlotte Panthers. We're North and South Carolina."
View this post on Instagram
The morning was gorgeous, and the uptown skyline glittered against the cloudless blue sky, and everyone seemed to enjoy the heck out of it—although you couldn't help but notice, either there or in the pregame throng, that only a handful of people bothered to wear protective masks. In the morning at the park, a trio of Georgia fans who did bring them rested on a bench. One of them, Teresa Reeves of Cedartown, Ga., had never been to Charlotte before. "It just seems like everything's real close," she said. "It's just a good vibe." Reeves said she'd be happy to come back, but then again, "We follow the Dawgs wherever they go."
The Panthers, even with two states, can't compete with that kind of loyalty. Charlotte might have to get used to it in fans who come to visit. The moment finally came at 7:44 p.m., when the stadium shook, and the cheerleaders and everyone else raised their arms in anticipation, and the student sections chanted, "Whoa-oh-oh-oh" along with "Kernkraft 400," and the Georgia kicker approached the ball on the tee, and toe met leather, as one of the GameDay guys likes to say. It was on.
Greg Lacour is the incoming editor of Charlotte magazine.