What's Happening: Fashion Now Runway Shows at SouthPark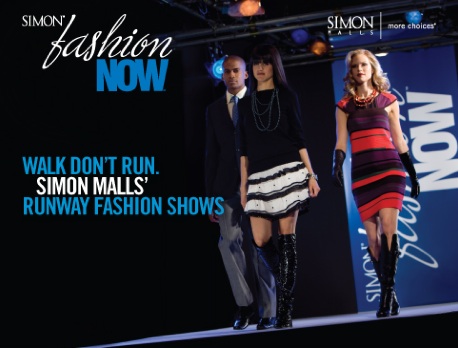 You have to admit, Charlotte, our mall is one to be proud of. SouthPark has grown from a middling, average mall in the 1980's to a goregous, shiny beacon of fashion and luxury. Some of you Shop Talkers might not even be aware of this transition, but trust me. I've been shopping at South Park since I was buying shoes at Stride Rite (a.k.a approximately age 6). This weekend, come celebrate all that is awesome about the stores and styles our mall offers with a two-day celebration of fashion!
Friday night (that's tonight!) is Trends & Friends night, and there will be product demos, free samples and pampering stations all throughout the mall. There will be gift cards and prizes given out every hour (including a $100 Simon Gift Card to use anywhere in the mall), and also a silent auction benefitting Dress for Sucess. They'll also be taking donations of gently used accessories, so before you splurge on something new for yourself, purge your closet of those purses and belts from last season and donate them to the cause. Three runway shows (one at 6:30 p.m. and two at 7:30 p.m.) close out the night!
Saturday is jam packed with runway shows… FIVE to be exact. Looks from nearly every store in the mall will be modeled and strutted, giving you plenty of inspiration to get out those credit cards and start buying! Also all day long (from 12-6 p.m.) there will be more product samples and demonstrations at Style Stops throughout the mall.
For more info, check out Simon.com.