What's Happening: Manolo Blahnik Spring Trunk Show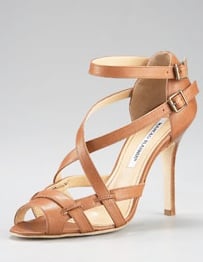 Stiletto sandals. Bright flats. Official statement: Inspired by old fashioned Hollywood glamour. Do we really need to say any more than that?
I didn't think so.
Wednesday Jan 27 – Saturday Jan 30, 10 a.m. to 8 p.m. in the Neiman Marcus Shoe Salon
See you there. I'll be the one swooning in the corner or the one on the phone with her husband rationalizing the purchase she just made – it all depends on my mood.