What's Happening: Thom Filicia at High Cotton Home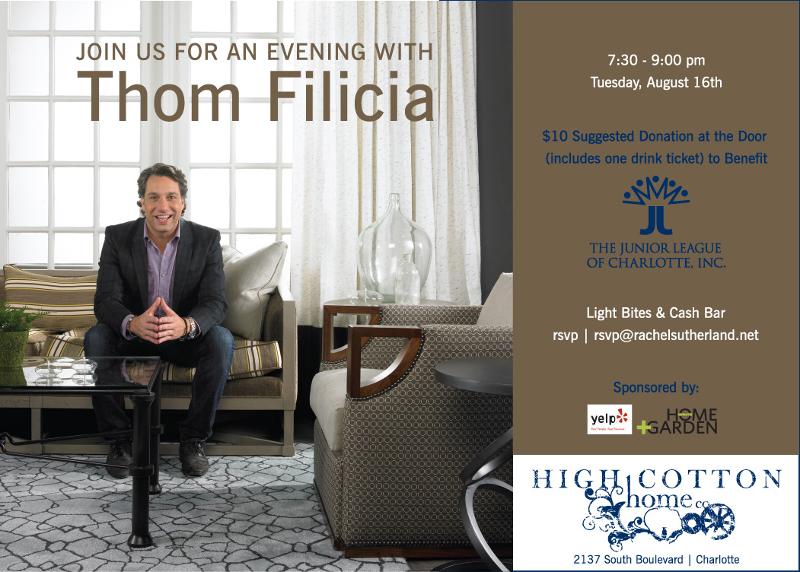 If you're looking to decorate new digs or add a little excitement to your abode, you've come to (or stayed in) the right place. On Tuesday, August 16, top designer Thom Filicia—whose name has appeared on Elle Décor's 2011 Designer A-list, House Beautiful's Top 100 Designers list, and House & Garden's Top 50 International Tastemakers list—will be spending the evening, right here in Charlotte, dishing tips on creating to-die-for dwellings.
High Cotton Home
(2137 South Blvd) will be hosting Filicia from 7:30-9 p.m. The night will include a preview of Filicia's collection (think: touches of American tradition fused with modern inspiration), which will debut at High Point Furniture Market in October and represent a relaunch of his existing line for locally-based Vanguard Furniture, currently sold at High Cotton. General admission is free, but $10 will get you one drink ticket and raise funds for Junior League of Charlotte. Light appetizers will be served and a cash bar, to boot. RSVPs are recommended but not required (rsvp@rachelsutherland.net).
PS: if you're an avid 30 Rock-er (like some authors of this blog who shall remain anonymous) and want to snag Tina Fey's style, you'll certainly want to hear Filicia's tips; he just worked the installation of her luxe NYC lair.