What's Happening: Win $100 to spend at Laura James Jewelry!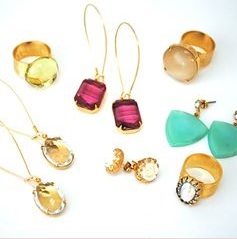 Have you dreamed of going on a little shopping spree inside Laura James' adorable East Boulevard boutique? Well, here's your chance. Laura is giving away a $100 gift certificate to purchase jewels from her collection. All you have to do is head on over to her website (where I suspect you might lose an hour or two of your life perusing sparkling baubles – fair warning), click on her blog, and let her know what colors you most want to see her utilize in her designs. Sounds pretty simple, right? Just click here and you're in business.
I can vouch personally, her store is STOCKED FULL of gorgeous stuff right now (I was just in there last week pulling precious earrings and drop necklaces for our Charlotte Wedding bridal fashion photo shoot). I could spend $100 in under a minute. Easy.
What will you buy if you win the gift certificate? Post the link to your favorite Laura James design or tweet it to me (@jenntgrab).