What's in a Name?
A lot—just ask these nine locals who share names with celebrities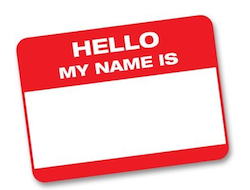 It's one thing to be a famous celebrity, but it's another to share a celebrity's name—without sharing the luxurious lifestyle. Nine Charlotteans discuss the humor, confusion, and perks that come with having the same name as today's top stars.
Jennifer Lopez
Nurse, Midtown Surgery Center and Owner, L. Nicole Design

Lopez says there are definitely negatives to having the same name as the famous pop singer and actress, such as people not answering her emails because they think they're spam. Still, she believes the good outweighs the bad—when Lopez worked as nurse in the Intensive Care Unit, she would put a picture of the singer on her name badge just to make people laugh.
"There was even one time when I worked with two other nurses named Tammy Baker and Steve Martin, so we would always joke and say there were three celebrities on one floor."
Kevin Bacon
Footloose references are typically the first response Bacon gets when people hear his name, but sometimes his connection to the actor has hidden benefits. Once, when Bacon and his wife checked into a hotel in downtown Charlotte, the hotel staff had a photographer waiting, as well as a fruit basket and a bottle of champagne in their room.
"When they saw it was just me and not the actor, the photographer obviously didn't take any pictures. They did let us keep the fruit basket and the champagne, though."
Pamela Anderson
Instructional Developer, Piedmont Natural Gas
Anderson added her last name when she remarried five years ago, but she says she hasn't heard as many jokes as she thought she would. Still, whenever a male friend or relative takes her phone number, they brag that it will look good for them to have Pamela Anderson in their contacts.
On scheduling a mammogram: "When I said my name was Pam Anderson, the woman on the phone said, 'I'll bet you have implants.' I replied no, and she said, 'I had to ask.'"
Kristen Stewart
As a six-foot tall African American woman, Stewart says she has pretty much zero similarities to the petite white star of the Twilight films. But that doesn't stop Twilight fans from adding Stewart as a friend on Facebook. She says she's always messaging people to tell them that they've added the wrong Kristen Stewart.
"Personally I'm not a fan of [the actress] Kristen Stewart—I think she always looks a mess. And she's not very articulate. I like to think that I'm articulate."
Jack White
Manager, Air Power Inc.
Since White is a few decades older than the former lead vocalist of the American rock band The White Stripes, people don't always make the connection.
"I really don't know anything about him and hadn't heard of him until someone brought it up, but I think it's pretty interesting being connected to a young rock star."
Janet Jackson
Office Manager, Power Steam Industries
Jackson says she enjoys having a celebrity name because it's easy to remember and people typically don't forget her after they meet—but unfortunately she'll never live down the Super Bowl XXXVIII halftime show wardrobe malfunction.
"People quiz me and sing Janet Jackson songs to me. My son's basketball team used to sing ['Ms. Jackson' by Outkast] as they were practicing at the YMCA and I walked on the track above them."
Julie Andrews
Andrews works in recruiting and sales in addition to owning The Hill Bar and Grill with her husband, David Andrews. Luckily for her, many people take and return her calls simply because of her famous name.
"I'm actually very lucky, because Julie Andrews is someone that people have always loved and think of in a positive light. I'm just happy that I don't share a name with someone like Lindsay Lohan."
Bradley Cooper
Operations Manager, South Sales Communications
It's hard to live up to the title of "Sexiest Man Alive," an honor bestowed in 2010 on the Hangover star by People magazine, but Cooper's wife thinks the award suits her husband perfectly.
"My wife and I were at a restaurant once and the waitress looked at our bill and said, 'You shouldn't have to pay, you're the sexiest man in the world.' My wife said, 'Oh, of course I married the sexiest man alive!'"
Tracy Morgan
Director of Sales and Marketing, Sandwich Artists Inc.
Though people don't always make the connection between Morgan, a white female, and the male black comedian from Saturday Night Live and 30 Rock, there are plenty of jokes to be made when they do, she says.
"I've heard everything from 'Are you going to be doing stand-up anytime soon?' to 'Oh, you lost your tan!' It's never really bothered me … I usually get a chuckle out of it."